Portable DxO PureRAW 2.1.1.1 (x64) Multilingual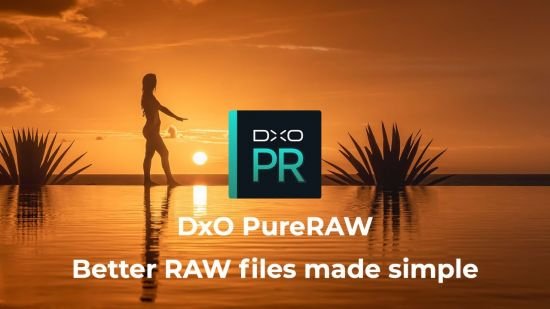 DxO PureRAW Portable Simply better RAW files, Enhance your RAW files to open up even more possibilities with Adobe Photoshop and Lightroom®. Now, you can have the benefit of DxO PhotoLab's denoising, demosaicing and lens correction tools, but keep all the familiar apps, tools, shortcuts and more that you love in your current digital darkroom utility.
RAW
CR3, ARW, NEF, RAF, DNG, and many more.
DxO DeepPRIME
Demosaicing and denoising.
DxO Optics Modules
Improvements to sharpness. Corrections to distortions, vignetting, and aberrations.
Optimized
Linear DNG or JPEG.
Maximize the quality of your RAW files before editing them in Adobe Photoshop, Lightroom, or other RAW editing software thanks to DxO's exclusive demosaicing, denoising, and lens correction technology.
RAW processing
Demosaicing and denoising like you've never seen before
DxO PureRAW 2 delivers exceptional image quality through its deep learning technology, DxO DeepPRIME. This update features optimized processing times and compared to the previous version, it is
– 4 times faster on an Apple Silicon Mac
– up to 1.5 times faster on the best Windows computers Noise reduction has never been this good.
The leading authority in lens corrections
Thanks to years of highly accurate tests in DxO's purpose-built laboratory, DxO PureRAW 2 corrects every possible lens defect.
DxO PureRAW 2 now supports Fujifilm X-Trans files
Delivering incomparable quality in terms of lens correction, demosaicing, and denoising, DxO technology is now available to Fujifilm X-Trans camera users.
Photo editing made simple – New in version 2
Choose from three integrations and enjoy a process that is free of sliders and complex adjustments. Convert your RAW files in just a few clicks, without disrupting your workflow.
HiDPI Support – New in version 2
HiDPI displays for Windows machines are now supported, offering greater comfort to photographers.
8,000 New Optics Modules – New in version 2
DxO has updated its Optics Modules with a raft of new cameras and lenses, including several Leica M lenses. DxO PureRAW 2 now supports more than 70,000 lens and camera combinations.
Key Takeaways:
Get DxO's much-praised noise reduction and lens corrections without ditching Photoshop, Lightroom or their rivals
No new interface to learn; keep all the tools you love
Extremely simple, straightforward design
Choose from HQ, PRIME or DeepPRIME denoising
Output as Linear DNG with noise/lens corrections
A rather steep price may keep many would-be users away
How it works
DxO PureRaw is incredibly simple. Files can be dragged and dropped between DxO PureRaw and your imaging app, or for that matter your operating system's file explorer. Alternatively, you can click a button within PureRaw's interface to directly browse your directory structure for files to process.
Processing your chosen files couldn't get much easier. First, you choose your desired denoising engine for the entire batch of images: The faster HQ engine, the much more processor-intensive – but higher quality – PRIME engine or the AI-powered DeepPRIME engine. (For most images you'll want either DeepPRIME or HQ, depending upon whether you favor image quality or performance, respectively).
Next you choose your output file type and storage location. By default, PureRaw will save your processed images as partially-processed Linear DNG Raw files in a DxO subfolder of their original location.
If you prefer, you can convert straight to JPEG rather than Raw before handing off to your third-party app, or set a custom location for the processed files to be stored. Lens and camera body profiles are downloaded automatically as needed, and individual profiles can be deactivated as preferred on a per-batch basis.
Once you click Process Photos, PureRaw will do its thing and then offer to show you side-by-side, before-and-after comparisons of your just-processed images. You can then drag them back to your chosen app, click the Export button to have them transferred for you – optionally along with a copy of the unprocessed, original Raws as well – or click another button to see the processed images in Explorer.
Obviously, this simplified and streamlined process means that you can't tweak the level of noise reduction applied as you could in the full PhotoLab app. Nor can you preview its results prior to processing.
But PureRaw also adds very little extra fuss to your workflow, though there are the minor inconveniences of greater storage space requirements and the time spent processing, which we'll come back to in a moment.
And given that you can output in Linear DNG Raw format, it also means that you retain all the main advantages of your original Raw file in your third-party app, such as better white-balance correction and the possibility of recovering lost highlight or shadow detail. You just get the added benefit of DxO's lens and noise corrections with as little extra effort as possible.
Image quality
If you already own and use PhotoLab, incidentally, you can already do something very similar by exporting images to disk in DNG format using PhotoLab's Denoise & Optical Correction option. But interestingly, I've found that PureRaw doesn't always apply exactly the same adjustments as does DxO PhotoLab at its default settings, which suggests DxO may have tuned its algorithms a bit differently to account for the lack of manual overrides in PureRaw.
Unlock the RAW-file editing capacity of Adobe Photoshop and Lightroom
Create better RAW files before retouching them in Adobe Photoshop, Lightroom, or other programs thanks to DxO's exclusive demosaicing, denoising, and lens defect correction technologies.
Pure, flawless, and noise-free RAW photos
DxO PureRAW's artificial intelligence strikes the perfect balance between preserving detail and eliminating noise. DeepPRIME technology solves these problems before you and better than you.
Your lenses deserve the very best corrections
Automatically correct the defects in your equipment using DxO's specially designed optical modules.
Recover your old RAW files
Get back to editing your old photos that you set aside because of poor image quality, noise, or a lack of sharpness. DxO PureRAW gives you another chance.
Perfection is in the details
Enjoy large format photos: DxO PureRAW reveals all the details and finesse of every texture you capture so you can enjoy incredibly pure photos.
Soft, non-grainy bokeh
Permanently delete the "parasitic" grain your camera creates in the blurry areas of your photos. DxO PureRAW adds incredible softness to your images.
Photo editing made simple
Use DxO PureRAW before your usual editing software and convert your RAW files into DNG files in just a few clicks—all without sliders or complex adjustments.
What's NEW:
Improvements
• Output File Naming – Now users can add custom prefixes and suffixes to the output file names.
• Optical Correction Section – Redesign of optical correction section for improved user experience.
• M1 Native Support – Application runs natively on Apple's M1.
New supported cameras:
• OM System OM-1
• Parrot ANAFI
• Parrot ANAFI Ai
• Panasonic GH6
• Canon EOS R5C
• Leica M11
• Canon EOS R10
• Canon EOS R7
New supported lenses
• Canon RF-S 18-45mm F4.5-6.3 IS STM
• Canon RF-S 18-150mm F3.5-6.3 IS STM
• OM SYSTEM EZ-M 12-40mm F2.8 Pro II
• OM SYSTEM EZ-M 40-150mm F4.0 Pro
• Panasonic Leica DG Summilux 9mm F1.7
• Panasonic Lumix S 35mm F1.8
• Sony FE 400mm F2.8 GM OSS
• Sony FE 400mm F2.8 GM OSS with SEL TC1.4x
• Sony FE 400mm F2.8 GM OSS with SEL TC2x
• Tamron 18-300mm F3.5-6.3 Di III-A VC VXD (B061)
• Tamron 17-70mm F2.8 Di III-A VC RXD
Bug Fixes
• Fixed: DxO PureRaw 2 crashes when processing a large number of image files
• Error while processing images "image couldn't be processed as destination folder is write protected" – This issue has been fixed.
• Minor Bug Fixes
Download DxO PureRAW Portable