Portable ZOOK Email Backup Wizard v9.2
Email Backup Wizard Portable is a #1 tool which provides straightforward solution to get backup of your emails from Cloud Mail, Web mail and other online email services and archive emails to multiple well-known email formats such as PST, EML, MBOX, MSG, PDF, EMLX, XPS, HTML, MHT, RTF, DOC, etc. and cloud mail services. The email backup application allows you to take backup from 75+ online email services such as Gmail, G Suite, AOL, 1&1 Mail, Rediffmail, GoDaddy, Office 365, Zoho Mail, Outlook.com, EarthLink, Comcast, DreamHost, Amazon Workmail, Exchange Server, Fastweb Mail, GMX, IBM Verse, IMAP Server, IceWarp Cloud, iCloud, Mail.com, Mail.ru, BlueHost, FastMail, HostGator, Yandex, Yahoo Mail, Rackspace, Verizon Mail, Windstream, MDaemon Cloud, Zimbra Cloud, SiteGround, Hotmail, CenturyLink, etc.
Best Email Backup Tool to Archive Emails of 75+ Email Applications
Take Backup of Webmail, Cloud Mail, cPanel & Web Based Email Client Emails.
Complete Backup of IMAP Account Messages from Online Email Services.
Allows to Migrate Email Backup to Email Formats or Cloud Based Email Services.
Email Backup Utility Facilitates 100% Safe & Secure Backup of Emails.
Advance Filter Option to Sort and Create Backup of Emails.
Simple GUI of Backup Wizard Provides Hassle Free Platform to Archive All Mails.
Features:
Create Backup of Emails as Technical Files
Download best email backup software to take backup of emails from webmail, cloud mail, other online email services. It is the best way to create backup of email account into several technical file formats such as PST, MSG, EML, EMLX, MBOX, PDF, HTML, XPS, MHT, RTF, DOC, etc.
Migrate Email Backup to Different Mailbox
The email backup utility enables user to archive emails to various mailboxes to copy emails to desktop or hard drive. After creating backup of emails, users can move emails to different mailboxes or Webmail email account to create a clone of existing email messages.
Maintains Original Folder Hierarchy
The online email backup program enables user to backup email server, cloud server to save emails to hard drive. In this entire process, the email backup utility ensures user about email folder hierarchy. All emails from Webmail account will remain saved in same folders and subfolders in its original structure.
Bulk Backup Your Emails
The Email backup wizard allows user to batch archive business emails, webmails and cloudmails in a single process. It is the best way to backup emails in bulk by selecting email account and the desired saving option. Backup of all emails of any email account has been created few moments.
Backup Emails as IMAP
ZOOK Email Backup Portable Software allows user to archive emails as IMAP account. The backup application easily migrate email account to IMAP which enables to transfer emails from webmail account to IMAP. The IMAP option auto-detects the IMAP port number & Host Name to import mails to IMAP server directly.
Multilingual Application
An email backup software is a multilingual software which provides option to choose desired language i.e. English, Deutsch, Francais, Italiano, Nederlands, etc.. Users need to choose preferred language to install the software and then easily create backup of emails without any hassle.
Create cPanel Email Backup
Download Email Backup software to get backup of your email account of cPanel in few moments. It is the best way to create backup of Webhost or cPanel mails. It provides complete backup of Web Hosting emails such as GoDaddy, HostGator, HostMonster, BlueHost, DreamHost, etc.
Backup Emails Using Filters
It is the best email backup software which consists of Advance Settings option to take backup of emails by using advance filters. By setting advance filters to take backup emails by sorting emails as Email Address, Date Range, To and Subject to save particular emails.
Fully Compatible with Windows
It is an advance Email Backup utility which has been designed by edge-cutting algorithms to provide 100% safe and secure conversion. The tool is fully compatible with all available editions of Windows operating system such as Windows 10/8.1/8/7/Vista/XP and below editions of Windows operating system.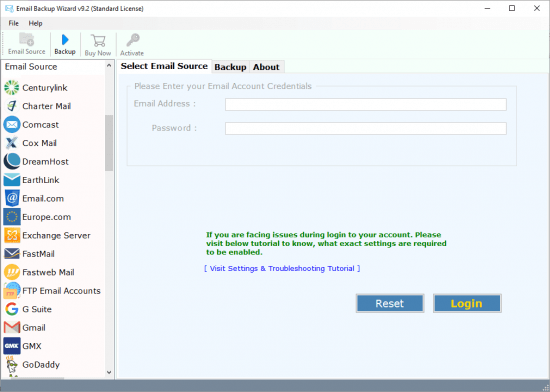 Download Email Backup Wizard Portable
Uploadrar – 28.2 MB
Hexupload – 28.2 MB