Portable DataNumen Disk Image 1.9.0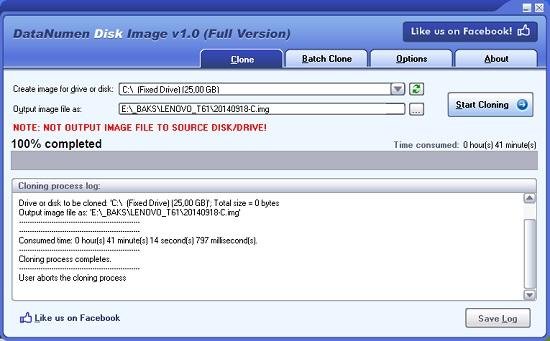 DataNumen Disk Image is a powerful tool to clone and restore disks or drives. It can create and restore the disk image or drive image byte by byte. Useful for data backup & recovery, disk/drive copy & cloning, and forensic.
Straightforward and practical usage
The application experiences a fairly brief setup process, during which there are no particular events, soon allowing you to launch it and start copying your drives.
The main window features a tabbed-interface, where you can choose one of the two functioning modes, namely 'Clone' and 'Batch Clone', as well as adjust its running 'Options'.
Effortlessly duplicate one or more computer drives
For starters, you need to decide which computer partition you want to copy. A drop-down menu listing all your available options makes the task much easier, as you canjust select it and you're done.
As for the target IMG file, you can choose to save it to any destination on your computer, bearing in mind that its size should not surpass that of the storage disk, nor should it be located on the same disk.
Moreover, you can run a 'Batch Clone' operation, by selecting several different partitions and their output name and location, using the 'Add Drive/Disk' button. You can then press the 'Start Cloning' button and a progress bar will inform you of the level of completion.
From the 'Options' tab, you can determine how to replace damaged data, by means of user-defined numbers. The 'Advanced' section enables you to set the preferred 'Internal Processing Buffer Size', the default value being 512 Bytes.
A useful partition cloner
In short, DataNumen Disk Image is a handy and effective program that can successfully assist you in creating duplicate images of your computer drives.
While it provides little room for user-customization and its processing speed can be rather slow at times, it manages to execute its task without a glitch on every run.
Main Features:
Support all kinds of disks and drives.
Support for Windows 95/98/ME/NT/2000/XP/Visa/7/8/8.1/10 and Windows Server 2003/2008/2012/2016/2019.
Support to restore image data back to drives.
Support to clone data from corrupted media.
Support to replace damaged sectors with specified data.
Support to clone multiple disks and drives in batch.
Ideal to be used as a computer forensic tool and electronic discovery (or e-discovery, eDiscovery) tool.
Whats New:
Improve the performance.
Fix some minor bugs.
Download DataNumen DiskImage Portable
Uploadrar – 5.1 MB
Hexpload – 5.1 MB