Portable Franzis DENOISE projects 4 professional 4.41.03670 (x64)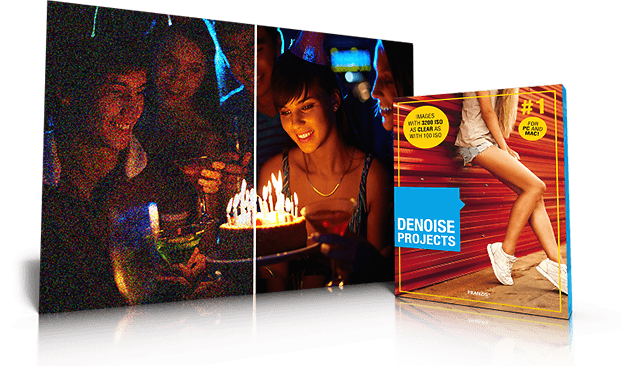 DENOISE projects is currently the only available software that removes all seven forms of image noise: luminance noise, colour noise, banding, colour clouds, hot pixels, salt & pepper as well as holes. The completely newly developed Smart Pattern Matching noise technology perfectly removes noise from your images while still keeping the colours, sharpness and finest details.
Use Your Camera's complete ISO Scope!
With wildlife photography, you need to take fast photo series to be sure that you have captured the right moment. On top of that, zooming is often necessary to properly depict the animal. That's often the moment of truth. At this point, if it hasn't happened sooner, interfering noise, JPEG artefacts and loss of detail appear, making the image usually unusable. DENOISE projects lets you go down a different route and use all of your camera's ISO range, and everything remains without noise and super crisp!
New Features:
– NEW: Color-sensitive noise reduction
– NEW: Maximum noise suppression quality "Pro Infinity"
– NEW: Revised user interface for 4K screens
– NEW: Automatic sharpness test in the noise stacking module
Noise-free images in first-class image quality
Difficult lighting conditions, no tripod at hand or simply forgetting to turn down the ISO value: image noise annoys every photographer. DENOISE projects 4 professional is used successfully for such recordings – with brand new algorithms and without any visible loss of detail, sharpness, contrast and color quality. Additional tools such as filters and selective image processing options make DENOISE projects 4 professional a professional tool for perfect, noise-free photos.
DENOISE projects 4 professional – TOP features
– NEW: Smart Denoise Automatics (SDA) now with color-sensitive noise reduction
– NEW: Extended correction range from ISO 10 to ISO 10,000,000
– NEW: Maximum noise suppression quality "Pro Infinity"
– NEW: 17 picture effects from noise removal chrominance to fractal grain
– NEW: Virtual-Detail-Module for the motif-dependent generation of virtual micro-details
– NEW: Focus-Peaking-Module to display the focused areas
– NEW: Additional HSV / HSL color spaces in the grain module
– NEW: Revised and new presets in the "Web" and "Astro" categories
– NEW: Area protection in 43 variants in the RAW module
– NEW: Sensor error correction: Extension of the correction ranges to 500
– NEW: New functions in sensor error correction
Only in the professional version: All features, all possibilities
DENOISE projects 4 professional offers a full range of options: A full-fledged RAW module with color and effect filters, batch processing, 222 presets, intelligent, advanced automation, virtual micro-details, noise stacking module, selective noise removal and much more.
Sounds complicated, but everything is easy and intuitive to use. In addition, you can use DENOISE projects 4 professional easily and conveniently as a plug-in for Adobe ® Photoshop® and Lightroom ® Classic and integrate it into your usual workflow, so you can enjoy the convenience of removing noise from images. Maximum flexibility, maximum performance! If desired, professionals can of course regulate all functions individually in expert mode.
The professional features at a glance:
– PRO only: Maximum noise reduction quality "Pro Infinity"
– PRO only: noise stacking module
– PRO only: RAW module
– PRO only: batch processing
– PRO only: Plug-ins for Adobe Photoshop®, Photoshop Elements® and Lightroom Classic®
– PRO: Noise-Stacking: Erosion for star reduction integrated – automatic reduction of stars in 3 stages
– PRO: Noise-Stacking: The super-resolution drizzling process can now scale images by 300%
– PRO: RAW module: presets in all categories
– PRO: RAW module: Area protection with 43 different variants
Intoxicating motifs without noise!
Noisy pictures of lavish parties: Noise can arise in very different situations! Lush celebrations such as weddings, parties or indoor shots of churches and museums as well as night shots have one thing in common: the light is not enough for a blur-free picture because the most beautiful moments and motifs are rarely illuminated in such a way that they are ISO 100-compatible.
Automatic noise removal
The integrated automatic noise removal has been completely revised for DENOISE projects 4 professional. A significantly improved accuracy now guarantees even better results. At the same time, the ISO range of the automatic was expanded to ISO 10 to ISO 10,000,000.
Realistic noise suppression
Fire is fought with fire! De-noise photos perfectly without destroying their natural look. The Natural Grain Engine, which was specially developed for the DENOISE projects series, uses a physical trick to do this: the image is first de-noised as far as is technically feasible. In a second step, the program specifically counts film grain into the picture. The resulting image look is incredibly realistic – of course, realistic.
Download Franzis DENOISE projects Portable
Download – 88.1 MB
Mirror – 88.1 MB