Franzis NATURE projects 1.18.02839 (x64)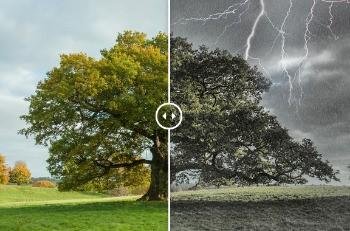 Easily determine the weather with the assistant. Will not you always be shown the same holiday pictures? Blue sky, sunshine and white clouds – somehow the pictures all look the same.. Go new ways and change the weather in your photos. NATURE projects' weather assistant makes it easy for you to create the perfect illusion: a total of 14 weather and time of day conditions can be freely set and combined
Always the right weather for your photos.
– The special software for weather effects
– Weather and seasons according to your personal taste
– Easy operation and convincing results
– Plug-in for Adobe Photoshop and Lightroom
– Windows and Mac
NATURE projects' weather assistant makes it easy for you to create the perfect illusion: a total of 14 weather and time of day conditions can be freely set and combined:
+ In the morning & night
+ Trist & Sunny
+ Snow showers & rain showers
+ Fog & clear
+ Spring & Autumn
+ Rainbow & thunderstorm
+ Runaway (Wind) & Sandstorm
+ Includes free plug-in for Adobe Photoshop and Lightroom
Use the intelligent weather engine from NATURE projects
Weather phenomena such as lightnings or nebulae are not placed as a graphic over the image in NATURE projects and charged, but mathematically generated exactly. This results in deceptively real representations, but just no exact repetitions.
And NATURE projects can do even more: The program not only produces the flash, but the matching mood of light with dark sky and rain! The strength of these weather phenomena can be easily adjusted with sliders and adjusted to your taste.
Let yourself be inspired!
With the "weather randomizer" you can create a random weather condition of the existing weather moods. At the push of a button, the weather changes. You simply click until you like a certain effect and then only adjust the effect size. The following sample pictures show the fantastic effects and it's really that easy!
NATURE projects can do more than just weather …
Daylight seasons and different light sources have a big effect on the image result. Not only motive, picture distribution and sharpness contribute to a successful picture, but also the light situation.
With NATURE projects, you can change the light moods in the picture with a mouse click and conjure up wonderful mood pictures that perfectly set your motif in scene. Which of the two mood pictures with the bride at the window do you like better? How often do you experience that your photo does not reflect the beautiful day as you experienced it? In this case, the sunless effect was applied to the colorless image. Now it does justice to the memory.