Portable HelpXplain 1.3.0.1290
HelpXplain Portable is perfect for slideshows embedded into web pages and technical documentation. Create animated step-by-step tutorials and quick instructions in minutes instead of hours. The magic is in the method: HelpXplain animates a series of simple screenshots, each of which can be edited or replaced at any time.
HelpXplain Portable can also record multi-page screencasts of programs on your computer screen that run in autoplay mode like a video. Recording and editing them is massively easier and less stressful than trying to create a video!
All Xplains are 100% standards-compliant HTML5 and Javascript, 100% responsive and cross-platform. With an overhead small enough to load in less than a second!
Remember the last PowerPoint™ presentation you watched? Was it engaging or did you fight against falling asleep? More often than not it's the latter. But what is it that makes one slideshow boring and another one interesting and appealing?
The canvas makes a difference
HelpXplain Portable uses an 'infinite canvas', a virtual surface on which you position your slides anywhere you want. The presentation plays by moving the canvas behind the 'viewport' on the screen. As the presentation plays, the slides move, zoom and rotate into and out of the viewport.
This helps the reader to stay focused. Staying focused on a detail requires awareness of the big picture. A visual understanding of where a detail fits into the lot helps our brains to create mental anchors, to remember details more easily and stay on topic.
Screencasts vs. HowTo Videos
HelpXplain comes with a built-in screen-capture and screencast tool. HelpXplain screencasts look like videos when they play, but they are actually an animated series of screenshots with an animated cursor. The individual screenshots are played one by one, creating a video-like effect as if the screen had been filmed.
Why would you prefer a HelpXplain screencast over creating a real video with a dedicated video tool?
Creating instruction videos requires a lot of planning ahead. They are stressful and thus unpleasant to work with, because you have to get everything right. If you make a mistake while making the video you have to start again. And again. And if you ever need to add something you have to remake it, again.
HelpXplain screencasts are a revelation. Making little HowTo tutorials is literally as easy as making a series of screenshots. You don't have to get the timing right and you don't need to worry about setting up everything in the first place. Between screenshots you can take your time and make any changes you want in the software. And if you ever need to add something you can do that at any time, without having to redo the whole screencast.
Endless Room for Your Creativity
HelpXplain is much more than just a slideshow and screencasting tool. It's also a tool to for enhancing static images, for online presentations, eLearning courses, interactive eBooks, for website sliders and picture galleries. The only limit is your imagination!
What's NEW:
Version 1.3 comes with 2 new features and several small bug fixes.
One new feature is an option to restrict the Maximum Image Size in the publish dialog. This is a very useful setting if your Xplain contains many images, in particular large ones. Images may considerably slow down the loading time when viewed in a web browser. If there are too many too large images, memory might not be sufficient. The Maximum Image Size option can reduce the physical size of images during export.
The second new feature is in the DeepL translation function: it now supports Japanese and Chinese (Simplified).
Other changes and bug fixes in version 1.3:
Access violation fixed, that occurred when deleting slides in Object List
HTML editor problem with Japanese IME fixed
Screen Capture German UI was too small
Screencast dialog how to arrange slides was sometimes hidden behind main window
Replacing image placeholders with a picture from clipboard create images without filename
When changing the display duration of multiple slides in the Animation > Slide Transition dropdown menu, an error occurred.
Updated xploader.js script: when loaded in lightbox, it sets to focus to the lightbox to enable keyboard operation without a first click.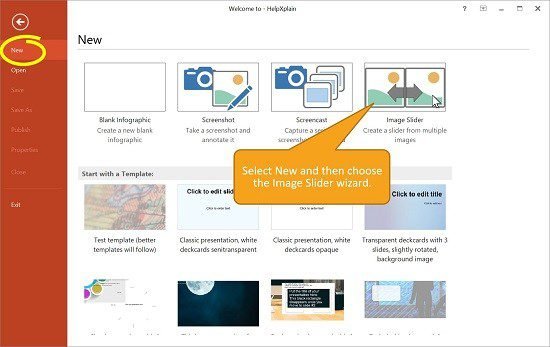 Download HelpXplain Portable Software
Uploadrar – 187.2 MB
Hexupload – 187.2 MB