Portable Isoo Backup 4.7.1.793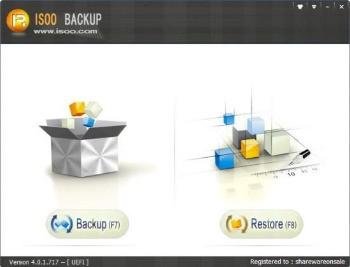 Trusted backup software designed for Windows PC and Server users to backup & restore system, settings and applications. In case of hardware failures or system infection, an application such as Isoo Backup is a life savior. Its purpose is to help you create a backup of the entire operating system, so that you can restore it to a fully functional state should something go wrong.
Windows Backup
Isoo Backup helps to safely backup Windows including system files, installed applications, boot sectors and customer settings to one image file so that you can restore computer when system slows down or fails to boot.
System Restore
Restore system from a previous backup image to solve system problems such as Blue Screen, OS cannot boot, virus infection, system instability, low running speed, system crash, system data loss, etc. without reinstalling Windows.
Partition Backup
Isoo Backup enables you to back up non-system partition/volume. All data on the selected drive will be packaged into a single image file so as to safeguare against data loss caused by partition corruption or accidental deletion.
Create password-protected system backups
Isoo Backup saves the backup files to a newly created partition, provided enough storage space is available. You can define the size of the backup partition and assign a short comment to each backup, for easier identification.
For security purposes, the access to the backup section can be password-protected, so as to prevent unauthorized modifications. You can exclude certain files that don't need to be saved, such as the Recycle Bin content, cached webpages or temporary files.
During backup, Isoo Backup can be added to the Windows boot menu, making it easier for you to recover a created OS image. Alternatively, you can install it to a new hidden partition and press F11 to access it before Windows boots.
Restore Windows to a working state
Isoo Backup is a good backup and restore solution for your operating system, providing a simple way to keep your files and folders safe. It is somewhat similar to Windows restore points, but provides customizable options and a user-friendly interface to work with.
What's NEW:
1. Improve the stability of boot options.
2. Support new hardware.
Download Isoo Backup Portable