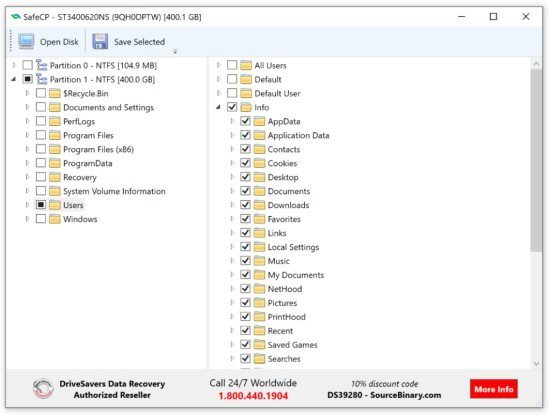 SafeCP Portable uses raw disk access to read all common filesystems. Available for Windows XP, Vista, 7, 8.x, or 10, you can read FAT, NTFS, HFS+, exFAT, ReFS, APFS, EXT, UFS partitions. Both MBR and GPT partitioning schemes are supported. A common use of SafeCP Portable is to recover user profile folders from externally connected disks. Whether the disk is from a Windows, Mac or Linux computer, SafeCP makes it easy to retrieve the files.
Either accidentally losing files or even losing access to some files due to data corruption or some other reason, can really set you back if you are not prepared. Backing up data is the most common thing to do, but there are times when even backed up data cannot be accessed, due to restrictions or even physical drive damage. With its impressive data reading capabilities, SafeCP Portable will allow you to access restricted data from some of the most common filesystems and retrieve it in case of an unfortunate event.
Select your preferred drive and scan it to view its contents
One of the main advantages of SafeCP lies in its ability to read data from a large number of partition types. No more than 8 types are supported, ranging from the more common, FAT or NTFS and up to EXT or UFS, with both MBR and GPT partitioning schemes.
Scanning the drives for files is easy and straightforward, but users must be aware that if their disks have sustained severe damage, attempting the data recovery could potentially inflict even more damage.
Retrieve data with ease and preview the task progress
Having selected the preferred data, it is only a matter of copying it to another drive for safekeeping. In order to make things easier, a handy graphical progress bar helps users preview the process progress.
Although it offers fast and speedy file scanning, SafeCP might lack some abilities in the filtering department. This is not such a big issue, but it might be cumbersome for those who wish to perform a more thorough and efficient search.
Simple data recovery app that supports a wide range of partitions
This program will help you retrieve your "hard to reach" files that have either been accidentally lost or are just unreadable due to the characteristics of a certain partition. With a minimalist interface and even simpler handling, it provides efficient operation without too much trouble.
Although not a substitute for data recovery service, disks with bad sectors or filesystem corruption can benefit from SafeCP's cautious approach to reading filesystems. It's common for disks with bad sectors to stall Windows Explorer due to automatic drive letter assignment. You can use the easy to access controls to disable automount. Then you can connect your disk and open it with SafeCP Portable.
Transferring files from a Windows disk is easier since SafeCP does not process file permissions. The disk is opened in read-only mode so that the source is not modified.
Whats New:
Scan button on main window to quickly calculate transfer size
Image preview available for all common and raw raster formats
Default save path changed to user desktop directory
Viewers for text and rich text files
Hex/binary viewer added
Uploadrar – 9.4 MB
Hexupload – 9.4 MB