Portable Calendarscope 12.0.2.3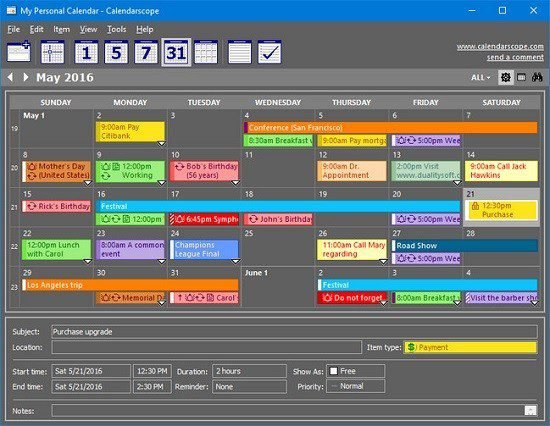 Calendarscope Portable is a full-featured calendar software for planning, managing, and scheduling appointments, meetings, birthdays, vacations, special events. It allows you to view all your events in a daily, weekly, monthly, or yearly overview. You can get a quick look at the events of a single day in any calendar view.
We all have busy lives, full of appointments, tasks, meetings and special occasions we must remember. Keeping track of everything can be difficult if you don't use a proper planner, such as Calendarscope.
The program is a full-featured managing tool that lets you schedule appointments, meetings and vacations, keep track of birthdays and anniversaries, payment due dates and various TV shows you want to watch.
The calendar has a few overview options, such as daily, weekly, monthly or yearly. All the appointments and holidays can be displayed, as well.
Two types of events can be created with this software: unique or recurring. These can be filed under various categories, such as Business, Gifts, Holiday, Ideas, Miscellaneous, Personal, Phone Calls and Waiting. All types or reminders can be customized by assigning background and text colors, as well as by choosing an alarm sound.
Furthermore, the work week-days can be customized, as well as the keyboard shortcuts.
Various national and religious holidays can be imported to the calendar. For example, you can load holidays from Argentina, Australia, Brazil, Canada, Finland, France, Germany, Greece, Israel, Japan, USA, Russia, Sweden, but also Jewish and Christian events.
Events that are programmed wrongly can be moved easily to the desired location, without needing to be edited again.
The fact of the matter is that Calendarscope is a useful app that can help you keep track of everything that's going on in your life. Inexperienced users should be able to quickly figure out all the program's features, thanks to its intuitive interface.
Using Calendarscope, you can create single or recurring events and tasks, set reminders for upcoming events, color-code different item types, and much more. A Drag and Drop feature allows you to reschedule an event or change its duration easily.
Task and TaskPad views show all scheduled tasks, including Active, Overdue, Completed, and others. You can also create and track tasks with a flowing deadline or without a due date.
Reminders have customizable fonts, colors, and sounds, and can contain email addresses and live web URLs. Many of the main program features are accessible from a tray icon. You can synchronize your data with Google Calendar or your mobile device using HandySync, or you can print your calendar to take with you. You can also save it in HTML to publish it to the Web or to a company intranet. The holidays of over 30 countries are available.
Unauthorized access to your data is prevented with strong encryption algorithms.
What's NEW:
Added the Agenda view
Added ability to select the number of days displayed in the Agenda view (Customize View)
Added the Agenda bar
Added ability to delete completed tasks automatically
Added the Open Folder button (Backup Options)
Added ability to adjust sound volume (Options)
Added the Enable sound option (Options)
Added the Prepare Logs button (Options)
Improved the Zoom window
Improved theme support
Improved reminder support
Improved iCalendar import
Fixed minor bugs
Download Calendarscope Portable