Portable CorelDRAW Graphics Suite 2022 v24.4.0.625 (x64)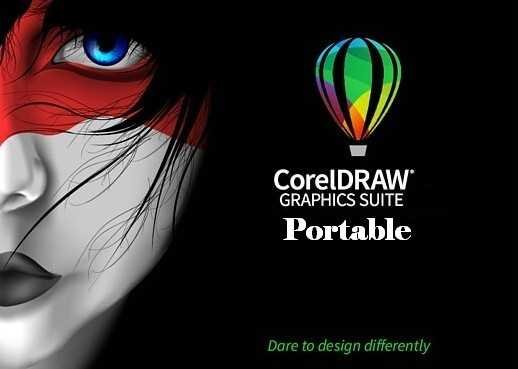 CorelDRAW Graphics Suite Portable is a powerful and versatile software package designed for professionals and amateurs alike who need to create high-quality graphics and visual content. It consists of several applications that work together seamlessly to offer users a complete solution for graphic design, illustration, and photo editing.
One of the main applications in the suite is CorelDRAW Portable, a vector graphics editor that allows users to create designs with precision and control. With CorelDRAW, users can draw shapes, lines, curves, and text, and manipulate them in a variety of ways to create intricate designs. The software offers a rich set of tools for creating and editing vector graphics, including the ability to apply gradients, color fills, and special effects to objects.
Another key component of the Graphics Suite is Corel PHOTO-PAINT Portable, a powerful photo editing and retouching program. PHOTO-PAINT is designed to help users enhance and manipulate digital photos, whether they need to remove unwanted elements, adjust colors, or apply special effects. The software includes a vast array of features, from basic editing tools like crop and rotate to more advanced tools like masking, layering, and color correction.
CorelDRAW Graphics Suite Portable also includes Corel Font Manager, a tool that makes it easy to manage and organize fonts on your computer. With Font Manager, users can search for and preview fonts, as well as install and activate them with a single click. The software also includes advanced features like font matching and font pairing, which can help users find the right font combinations for their designs.
In addition to these applications, the Graphics Suite includes several other tools and utilities that can help users create and manage their graphics projects. For example, Corel CONNECT is a content organizer that allows users to search for and access graphics assets like photos, clipart, and fonts from within the suite. The suite also includes CorelDRAW.app, a web-based version of CorelDRAW that allows users to work on their designs from anywhere, on any device.
One of the most significant benefits of CorelDRAW Graphics Suite is its versatility. The software is designed to work with a wide range of file formats, including popular formats like AI, EPS, PSD, and PDF, as well as industry-standard formats like SVG and DWG. This makes it easy for users to import and export files to and from other applications and platforms.
Another strength of the suite is its user-friendly interface. CorelDRAW Graphics Suite is designed to be easy to use, with intuitive tools and menus that are easy to navigate. The software also includes a range of tutorials and training resources, making it accessible to users of all skill levels.
Overall, CorelDRAW Graphics Suite Portable is a comprehensive and powerful set of tools for graphic designers, illustrators, and photo editors. Its range of applications and utilities allows users to create high-quality graphics and visual content for a wide range of projects, from logos and branding to web design and digital publishing. With its user-friendly interface and powerful features, CorelDRAW Graphics Suite is an essential tool for anyone looking to create professional-quality graphics and visual content.
Quality design can help build a brand, captivate new audiences and expand your business. The right tools can empower your creative team to make it happen. Corel delivers a comprehensive suite of graphics software designed to simplify and accelerate design workflows.
Design
Produce unique illustrations, signage, logos and more–on Windows.
Collaborate
Collaborate with clients and colleagues using CorelDRAW.app to gather real-time feedback from one or many reviewers.
Done
Deliver exceptional results in less time, thanks to seriously productive tools for any type of output.
Branding & marketing
From creative professionals working in advertising and publishing, to small businesses producing in-house marketing materials, CorelDRAW Graphics Suite has the tools to create everything from stand-out brand identity assets to alluring sales tools.
Signage & large-format printing
Professionals in the sign and print industry rely on CorelDRAW® to create artwork for a variety of print outputs, thanks to a powerful color management engine and superior prepress tools.
Apparel & textiles
Whether you're in the business of screen printing, embroidery, direct-to-garment printing or apparel, CorelDRAW Graphics Suite has all the tools you need to produce and output designs for the fashion industry.
Retail & e-commerce
CorelDRAW Graphics Suite has commerce professionals covered with dedicated tools for web and print, whether you're designing point-of-sale promotions or creating assets to enhance an online store.
Blueprints, maps & schematics
CorelDRAW is a trusted name in engineering, manufacturing and construction firms with precision tools for creating product and parts illustrations, diagrams, schematics, and other intricate visuals.
Illustration & fine art
Illustrators and artists alike can combine their classic art practices with CorelDRAW's state-of-the-art vector-illustration technology to create beautiful, sophisticated works of art.
Key features:
Vector Illustration and Page Layout.
Versatile Drawing and Tracing Tools.
Professional Photo Editing.
Easy Website Design.
Show Objects.
Copy Curve Segments.
Workspace Customization.
Font Management.
Font Filtering and Search.
Windows 10/11 and 4K Display Support.
CorelDRAW Graphics Suite Portable offers a variety of workspaces, from simple to familiar. The app also allows custom settings. Layouts are in many ways very similar to Photoshop and Illustrator, so Adobe users should have no trouble understanding what Corel has to offer.
Graphic design software
– New non-destructive effects for bitmap and vector objects
– More control over your objects, layers and pages
– Improved pixel workflow for pixel-perfect documents
Be in control
Manage your design journey and choose how you purchase. Enjoy premium capabilities developed for your platform—Windows or Mac—and work on the go with CorelDRAW.app.
Be creative
Whether you're designing signage, logos, web graphics, or print projects, you'll enjoy unmatched customization and capabilities that complement your unique style.
Be efficient
Maximize time efficiencies with a comprehensive suite of creative applications that couples intuitive tools with exceptional speed, power and performance.
Innovative & productive
Achieve unsurpassed productivity with new high-caliber features in this versatile graphic design program. You'll appreciate a smoother workflow with industry standard PDF/X-4 support, and an improved content browsing experience. Plus with the all-new CorelDRAW.app, you can access your work anywhere.
Creative & customizable
Produce original illustrations, signage, and logos for both print and web. Create your way with an array of professional document styles, page layout and vector tools. Plus, enjoy new, non-destructive editing functionality when applying effects to vector and bitmap objects. Personalize the user interface, tools, templates and more to make them your own.
Easy to learn & use
This powerful collection of applications is loaded with intuitive tools, tutorials, tips, tricks, learning materials and Discovery files, to ensure you can get started easily and be successful sooner. Try one of the many new templates to quickly create brochures, posters, cards, social media images, and more, without having to start from scratch.
What's NEW:
NEW Faster photo editing
Get incredibly creative with new, non-destructive stackable adjustment presets and a totally transformed Adjustments docker that's up to 10 times faster than before. Enjoy a number of user-inspired enhancements to frequently used photo editing features, and an updated Adjust menu with new tools, shortcuts, and commands.
NEW Optimized learning experience
Find personalized learning content in the new Learn docker, and search online content as you create from the Explore tab. Thanks to optimizations that put tailored training at your fingertips, you'll be successful sooner without having to leave CorelDRAW to brush up on tools and techniques.
NEW Customer-inspired features
Enjoy many enriched features based on direct suggestions from our loyal users—from timesaving Multipage view and Pages improvements to valuable image editing and export enhancements. Contribute to CorelDRAW Graphics Suite's design and development by submitting your ideas as they arise and voting on others to bring them to life!
Download CorelDRAW Graphics Suite Portable