Portable Diamond Cut Forensics10 Audio Laboratory 10.90.7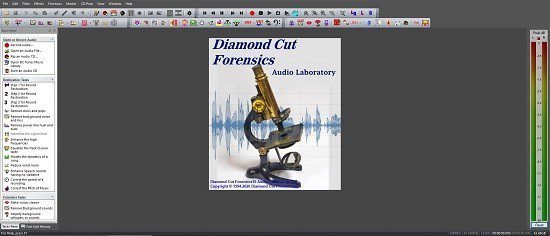 Diamond Cut Forensics Audio Laboratory portable is a comprehensive set of utilities designed for audio restoration, enhancement and audio archiving. This extensive toolkit will allow the user to remove extraneous noise and also enhance the sound from any audio source without degrading the content contained on the original Recognizing that there is a tradeoff between the degree of noise removed from a source and the fidelity transient and frequency response maintained, the developers have sought to provide the highest level of user control while maintaining ease of use over the variables that affect the audio restoration and enhancement process.
Diamond Cut Forensics Portable is a powerful audio forensic software that provides users with advanced tools for enhancing, analyzing and restoring audio recordings. The software is widely used by audio experts, law enforcement agencies, government agencies, and other professionals in the field of audio forensics to extract valuable information from audio recordings.
One of the key features of Diamond Cut Forensics Portable is its ability to enhance audio recordings that may be difficult to hear or understand. The software uses state-of-the-art algorithms to filter out background noise, remove unwanted sounds, and boost the volume of the recording. This makes it easier for forensic analysts to identify important details such as voices, gunshot sounds, or other types of noises that may be relevant to a case.
Another important feature of Diamond Cut Forensics is its ability to analyze audio recordings using various tools and techniques. For example, the software can perform spectrogram analysis, which allows analysts to view the frequency content of an audio recording over time. This can help identify specific sounds or patterns that may be important for a particular investigation.
In addition to its analysis capabilities, Diamond Cut Forensics also includes a range of restoration tools that can be used to improve the quality of audio recordings. For example, the software includes de-clicking and de-noising filters that can remove unwanted clicks, pops, and other types of distortion from recordings. It also includes tools for removing hum, buzz, and other types of noise that may be present in a recording.
Diamond Cut Forensics is designed to be user-friendly, even for those who are new to audio forensics. The software includes an intuitive interface that allows users to easily navigate through different features and tools. It also includes a range of tutorials and documentation to help users get started.
One of the strengths of Diamond Cut Forensics is its versatility. The software can analyze and process a wide range of audio formats, including WAV, MP3, AIFF, and others. It can also be used to analyze live audio feeds from microphones, making it a valuable tool for real-time investigations and surveillance operations.
Diamond Cut Forensics is regularly updated with new features and improvements based on feedback from users and industry experts. The software is developed by Diamond Cut Productions, a company that has been providing audio solutions for over 30 years. This means that users can rely on the software to be reliable, stable, and well-supported over the long term.
Overall, Diamond Cut Forensics Portable is an essential tool for anyone working in the field of audio forensics. Its advanced analysis, enhancement, and restoration features make it an invaluable resource for investigators and analysts who need to extract important information from audio recordings. Whether you are working on a criminal investigation, civil case, or other type of inquiry, Diamond Cut Forensics is a tool that can help you get the results you need.
Professional Audio Engineers, Audio Archivists, Ham Radio Operators, and Audiophile Hobbyists use our productsfor re-mastering, editing, noise removal and audio signal analysis. It is also used by many local, state and federal government agencies including military intelligence operations for forensics law enforcement applications particularly in surveillance situations.
Private sector forensics audio engineers use it for post processing forensic recordings of phone calls and surveillance tapes. Radio and television networks have found the LIVE (real-time signal processing) feature of particular value in their real-time applications. Additionally a number of Engineering Colleges and Universities use this software as part of the laboratory portion ofsome coursework pertaining to applied DSP techniques.
In addition to all of the DCart10 features, the Forensics version offers a wide range of forensic specific filters targeted at forensic applications
Making speech more understandable
Verifying the authenticity of a piece of audio
Determination of possible edits
Identifying speakers
Identifying background sounds and events
New Forensics Features
Forensics Audio Whisper Enhancer Filter (including 15 factory presets)
Spectral Frequency Tracking to aid in Audio Authentication
Audio Statistics Feature (Peak, RMS, Avg, pk-pk…)
Auto "Remove Silence" function for easier transcription of long surveillance files.
Forensics Histogram vs Time display added for analyzing entire files in a histogram domain.
Comparative Histogram allows comparison of statistical distribution of two areas of a file.
Subsonic Explorer feature to help find sub-audible events
Set a file Time offset for tracking time in multipart files.
Direct Access to the Adaptive Frequency Domain Filter (AFDF)
Channel phase view to identify edits or track the movement of multiple talkers in a stereo voice recording.
Find out what they said with the new Whisper Enhancer. Listen to this demo: Before and After
Locate potential "Edit points" with the new Subsonic Explorer
Remove periods of silence from long surveillance recordings to get right to the dialog with the Remove Silence feature
Whats New:
VST Hosting (VST Plug-in Support) Added It's finally here! No you can incorporate dozens of filters made by other companies directly DC Forensic 10. The can be used like other DC filters, and they can even be used in the multifilter!
Forensics Audio Whisper Enhancer Filter added (including 15 factory presets)This is much more than a tricked out expander. The new Whisper Enhancer takes a completely novel approach to digging out these quiet signals that drive you crazy. It's especially useful for otherwise decent quality recordings that have not suffered from several rounds of aggressive compression.
Subsonic Explorer This new tool presents the operator with a clear indication of energy at 30Hz and below and allow him or her to correlate its presence to the time domain waveform. This can be very useful in certain authenticity studies, especially ones that invoice analog edits.
Added a Forensics Histogram Comparator
Forensics Auto Silence Chop-Out function This is great for those hours long surveillance recordings where 90% of it is silence. With this new tool, you just define the level of sound you want to keep and the program automatically marks all those silent passages. It will remove them too and product a CSV file with the exact spots the silence was removed.
Spectral Frequency Tracking to aid in Audio Authentication
Low Frequency Shelf option added to the Paragraphic EQ
Release Note:
New Stout mode added to the Dynamic Bass processor for punchier low bass
Extract Audio from Video converter enhanced to handle many newer video formats.
Many updated presets
New Getting Started Guide
New Dynamic Bass Processor
Dozens of new Presets to support for our Flat Preamp
Improved default presets
Added presets to the Change Speed system
New presets in the Virtual Phono Preamp and the Multifilter specifically to support flat preamp transfers
All CNF presets have been re-done with re-sampled noise fingerprints; these all produce improved results
All CNF presets now have a normal version and a Lite version for improved versatility
New Live Log Output feature to log your processed live recording.
New Task Pane to start flat phono preamp recording
Bug Fixes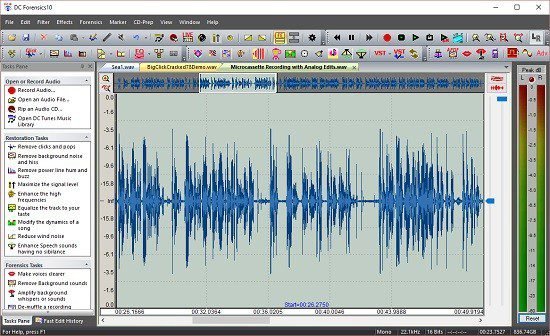 Download Diamond Cut Forensics10 Audio Laboratory Portable