Portable TweakNow WinSecret Plus! for Windows 10-11 v4.9.6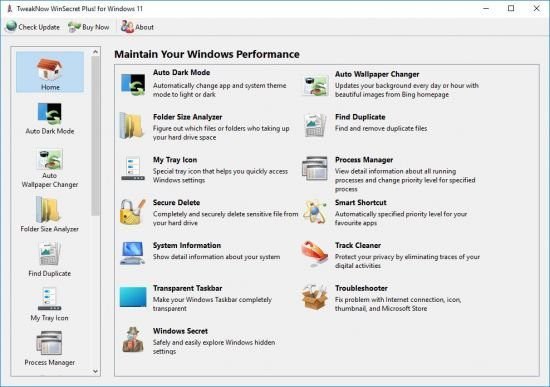 Windows 10-11 comes with a fresh and appealing visual, but if you are not happy with the new GUI and want to make the OS your own, you will be happy to learn you can easily use specialized tools. TweakNow WinSecret Portable is a tool designed to help you enhance the looks and feel of Windows 10-11.
TweakNow WinSecret Portable is a powerful and comprehensive system optimization software that allows you to customize and tweak various aspects of your Windows operating system. With its user-friendly interface and extensive range of features, TweakNow WinSecret Plus provides an effective solution for users looking to improve their computer's performance.
One of the key features of TweakNow WinSecret Portable is its ability to optimize system performance by adjusting various settings and parameters. For example, it can fine-tune your system's memory usage, startup time, and network settings to help improve overall speed and responsiveness.
In addition, TweakNow WinSecret Portable allows you to customize many visual and usability aspects of your operating system. You can change the appearance of your desktop, taskbar, and start menu, as well as adjust the behavior of Windows Explorer and other built-in applications. These customization options allow you to tailor your system to your preferences and make it more efficient and enjoyable to use.
Another notable feature of TweakNow WinSecret Plus is its ability to clean up your system and remove temporary files, junk data, and other unnecessary items that may be clogging your hard drive. This can help free up disk space and improve overall system stability and performance.
Overall, TweakNow WinSecret Plus is a powerful and versatile system optimization tool that provides users with a range of advanced features and customization options. Whether you're looking to fine-tune your system's performance, customize the look and feel of your desktop, or clean up unwanted files and data, TweakNow WinSecret Plus has something to offer. With its intuitive interface and wide range of features, it's an essential tool for anyone looking to keep their Windows PC running smoothly and efficiently.
Improve Your Windows 10-11 Experience
As a long time Windows user you might have heard about registry. The registry is a special file in your hard disk that hold most of Windows settings data.
Wish to Windows taskbar to the top or change the taskbar size? No problem, those tasks can easily be done by simply editing the registry value. Unfortunately registry is not a friendly place for most people. Changing a wrong value in the registry may cause an unpredictable problem to your Windows. This is why novice users should not edit registry value directly using a registry editor by them self.
In this module, we have gathered the most popular Windows 11 registry settings and provide them for you in an easy and safe user interface.
Figure out which files or folders who taking up your hard drive space
Ever wonder how your hard drive become full so quickly? Today, people use computer more for social activity and entertainment than for doing a real job. Not really surprising that within a year or two, most part of your hard disk is already populated by a large number of photos, videos, music, applications, and games collections.
This should not be a problem if you can keep your files organized. When you're running low on disk space simply move those multimedia and games collections to an external drive and you're done. But unfortunately this is not a case for most people. Most people tend to store files in some random folders and that make finding files location would be a tiresome task and time consuming. This is where our Folder Size Analyzer tool can be very helpful. With this tool you can quickly locate all large files and folders location.
Find and remove duplicate files
It is not uncommon that people unintentionally create duplicate copies of photo, music, and video files and put those files in some random folders. After times, the duplicate files will grow significantly in numbers and start taking a large amount of space in hard drive.
How to get rid those duplicate files? Trying to do it manually surely is not a good idea. Checking a large number of folders to find duplicate files will be very tedious and time consuming task. This is where our Find Duplicates tool can be very helpful. Using this tool you can quickly find duplicate files in a single click.
Completely and securely delete sensitive file from your hard drive
When Windows delete a file (empty recycle bin), Windows is not actually remove the file's data from the disk. For efficiency reason, it simply mark the location of the file as deleted and make that location available to be overwritten in the future. The problem is, while waiting to be overwritten the data is still sitting on the hard drive, and file-recovery tools can find the data and recover the file.
If you need something more secure than Windows delete method, our Secure Delete tool will be the right tool for you. Secure Delete is not only delete file but also automatically write random data to the file's location to make the file impossible to recover by a file-recovery tools.
Show detail information about your system
System Information gives you detailed information about your hardware, software and operating system. The information is compiled in 6 modules:
Windows, Special Folders, Environment Variables, Startup Items, Windows Services, Task Scheduler, Audio & Video Codec
Allows you to customize the Taskbar and overall appearance
The program comes with a minimalistic and user-friendly interface that is split in tabs representative for their role. Therefore, in the Taskbar tab you have several options where you can customize various aspects related to the taskbar, including the size, alignment, position and items.
The program provides an easy way to get basic system icons on your desktop without having to go through the settings. From the Desktop tab, simply select the icons you need and specify the spacing on all desktop icons, if preferred. Other noteworthy functions include changing the theme color (light and dark), including a login message or configuring the interval the system should wait to terminate a non-respondent application.
Includes some features to help improve your privacy
In addition to enhancing the visuals and basic functionality, the program can also lend a hand with improving privacy. Therefore, in the tab with the same name, you can find three options for this purpose, the first one being that you can deny apps the possibility to show you personalized ads using your advertising ID.
At the same time, you can manage data collection and telemetry by disabling the corresponding features altogether. Lastly, you can disable DiagTrack at startup, which is essentially a service designed to send Microsoft more or less anonymous data periodically.
TweakNow WinSecret for Windows 11 is designed to help users explore the hidden settings in Windows 11.
This app is specifically geared for Windows 11. It groups numerous registry settings and delivers them from an easy and safe user interface.
With TweakNow WinSecret for Windows 11, you can move the Windows taskbar to the top and change the taskbar size by editing the registry value. With any app modifying the registry, it is strongly advised to have a backup to restore from in the advent of an issue.
TweakNow WinSecret for Windows 11 makes the process easier than directly doing it in Regedit, potentially creating critical problems for a novice user. TweakNow WinSecret for Windows 11 gives you a smooth platform to perform these tweaks in a more controlled environment.
TweakNow WinSecret for Windows 10-11 Features
Move the taskbar to the top
Change taskbar size
Use Windows 10 context menu style
Change app switch behavior
Make taksbar transparent
Use File Explorer's old toolbar style
Enable or disable personalized ads using the advertising ID
And much more
What's NEW:
QR Code Creator: added feature to create QR Code for Contact (V_Card).
QR Code Creator: added feature to copy QR Code image to Windows clipboard.
QR Code Creator: added feature to add logo to QR Code.
Download WinSecret Plus! Portable