Portable AIDA64 Engineer Edition 7.00.6700 Stable Multilingual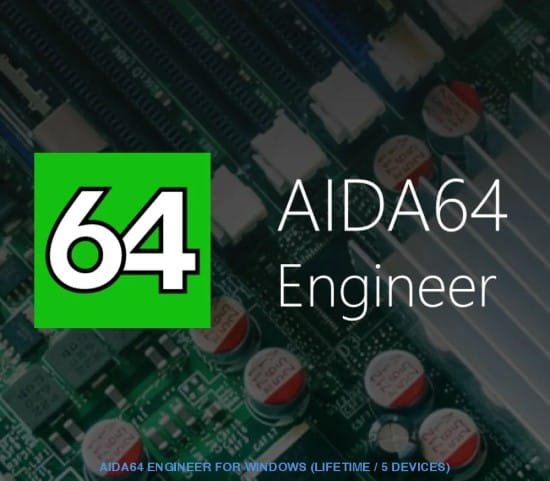 Aida64 Portable is a comprehensive hardware and software analysis tool that is designed for both personal and commercial use. Aida64 is developed by FinalWire Ltd. and it has been been in active development since 1995. The software is available for Microsoft Windows, Google Android, and Apple iOS. It is widely regarded as one of the best system information and diagnostic tools on the market.
Aida64 Portable offers a variety of features that allow users to analyze and benchmark their hardware and software components. The software offers a detailed overview of the system's hardware and software configuration, network information, and temperature and voltage readings. It also includes benchmarking tools for CPU, GPU, and memory testing.
The main window of the Aida64 interface is split into three sections: Computer, System Summary, and Benchmarks. The Computer section displays the main properties of your computer such as the CPU, motherboard, RAM, and storage devices. It also displays real-time information such as CPU usage, memory usage, and network activity.
The System Summary section provides detailed hardware and software information such as CPU features, BIOS properties, and Windows properties. This section also provides detailed information on drivers, startup programs, and installed software. This information can be essential for troubleshooting technical issues and identifying potential software conflicts.
The Benchmarks section contains tools for measuring the performance of your computer's hardware components. It includes CPU, memory, and GPU stress tests, and allows you to compare your results to other systems. Aida64 also includes support for the latest technology standards such as AVX, AVX2, and FMA3 instructions. This enables Aida64 to provide accurate and reliable benchmark results.
Aida64 Portable also includes tools for monitoring hardware temperature and voltage. The software provides readings for CPU, motherboard, and GPU temperatures, and can display them in real-time. This feature is particularly useful for identifying overheating issues, which can cause damage to your hardware.
In addition, Aida64 includes a module for monitoring network activity. This module provides a real-time graph of network activity, which can help you identify bandwidth issues or pinpoint network performance bottlenecks.
Aida64 is also designed to be customizable. The software includes a variety of customization options that allow users to tweak the interface and select which sensors and benchmarks are displayed. This can help streamline your workflow and make it easier to quickly access the information you need.
Overall, Aida64 Portable is an incredibly powerful diagnostic and benchmarking software that can provide essential hardware and software information. It is incredibly easy to use, and its customizable interface makes it ideal for both novice and advanced users. With its accurate benchmarking tools, system analysis features, and real-time monitoring, Aida64 is an invaluable tool for anyone who wants to gain a deeper understanding of their computer's hardware and software configuration.
CPU, memory and disk benchmarks
Implements a set of 64-bit benchmarks to measure how fast the computer performs various data processing tasks and mathematical calculations. Memory and cache benchmarks are available to analyze system RAM bandwidth and latency. Processor benchmarks utilize MMX, 3DNow! and SSE instructions, and scale up to 32 processor cores. For legacy processors all benchmarks are available in 32-bit version as well. AIDA64 Disk Benchmark determines the data transfer speed of hard disk drives, solid-state drives, optical drives, and flash memory based devices.
Temperature, voltage and cooling fan monitoring
Supports over 150 various sensor devices to measure temperatures, voltages, fan speeds, and power draw. Measured values can be displayed on System Tray icons, OSD panel, Sidebar Gadget, and Logitech G15/G19 Gaming Keyboard LCD. The values can also be logged to file or exported to external applications such as RivaTuner or Samurai. AIDA64 can also alarm the user when it detects overheating, over-voltage, or cooling fan failure.
Hardware diagnostics
AIDA64 Portable has the most accurate hardware detection capabilities in its class, to provide detailed information on the computer internals without the need to open it up. The hardware detection module is strengthened by an exhaustive hardware database holding over 115,000 entries. Additional modules are available to overview processor frequencies, check CRT and LCD display status, and stress the system to reveal potential hardware failures and thermal issues.
Software and operating system analysis
Provides over 50 pages of information on installed programs, software licenses, security applications, and Windows settings. List of started processes, services, DLL files, startup programs, and visited web pages is also available.
Languages
Albanian, Arabic, Belarusian, Bosnian, Bulgarian, Catalan, Croatian, Czech, Danish, Dutch, Estonian, English, Finnish, French, German, Hungarian, Indonesian, Italian, Japanese, Korean, Latvian, Lithuanian, Macedonian, Norwegian, Polish, Portuguese (Brazil), Portuguese (Portugal), Romanian, Russian, Serbian (Cyrillic), Serbian (Latin), Simplified Chinese, Slovak, Slovenian, Spanish, Swedish, Traditional Chinese, Turkish, Ukrainian.
Features:
– Level information about motherboard and CPU
– Details of the video drivers and monitor
– Information about all storage devices
– Exhaustive information about network adapters, multimedia and input devices
Information about other glands (PCI, PnP, PCMCIA, USB)
– Details of Windows, including the date of installation, the license key and more
Information about network shares, users and groups list, and much more
– Large amount of information about networking status, remote access, network resources and Internet settings
– Detailed information about installed programs, scheduled tasks and startup programs
– Information about operating system security
– A list of firewalls, anti-spyware and anti-
– System Stability Test
– CPUID Panel
– Hardware monitoring
– Benchmarks CPU and FPU
– Tests of memory
– Module performance test drive
– Detection of possible misconfiguration and compatibility issues of hardware and software
– Report Wizard
– Mailing and printing
Whats New:
Revamped user interface with configurable toolbar
AVX-512 accelerated benchmarks for AMD Ryzen Threadripper 7000 Series processors
AVX2 optimized benchmarks for Intel Meteor Lake SoC
Enhanced support for AMD TR5 socket motherboards
Chipset information for AMD TRX50 and WRX90
Improved support for Intel Arrow Lake and Lunar Lake SoC
Microsoft Windows 11 2023 Update support
Preliminary support for Intel Clearwater Forest and Panther Lake CPU
ACPI 6.5 support
GPU details for AMD Radeon RX 6750 GRE 12GB
GPU details for nVIDIA GeForce RTX 4080 Super
Download AIDA64 Portable