Portable ABBYY FineReader Corporate v16.0.14.6564 Multilingual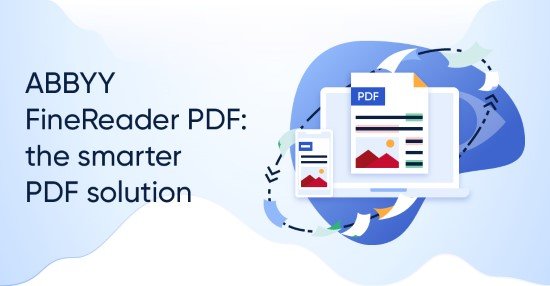 FineReader Corporate Portable is an all-in-one PDF and OCR software for everyday work with PDFs and scans. It supports business professionals from various departments in coping with variety of daily document-related tasks: powerful OCR and document conversion, and ability to automate processing; PDF capabilities including editing, commenting, protection, filling out forms, creating PDFs and others; cross-format document comparison to identify text changes between two versions of the same document.
ABBYY FineReader Portable is an intelligent OCR solution for streamlining document conversion among workgroups in business, government and academic environments. Combining unmatched accuracy with ease of use and the ability to automate document conversion, FineReader Corporate speeds up document processing. Comprehensive network capabilities and cost-effective licensing options further help meet the needs of your business.
Features:
EDIT AND ORGANIZE PDFs
Save time and effort by using and finalizing documents in an easy and productive way. Work with any document (whether it was created digitally or converted from paper) in the same efficient manner. Access and edit texts, tables, and the entire layout of your PDF without additional conversion steps.

View, navigate, and organize PDFs
Browse through pages, comments, and metadata. Select a convenient viewing mode based on your reading preference. Add, delete, rearrange, rotate, and crop pages. Merge documents into one PDF

Reuse information from PDFs
Extract (copy and paste) text and tables directly from any PDF while maintaining the formatting – with just a few clicks. Review and update metadata and verify digital signatures to ensure the authenticity and integrity of the document.

Retrieve information from any kind of PDF
Find information quickly and easily, even in scanned PDFs, by using full-text keyword search and bookmarks. Once the document is open, FineReader PDF automatically detects non-searchable PDF documents and instantly applies OCR (Optical Character Recognition) to make them searchable.

Manage and adapt PDF documents for specific workflows
Use custom stamps, Bates numbers, and watermarks to adapt PDFs to your workflows. Add or edit links, bookmarks, headers, footers, and page numbers to simplify navigating through the document. Make documents easier to retrieve by adding specific keywords to the metadata.

Reuse information from PDFs
Extract (copy and paste) text and tables directly from any PDF while maintaining the formatting – with just a few clicks. Review and update metadata and verify digital signatures to ensure the authenticity and integrity of the document.

Edit and update PDFs
Add updates to previous versions or create entirely new documents based on pre-existing PDFs. You can edit paragraphs or add new ones; add or delete pictures; edit text inside tables; and rearrange the elements of the layout within a page. With FineReader PDF, you can edit a scanned document as easily as a PDF created digitally.

Fill out PDF forms
Fill out interactive fields in PDF forms or scanned paper forms to add text at the designated spaces. Sign forms using facsimile or digital signatures

COLLABORATE ON AND APPROVE PDFs
Share ideas, collect feedback from the team, and get documents approved. Use tools to discuss and make decisions directly in a PDF by marking up, commenting on, and drawing within a document.

Mark up and annotate
Conveniently annotate any part of a PDF (text, images, a chart or a chart area, captions, etc.) using Notes, Text Box, and a wide range of mark-up and drawing tools.

Comment and discuss
Exchange ideas and questions by commenting on any markups or replying to comments. Assign a status to each comment to create more transparency among the collaborators and better guide the discussion.

Manage comments and accelerate decision making
Search by keywords, sort, filter, and assign a status to comments. Also, stamps can easily be added to designate the status of the whole document.

Send documents for approval to others
Share documents with various stakeholders and collect multiple digital signatures within the same PDF.

PROTECT AND SIGN PDFs
Mitigate security risks when sharing and storing PDFs. Apply and verify digital signatures, redact sensitive information, remove hidden data, and manage access to your PDFs.

Redact sensitive information
Prevent the disclosure of privileged or confidential information with a reliable redaction tool. Permanently and irreversibly remove sensitive information such as personal data, bank account numbers, etc., from a PDF, including body text, headers and footers, comments, and metadata. Work efficiently by searching through and redacting the whole document within seconds.

Remove hidden data
Mitigate the risk of unintentionally sharing confidential information in a PDF by removing hidden objects and data with one click. You can remove text layers added by OCR, comments and annotations, attachments, bookmarks, metadata, links, media, actions, scripts, and form data.

Apply password protection
Manage access to PDF content with different levels of password protection that restricts either opening the document itself, or restricts actions with its content such as printing, editing or extraction of information

Certify with digital signatures
Sign PDFs with a digital signature certificate. In addition to a digital signature, you can create and insert a facsimile of your handwritten signature. Verify digital signatures in a PDF to ensure their authenticity and integrity.

CREATE AND CONVERT PDFs
Take a digital-first approach by standardizing documentation in the PDF format and capitalizing on its advantages. Convert paper documents or files from any format into searchable PDFs (compliant with ISO specifications) or convert PDFs into Microsoft® Word, Excel®, and more than 15 other formats to get full flexibility when editing and reusing them.

Create industry standard PDFs
FineReader can create PDFs from more than 25 different file formats, directly from paper documents, or by using a PDF printer from almost any application with a print function. The range of supported PDF types includes PDF/A-1 to PDF/A-3 for long-term archiving and PDF/UA to ensure information is accessible when using assistive software such as screen readers.

Convert PDFs into editable formats
Quickly turn your PDFs into fully editable formats such as Microsoft Word, Excel, and others – one by one or multiple PDFs at once. ABBYY's intelligent OCR and PDF document conversion technologies ensure excellent accuracy, document layout and structure retention quality for further effortless editing.

Merge documents into a PDF
Create a single PDF from several files in different formats or create a new PDF by extracting pages from existing PDFs and combining them into one.

Convert PDFs into editable formats
Quickly turn your PDFs into fully editable formats such as Microsoft Word, Excel, and others – one by one or multiple PDFs at once. ABBYY's intelligent OCR and PDF document conversion technologies ensure excellent accuracy, document layout and structure retention quality for further effortless editing.

Advanced PDF conversion
The OCR Editor provides advanced tools and options for precise control and exceptional flexibility when converting PDF documents into editable file formats.

Compare documents in different formats
Quickly and reliably identify differences between two versions of a document across different formats, including scans. Rest assured that you can, in a fraction of the time, identify unauthorized changes, check if edits were implemented as agreed, or verify that the document has not been changed at all.

Compare documents quickly, reliably and effortlessly
Avoid the long and tiresome process of comparing text in two documents line by line. FineReader PDF detects the differences between two versions of a document within seconds. It accurately identifies relevant changes to the text without additional conversion steps, even if the versions of the document are in different formats such as Microsoft Office files, digital PDFs, scanned PDFs, or even scans and image files.

Focus on the most important differences
FineReader will only display the differences that affect the meaning of the document and disregard insignificant differences like formatting or line breaks. This lets you review documents 5 to 20 times faster*, so you can focus on what is most important, simplify your work, and reduce the chances of missing something that matters. You can even manually disregard differences that are not significant for your task, and they will no longer appear in the list of comparison results.

Export and share the comparison results
Tailor comparison results to your needs. When someone should approve or edit the changes, export to Microsoft Word in track-changes mode. Or use a PDF with the differences marked up as comments to share and discuss with others. You can even save a list of the differences themselves in a Microsoft Word table in order to have a brief overview for your records, reports, or discussions.

Compare multilingual documents
FineReader supports text comparison in 38 languages, including documents written in multiple languages. The software can also automatically detect a document's language.

Digitize paper documents and scans with OCR
Leverage the digital workplace by digitizing paper and scanned documents for storage and quick, reliable retrieval or to instantly reuse and edit. Experience the unparalleled accuracy of a market-leading, AI-based Optical Character Recognition (OCR) technology and see how it simplifies your paperwork.

Create searchable PDFs
Easily turn paper documents, scans, and scanned PDFs into searchable PDFs, so you can quickly retrieve documents from digital archives and access the information within them. FineReader PDF supports the PDF/A format, the standard for long-term archiving, with all conformance levels and variants from PDF/A-1 to PDF/A-3.

Advanced document conversion
Manage the text recognition and document conversion process in detail. The OCR Editor provides advanced tools and options for enhanced document conversion with the flexibility that a specific document and task may require. Powerful image preprocessing tools and additional settings to maintain the layout of the document further improve accuracy and consistency. With a practical verification tool, quickly and reliably check just those characters in the converted text which could have been recognized incorrectly

Reuse and edit
Convert your paper and scanned documents into editable files in Microsoft Word, Excel, OpenOffice Writer and other common formats. ABBYY's AI-based OCR and document-conversion technologies ensure excellent accuracy and maintain the layout and structure for further effortless editing.

Save storage space
Reduce the file size of PDFs by up to 20 times with MRC compression.

Automate digitization and conversion routines
Take advantage of automation tools to streamline repeating OCR conversion tasks or convert multiple documents into editable formats such as Microsoft Word, Excel, and more. Make all your paper documents and PDFs searchable and use industry standards for
long-term archiving (such as PDF/A) to ensure documents will be accessible in the future.
Use a Hot Folder to automate document conversion tasks for individuals or workgroups, for example to prepare documents scanned on the office multifunction printer or obtained by email as attachments for further processing. A Hot Folder is capable of processing up to 5,000 pages per month* (the number of pages resets every 30 days) and uses up to 2 CPU cores for the document conversion.
Set up a watched folder on a local or network drive, FTP server, or mailbox, and any files placed in it will be converted automatically with the pre-defined settings, immediately or according to a schedule. With a Hot Folder, you can set up the processing settings for each watched folder individually.
Set up custom Automated Tasks with conversion steps and settings specifically tailored to your frequently performed tasks. Make repeating, daily conversion procedures easier to carry out in just a few clicks.

Work easily with a universal PDF tool
Perform various document-related tasks within one single application. Decrease costs by investing in fewer pieces of software. Increase the efficiency of daily work by reducing the number of applications in use and preventing the need to do the same work twice. Enjoy a simple and straight-forward user interface and high-quality results.
FineReader Portable Release Note:
Printing from PDF Editor might not work unless some other action (e.g. Undo) is done.
A program error "No module loaded for class 'Receipt.ReceiptSession'" could happen when converting PDFs with pages of a small size.
In some environments, Concurrent licenses weren't released by the time set in the GPO settings.

In PDF Editor, "Change line spacing" tool might not work.

Manual selection of barcode type for a barcode area might not be saved in certain cases.
When saving to a searchable PDF of "Text under the page image" type and MRC applied, background whitening might apply to the document pages even though it wasn't selected in the image processing settings.
A program error could happen when saving a converted document to PPTX format.
Filling in of interactive forms created in FineReader PDF might not be possible in Google Chrome and Microsoft Edge browsers.
An error in creation of checkbox and radio button elements in interactive PDF forms, which resulted in incorrect indication of checked elements with a square instead of a tick or a dot.
Note: the error took place in the previous Release 3 only. To eliminate the error in the forms, created with FineReader PDF 16 Release 3, it is needed to re-create checkbox and radio button elements in such forms using FineReader PDF 16 Release 3 Update 1, or an earlier release of FineReader PDF 16 other than the Release 3, if available.

"Undo" didn't work after deleting a part of an image using the "Eraser" tool in the OCR Editor.
Download ABBYY FineReader Portable