Portable Atlantis Word Processor 4.3.0.0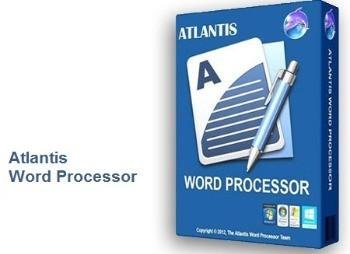 Atlantis Word Processor Portable has all the features you need to create simple documents or great works of literature: novels, essays, reports, letters, diaries, newspaper articles, etc. Compose rich-formatted documents from scratch, or edit existing MS Word documents, and send them to colleagues, customers, partners, friends.Make eBooks for a living, or just create eBooks to read on your iPad or another eBook reader. Turn any document into an eBook with just a few mouse clicks!
Atlantis Word Processor Portable is a powerful and feature-rich word processing application designed for professionals and casual users alike. With its intuitive interface and extensive set of tools, Atlantis makes it easy to create, edit, and format documents of all kinds.
One of the standout features of Atlantis Portable is its customizable interface. Users can choose from a range of pre-defined themes or create their own, allowing them to tailor the look and feel of the application to their personal preferences. Additionally, Atlantis provides a wide range of customization options for individual documents, including font type and size, page layout, line spacing, and more.
Another key strength of Atlantis Portable is its support for a wide range of document formats, including Microsoft Word, OpenDocument, RTF, HTML, and PDF. This makes it easy to collaborate with others who may be using different software, as well as to share and distribute documents in a variety of formats.
Atlantis also includes a number of time-saving features that make it ideal for busy professionals. For example, its AutoCorrect function automatically corrects common spelling and grammar errors on-the-fly, while the AutoFormat tool can quickly format text according to preset styles and templates.
In addition to these core features, Atlantis also offers a range of advanced tools for experienced users. These include built-in macros and scripting capabilities, support for footnotes and endnotes, an equation editor, and even a built-in image editor for quick and easy image manipulation.
Despite its many advanced features, Atlantis is remarkably easy to use thanks to its intuitive interface and helpful documentation. Whether you are a seasoned professional or a novice user, you will find that Atlantis makes it easy to create polished and professional-looking documents with minimal effort.
Overall, Atlantis Word Processor Portable is a versatile and powerful tool that offers everything you need to create and edit high-quality documents of any kind. With its extensive customization options, support for multiple file formats, and time-saving features, Atlantis is sure to become an essential part of your workflow.
As the name of this piece of software implies, Atlantis Word Processor Portable comes equipped with tools for word processing. It can be easily handled, even by less experienced users.
The interface of the program is familiar and easy to navigate through. Atlantis Word Processor allows you to use the undo, redo and search functions, as well as change the viewing mode and manage toolbars.
But you can also insert page numbers, symbols, hyperlinks, table of contents, footnotes, date and time, along with fields, as well as switch to full screen mode.
Additionally, you can change character case and the language, make file associations, install Atlantis Word Processor on a removable drive, reconfigure program shortcuts and customize toolbars, as well as use tools like spellcheck, autocorrect and hyphenation.
Documents can be saved with the RTF, DOC, DOCX, COD and TXT formats. From the "Options" area you can disable Atlantis Word Processor from creating a new document at startup, customize the special symbols viewing mode, save the cursor position, change the color scheme and make the tool underline misspellings.
The word processor requires a low-to-moderate amount of CPU and system memory, has a good response time and includes a help file. No error dialogs have been displayed throughout our testing and Atlantis Word Processor did not freeze or crash. All in all, if you are looking for a straightforward program for managing your text documents, then  Atlantis Word Processor can be of assistance.
THE WORD PROCESSING FUNCTIONS:
Document creation and formatting is easy, using a customizable and expandable collection of document templates and sample letters.
Comprehensive Style Sheet support is available for advanced users.
A customizable and expandable Clip Library is stocked with text and graphic items ready to be inserted in larger documents whenever suitable. The Atlantis original collections of clips include everyday phrases, letter writing elements, clip art, etc.
Of course, all the traditional font and paragraph formatting commands are present:

choice of typeface, font size, font color. A state of the art typeface preview.
bold, italic, underline, strikeout, double strikeout, superscript, subscript, small caps, all caps, shadow, outline, emboss, engrave.
choice of 17 underline styles; choice of underline color.
character spacing, scaling, kerning, vertical offset.
fully customizable tab stops.
left/right paragraph indent, first line indent and outdent.
spacing before/after paragraph, 6 types of interline spacing.
keep with next paragraph, keep intact, page break before, widow/orphan control.
and plenty more, only a key press or mouse click away…

More than 20 fields are supported. The corresponding items are quickly inserted and automatically updated by Atlantis. Fields make document and template creation very flexible. What's more, we have made sure that fields are not restricted to advanced users: using fields in Atlantis is child's play!
Words can be hyphenated across lines automatically or manually.
You can create newspaper-type columns, divide documents into sections, each section with its own page settings.
You have two graphic-type formatting modes to change font color and highlight text. You will use specific mouse pointers to format text in the same way as you would with a paint brush.
Atlantis introduces a revolutionary approach to document formatting with a Format Palette and Brush. Even the most complex formatting jobs can be done exclusively with a brush-like mouse cursor and a palette loaded with formatting templates. You can use the Atlantis default palette or customize your own format palettes in any way you like.
The Format Palette is only one of the instruments present on the Atlantis Control Board. The Atlantis Control Board brings together all the tools and commands that are required to create both simple and complex documents with the greatest of ease. Each panel of the Atlantis Control Board is dedicated to one specific characteristic of the active document. You have separate overviews of the document Headings, Bookmarks, Sections, Styles, or Lists, with all the related commands directly available from each specific panel of the Control Board. Tools and commands to manage Headings are on hand on the "Headings" panel, tools and commands to manage Bookmarks are on hand on the "Bookmarks" panel. Etc. This gives you unequaled power and flexibility.
The AutoCorrect feature of Atlantis has fully customizable multilingual options, and will dramatically simplify your word processing life. It combines flexibility with power for unparalleled control over the typing and formatting of documents. Some of the Atlantis AutoCorrect functions are still unheard-of in today's top-end word processors. Texts are proofread in the background "As-You-Type", or, optionally, when typing is complete.
A multilingual spellchecker will help you create documents with perfect language. Spelling is checked "As-You-Type", or, again, optionally, when typing is complete. Original Atlantis Spellcheckers are available for 16 languages or dialects. And of course, you can create and augment as many custom dictionaries as you wish.
Power Type is a typing assist adding unique functionality to Atlantis. Working in close cooperation with our proprietary spellchecker engine, Power Type collects statistical information about the texts that you type, creating a smart database of the words that you use most, and also of their usual environment. When you start typing the same words again, Atlantis gives a warning sound, pops a small window up, and displays a list of words beginning with the same characters. But this is not all. The Atlantis Power Type has learning abilities. As time goes by, the Power Type database gets smarter, and you will notice that the typing suggestions are more and more appropriate. Of course, the Atlantis Power Type is invaluable for people with disabilities. But also for slow "one-finger" typists.
The Overused Words feature will help creative writers avoid repetitions and clichés if they want their texts to be read with any interest or pleasure. The Overused Words feature will show detailed statistics about repetitions and word frequency. This will tell you where words need to be replaced with synonyms, or whole paragraphs reworked.
To improve the reading and understanding of the documents you create in Atlantis, you can add bookmarks, hyperlinks, table of contents to them. Atlantis can build table of contents automatically at the press of a few keys.
All documents created in Atlantis can be "Saved As Web Page", i.e. saved as HTML. This will help owners of personal Web sites, and also e-book creators tremendously. Atlantis also has a command to convert any document to an eBook with just a few mouse clicks.
You will find comprehensive support for all types of lists, bulleted and numbered, whether simple (one level) or outline (multilevel). Where numbered lists are concerned, we have placed the highest emphasis on reliability. You will design foolproof numbering schemes from simplest to most complex with the greatest of ease. And, uniquely, you will be able to fix the wrong numbering of lists created in other not so smart word processors.
Headers and footers are fully supported. And so are footnotes and endnotes. You can insert footnotes and/or endnotes, choosing from a wide range of different reference marks. What's more, and quite uncommonly, you can configure footnotes and endnotes differently from one document section to the other.
Use tables in your documents to present text information and numerical data.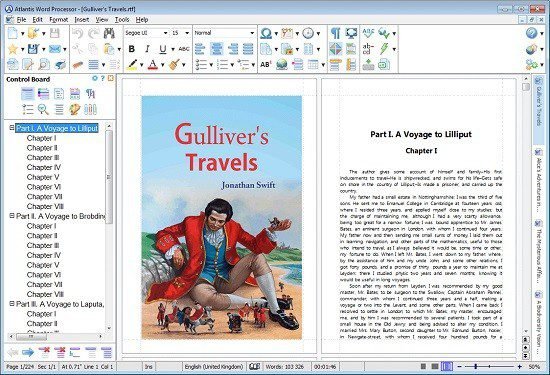 Download Atlantis Word Processor Portable