Portable GeekerPDF 3.2.0.0712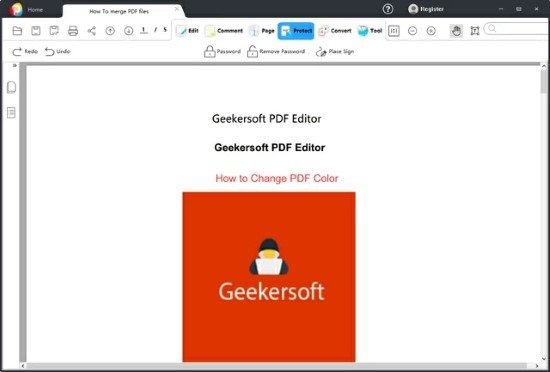 Geekersoft PDF Editor Portable is a PDF processing tool that can modify/add text, pictures, annotations, etc. In addition, it also has functions such as PDF merging, splitting, encryption, adding watermarks, and OCR recognition. The interface of this tool is simple and easy to use, and the processing is efficient and fast.
GeekerPDF Portable is a cutting-edge software designed to provide users with a comprehensive and efficient solution for all their PDF-related requirements. Developed by a team of skilled professionals, this innovative software offers a wide range of features and tools that simplify the management, conversion, and editing of PDF files. In this descriptive article, we will explore the various functionalities and benefits of GeekerPDF Portable, highlighting its user-friendly interface, powerful conversion capabilities, and advanced editing tools.
User Interface and Ease of Use:
GeekerPDF boasts a user-friendly interface that ensures a seamless and intuitive user experience. The software's clean design allows users to navigate effortlessly through its numerous features and tools. With its intuitive layout and easily accessible options, GeekerPDF ensures that both beginners and experienced users can utilize the software without any difficulties. Whether you need to convert, edit, or manage PDF files, GeekerPDF's user interface guarantees a smooth workflow, enabling you to accomplish tasks efficiently and effectively.
PDF Conversion:
One of the standout features of GeekerPDF is its powerful PDF conversion capabilities. The software supports a wide range of file formats, allowing users to convert their documents, images, and web pages into PDF files with just a few clicks. Whether you need to convert a Word document, an Excel spreadsheet, or a PowerPoint presentation, GeekerPDF ensures accurate and high-quality conversions, preserving the original formatting and layout of the source file.
Moreover, GeekerPDF offers batch conversion, enabling users to convert multiple files simultaneously, saving valuable time and effort. This feature is particularly useful for those dealing with large volumes of documents, where manual conversion would be time-consuming and inefficient.
PDF Editing:
GeekerPDF provides a comprehensive set of editing tools that empower users to make modifications and enhancements to their PDF files. Users can easily add, delete, or rearrange pages within a PDF document, allowing for seamless document organization and customization. Additionally, the software enables users to annotate PDF files by adding comments, highlighting text, and inserting shapes and symbols. These annotation features are particularly valuable for collaboration and feedback purposes, making it easy to communicate ideas and suggestions directly within the document.
Furthermore, GeekerPDF offers advanced text editing capabilities, allowing users to modify text, change fonts, and adjust formatting within PDF files. Whether you need to update a contract, correct a typo, or customize the appearance of a document, GeekerPDF's text editing tools provide the flexibility and control needed to achieve precise results.
PDF Management:
GeekerPDF excels in providing users with efficient PDF management solutions. The software allows users to merge multiple PDF files into a single document, simplifying the organization and consolidation of information. Conversely, users can also split large PDF files into smaller, more manageable files, facilitating easier sharing and distribution.
In addition, GeekerPDF offers password protection and encryption options to ensure the security and confidentiality of sensitive documents. Users can set password restrictions, preventing unauthorized access and safeguarding the integrity of their PDF files.
Conclusion:
GeekerPDF is a comprehensive software that offers a wide range of features and tools to simplify the management, conversion, and editing of PDF files. With its user-friendly interface, powerful conversion capabilities, and advanced editing tools, GeekerPDF is the ultimate solution for all your PDF-related needs. Whether you require efficient conversion, precise editing, or seamless document management, GeekerPDF provides the necessary tools and functionality to streamline your workflow and enhance productivity. Embrace GeekerPDF and experience the convenience and efficiency it brings to your PDF tasks.
What are the functions of Geekersoft PDF Editor Portable?
Add text
A click to add / modify / move / delete PDF document text content.
Add images
Add/modify/delete pictures quickly.
Add watermark
Quickly add watermarks and support a built-in recognition to remove watermarks.
Content annotation
Various types of annotations can be added to PDF files.
Sign PDF
Sign PDF with an electronic signature
OCR recognition
Supports fast encryption and decryption of documents.
File encryption
Supports fast encryption and decryption of documents.
Format conversion
Quickly transfer to and from various office documents such as Word.
Pdf document editing
Support adding text and pictures, and other content editing anywhere, and can quickly extract text from PDF documents.
Content document annotation
Various types of annotations can be added to PDF files, such as highlighting, underlining, wavy lines, pointing arrows, rectangles, etc., which are very convenient for review and use.
PDF page management
GeekerPDF provides complete page operation functions and supports various PDF page management operations, such as merging multiple PDF files, splitting PDF files, extracting PDF pages, adding new PDF pages, rotating PDF pages, and deleting PDF pages.
PDF conversion and OCR function
For those who want to convert PDF files to Office formats, Geekersoft also has the ability to convert PDF files to Word, PPT, Excel, and images. And it can also convert scanned PDFs into editable PDF files with the OCR function.
Other functions
In addition to the above functions, GeekerPDF also has dozens of functions such as encryption and decryption of PDF, adding and deleting watermarks, adding and deleting backgrounds, adding and deleting Bates code, and handwritten signatures,etc.. it is a very perfect PDF solution.
Download Geekersoft PDF Editor Portable