Portable NCH Tone Generator 3.26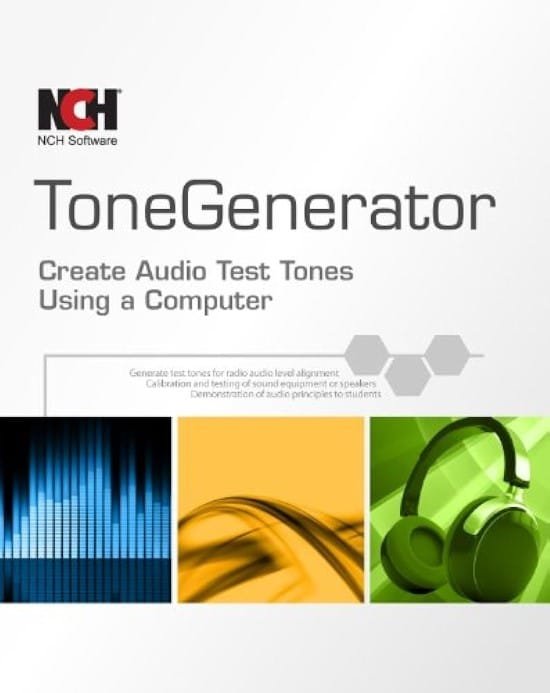 Tone Generator Portable is an easy-to-use program that can be used as a sine wave generator, sound frequency generator or signal generator that can create audio test tones, sweeps or noise waveforms.
Generate a variety of tone types
It boasts a clean and straightforward layout that gives users the possibility to create tones from a simple sine wave to a complex stereophonic tone (where audio channels have different frequency settings).
NCH Tone Generator Portable enables users to generate up to sixteen tones at the same time, specify the start and end frequency of each tone, create mono tones, as well as use various waveforms, such as square, sine, triangular, impulse.
Export generated sound to WAV
Other important features worth mentioning let you design a tone list, save the generated audio streams to WAV or TDF file format, insert different various noises (white, pink, brown, blue, violet, grey), and edit the details about each tone, namely change the frequency, move up or down octaves, and select the musical note.
The application allows you to change the duration of the tone, enter relative amplitudes for all the tones in the list, and play or stop the selected tone. It is important to mention that hotkeys are also available for a better control over the entire process, and they can be reassigned.
Tone Generator Applications
Generate test tones for radio audio level alignment
Calibration and testing of sound equipment or speakers
Demonstration of audio principles to students
Create harmonics by generating multiple sound frequencies
Acoustics testing and equalization
White noise generator
Audio band signaling
Hearing tests (under medical supervision)
Tone Generator Features
Generate sine wave, square wave, triangular waveform, saw tooth waveform and impulse sound waves
White noise generator or pink noise generator
Sound generator supports frequencies from 1Hz to 22kHz
(subject to sound card output capabilities)
Simultaneous tone generation of up to 16 tones at once
Mono or separate stereo operation for dual tones or beats
Log or linear sweep tone generation
Play generated tones or save tones as a wav file
Download Tone Generator Portable