Portable ADB AppControl 1.7.4 Extended Multilingual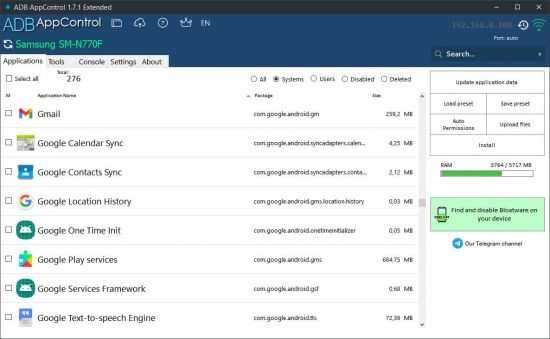 ADB AppControl Portable – a new and handy desktop program, that will allow you to easily manage applications on your android device. You can disable unwanted pre-installed system apps and bloatware, or install new ones using a modern graphical interface. The program includes many useful tools and tweaks which allow you to get the better experience with your device. This is exactly the tool that you will use for many years – after trying ADB AppControl you will see that working with applications via adb has never been so easy.
Features
Disable and uninstall applications without root
Installing applications from apk files (including multi install)
Saving apk files of installed applications
Automatically grant permissions for popular applications (Tasker, MacroDroid, etc.) App List.
Detection and cleaning of unwanted applications (bloatware)
Full support for splits (apks)
App permission manager
Convenient presets (lists) to manage
Multifunctional adb console with quick commands support
And also: Data cleaning, Screenshots, Logcat logs, Reboot in different modes, Uploading files and much more.
Forget the command line!
You have a completely list with all installed applications and you no longer need root rights to manage them! Uninstall, disable, and install apps. Manage permissions and configure your device the way you want it.
Bloatware cleanup
The ADB AppControl's Debloat Wizard offers several levels of unwanted application cleanup for beginners and advanced users. This will help improve the autonomy and performance of your Android device as well as secure your personal data.
More features
Change screen resolution, hide annoying icons in the status bar, take screenshots and remotely control your device. And if you haven't already forgotten about the command line, there's a handy console for you. ADB AppControl has many features that you will love!
What's New
– Added console search (ctrl + f)
– Fixed bug with extension in the file dialog
– Fixed bug when some apk files were not saved
– The last screenshot file is now released and can be deleted
– Updated list of status bar icons that can be hidden
– The program now remembers the last port number
– Press enter in the port field to connect
– The apps list sorting is no longer reset after action
– Fixed bug with data clearing from the context menu
– Apps list search is no longer applied automatically when you move to another list
– Other fixes and improvements
Download ADB AppControl Portable