Portable SSD Booster .NET 16.5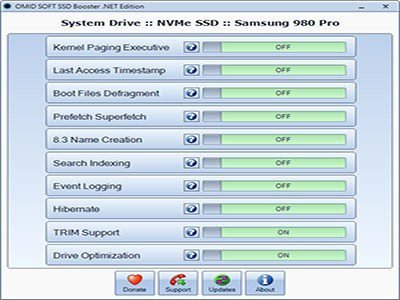 For most people, a drive, in this case, an SSD, is useful for storing data and running high-speed processes. However, if you go more in-depth you'll discover functions that only those tech-savvy users are aware of. SSD Booster .NET is a slick tool that brings forward a handful of enhancements meant to improve your drive's state.
Compact layout
SSD Booster .NET comes with a vintage-looking UI that displays a list of functions and on/off sliders. Also, it requires no installation. Just run the executable each time you wish to make changes.
Provides quick access to a collection of advanced functions
There are a total of ten features this app can turn on and off. For some — like Hibernate, Drive Optimization, and Event Logging — guessing their purpose is easy, but for others, that's not the same. For example, Prefetch Superfetch deals with creating files containing data about launched applications, optimizing future launches.
8.3 Name Creation manages long names and descriptions where nonstandard characters were used, however, some processes may ask you to disable this function.
Time-saving SSD companion
That's where SSD Booster .NET is useful the most. It practically brings some important drive tweaks, which normally takes up time and effort to locate. As far as the slider, that's easy. When a feature is activated the slider will turn green, and red for the opposite state.
In addition, the application comes with a system info tab that reveals your machine's hardware and OS information. To check your specs, go to About and look for the System Information button.
To conclude
SSD Booster .NET looks like an interesting optimizer to have around, especially if you are putting your SSD through hoops that a casual user wouldn't.
Download SSD Booster Portable