Portable AnyBurn PRO v6.0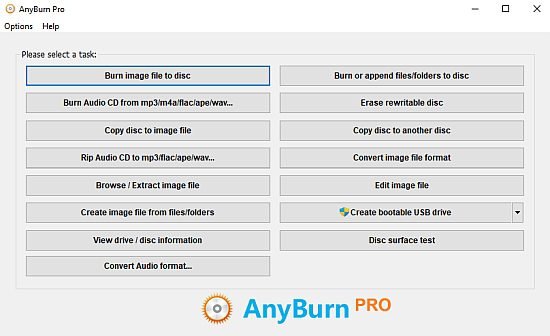 AnyBurn Portable is a light weight but professional CD / DVD / Blu-ray burning software that everyone must have. It provides complete solution for burning and disc imaging.
Granted, with fast Internet available almost everywhere and numerous streaming services, you can say that nobody uses CDs or DVDs anymore. While they aren't the main choice, market reports show that there is still interest in the disk, especially among collectors. AnyBurn is a software suitable for all users that enables you to conveniently burn any type of disk, be it CD, DVD or BluRay.
Allows you to burn files, delete and copy disks
The tool comes with a retro interface that displays all the options available in the main window. If you used burning software back in the 1990s, then the tool works in a similar way, so you will have no problem working with it. Even if you didn't, the developer provides detailed tutorials on how to use the tool on the main website.
The main functions of the tool include burning images as well as files and folders, but you can create images from the same data at the same time. In addition, the program allows you to create audio disks that can be played on old devices and, perhaps, even an older car. Moreover, it provides a quick way to erase a rewritable disk so that you can add any other desired content on it.
A handy utility for anyone still interested in disks
Some may think that collectors are not interested in creating replicas. But just think of a situation when you have to borrow an original and rare disk to someone. Wouldn't it be safer to borrow a copy of the original disk, a replica that you could create using this tool?
Main Features:
Burn all CD / DVD / Blu-ray disc image files.
Backup or add files and folders to CD, DVD, or Bluray disc
Burn Audio CD which can be played in regular CD player from mp3, m4a, ape, flac, wma files…
Rip Audio CD to MP3, FLAC, APE, WMA, WAV files.
Copy disc using sector by sector method.
Create image files from hard disk files or CD / DVD / BD discs.
Convert disc image files between various formats.
Create bootable USB drive for Windows 7, 8, 10, or Linux.
Test disc sectors.
Install Windows to USB drive.
Convert Audio file formats.
PRO Version Addons:
Convert Audio file formats
Install Windows to USB drive
What's new in AnyBurn Portable
Improves the function of creating bootable USB drive.
Some minor bug fixes and enhancements.
Download AnyBurn Portable