Portable BitRecover Data Recovery Wizard 4.2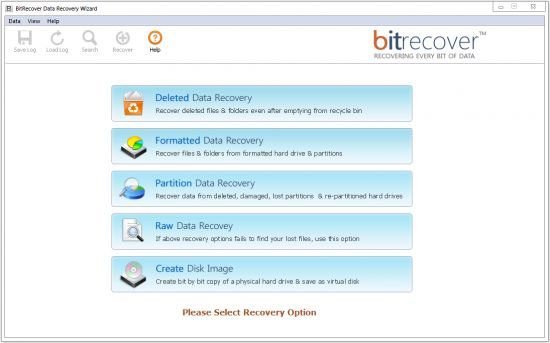 BitRecover Data Recovery Wizard Portable is a streamlined software solution that simplifies the retrieval process by presenting users with an intuitive step-by-step wizard. It if very easy to use, and it enables you to choose between several recovery methods.
Features:
• Recover permanently deleted files & folders
• Recovers data from formatted drive
• Recover data from deleted, missing or lost partitions
• Recovers data from RAW partitions & drives that show inaccessible or corrupt partitions
• Option to preview recovered data files
• Supports all common data storage media including internal & external drives
• Supports all file formats
• Option to search required files among all recovered data
• Save recovered data
• Use data filters to save your data required data
• Shows & recovers hidden partitions
• Allows saving of selected files & folders
• Tested tool on than 3 TB hard disks
Novice-friendly program that comes with extensive documentation
Users who have lost important files are not likely to have the time to get accustomed to a complex application, so you should be pleased to learn that BitRecover Data Recovery Wizard can be put to use almost immediately. No prior experience with similar applications is required to follow the required steps.
However, the product is also bundled with a comprehensive user manual that provides detailed explanations and should prove to be very helpful.
Can attempt to retrieve your files using multiple recovery methods
Deleted items should normally be quite easy to recover assuming they have not already been overwritten, so it is wise to act as quickly as possible.
Additionally, the program is capable of scanning formatted hard drives or partitions and recovering data from deleted or damaged partitions, as well as repartitioned hard drives.
As a last resort, you can try the Raw Data Recovery mode. This method is the most comprehensive, and it is possible to determine which file types should be taken into consideration.
Manage the recovered files and create disk images
You can take advantage of the included search function and apply various filters to make the scan results easier to sort through.
Moreover, the application enables you to create a copy of a physical hard drive and save it to a virtual disk file.
In conclusion, BitRecover Data Recovery Wizard is a relatively straightforward software utility that can help you retrieve data from a wide range of storage devices. It is novice-friendly and comes with extensive documentation.
Download BitRecover Data Recovery Wizard Portable