Portable DiskGenius Professional v5.3.0.1066 (x64)
DiskGenius Portable (old PartitionGuru) – is a very useful, easy to use application specially designed to offer users a partition management and data recovery software. In addition to partition management functions such as creating, deleting, formatting partitions, it also provides more powerful functions like recovering lost files, recovering lost partitions, clone partition to image file, partition clone, disk clone, quick partition etc.
Very useful, easy-to-use application specially designed to manage disk partitions, and restore data on it. In addition to functions for managing partitions, such as deleting, creating, formatting partitions. The program provides an even more powerful features, such as restoring lost partitions, restore lost files, backup, partitions, partition cloning, cloning drive, advanced file operations, etc. The application also supports VMware, VirtualBox and Virtual PC virtual disk files. Supports SCSI, IDE, SATA drives and USB drives, memory cards. Supported file systems FAT12 / FAT16 / FAT32 / NTFS / EXT3.
File Recovery and Partition Recovery
Powerful and effective function for file recovery and partition recovery helps you solve all sorts of data loss issues.
DiskGenius Portable is capable of recovering lost data from various storage devices, including hard drive, USB flash drive, SSD, external hard drive, memory card, memory stick, virtual disk and more.
It can construct virtual RAID and recover data from virtual RAID just like from local disks.
Efficient Partition Manager
The best partition manager provides all-sided functions for disk and partition utitilies. With DiskGenius Portable, you can create, format, delete, hide, resize, split, clone and backup partition, rebuild MBR, convert dynamic disk to basic disk, operate virtual disks, etc. Safely resize or split partition without losing data;
Convert partition table type MBR to GUID without damaging data and vice versa;
Support dynamic disks volume management and converting dynamic disk to basic disk;
Check 4K sector alignment for partitions and support 4K sector advanced formatting hard drives.
Disk & Partition Backup
Mighty backup and restore function is built in the program to guarantee data security, and no complicated operating steps are required.
Backup partition to image file or restore partition from image file;
Clone partition to another partition by file or copy by sectors;
Clone the entire hard drive to another disk by file or by sectors;
Clone virtual disk and its partitions.
More Useful Functions
The program offers all-around functions to improve computer performance.
Check and repair bad sectors for all kinds of storage devices, such as, hard drive, external hard drive, USB flash disk .etc.
Delete files permanently so that files can't be recovered by any methods or tools;
Create bootable USB flash disk in case of Windows crash, and support USB-FDD, USB-ZIP and USB-HDD modes;
Edit sectors just like WinHex, which is preferred by computer professionals;
DiskGenius Portable Dos version is embedded with same interface and functions.
What's NEW in DiskGenius Portable:
New
Support high-resolution displays (DPI adaptation). The interface display is no longer blurred when the software runs on 4K screens and laptops.
Support to virtualize current Windows operating system into VMware virtual machine.
Disk cloning function supports to clone large disk to small disk and allows to change the size of each partition on target disk.
Start to use an independent preview process and improve the stability of the main program.
The number of CPU threads can be specified for compression mode in the advanced settings of the partition backup function.
The search for known file types in file recovery function adds support for CR3 file format.
The function of creating vmdk virtual disk supports to set target disk as SATA and NVMe.
Enhanced
When formatting a FAT32 partition, it allows the total number of clusters to exceed the limitation Windows sets to FAT32.
The DBR of Windows 10 is used when formatting FAT12/16/32 partitions.
When backing up system partition by files, the "DiskGenius WinPE" directory is excluded by default.
After drive letters are assigned, the currently selected partition will not be switched automatically, preventing users from selecting the incorrect partition when the user operates too fast.
It is allowed to set the software to prevent system from going to sleep when performing time-consuming functions.
Improve video preview function and support newer formats.
Optimize the file recovery effect of FAT32 partition.
Optimize the result of recovering deleted large files from NTFS partition.
Fixed
Fixed some issues for system migration function to improve the stability.
Fixed an issue that the function of backing up exFAT partition by files did not support vary large files.
Fixed an issue of incorrectly reading dynamic volumes and LVM volumes.
Fixed an issue that exceptions occurred to partition backup function when inputting a file name without extension.
Fixed an issue that there was free space when quick partition function created only one partition.
Fixed an issue that system did not restart when executing certain function that required restart.
Fixed an issue that sometimes the extend partition function could not be opened correctly.
Fixed an issue that the font of sector editing function was not sightly after booting to WinPE.
Fixed an issue that in some cases the disk cloning and partition cloning function might stop responding.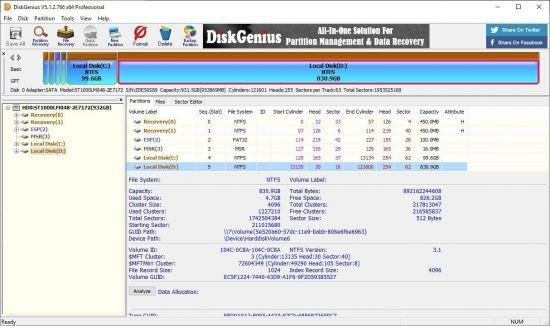 Download DiskGenius Portable
Uploadrar – 36.5 MB
Hexupload – 36.5 MB