Portable DiskGenius Professional v5.5.0.1488 (x64) Multilingual
DiskGenius Portable (old PartitionGuru) – is a very useful, easy to use application specially designed to offer users a partition management and data recovery software. In addition to partition management functions such as creating, deleting, formatting partitions, it also provides more powerful functions like recovering lost files, recovering lost partitions, clone partition to image file, partition clone, disk clone, quick partition etc.
DiskGenius Portable is a powerful data recovery and disk management software developed by Eassos Technology Co., Ltd. It is designed to help users recover lost data from various storage devices, including hard drives, USB drives, memory cards, and virtual disks. With its intuitive interface and user-friendly features, DiskGenius stands out as a top choice for both novices and experienced users.
One of the most impressive features of DiskGenius Portable is its ability to recover lost or deleted data. The software supports a wide range of file systems, including NTFS, FAT32, exFAT, HFS+, and EXT2/3/4. This means that no matter what type of storage device you are using, DiskGenius can help you get back your lost data. The software uses advanced algorithms to scan your device thoroughly and recover files that have been deleted, formatted, or damaged due to virus attacks, power failure, or other reasons.
In addition to data recovery, DiskGenius also offers powerful disk management tools. With its partition manager, you can easily create, resize, delete, format, hide or unhide partitions on your hard drive. You can also convert between different partition types, such as MBR and GPT, or change the cluster size of a partition. These features allow you to optimize your disk space usage and manage your files more efficiently.
Another useful feature of DiskGenius is its ability to clone disks or partitions. This means that you can create a backup of your entire system, including your operating system, applications, settings, and personal files, and transfer them to a new hard drive or SSD. This feature is particularly useful for upgrading your computer hardware or migrating to a new system without losing any data.
DiskGenius also comes with a built-in file shredder, which allows you to securely delete sensitive files and folders from your disk. This feature ensures that your confidential information cannot be recovered by unauthorized users, even if they use specialized data recovery software.
In addition to these features, DiskGenius also offers a number of other useful tools, such as a sector editor, a hex editor, and a file previewer. These tools allow you to view and edit the contents of your disk at a low level, which can be helpful in troubleshooting disk errors or recovering corrupted files.
Overall, DiskGenius Portable is a comprehensive and reliable data recovery and disk management software that offers a wide range of features to help you protect, manage, and recover your data. Its intuitive interface and powerful algorithms make it easy to use for both beginners and advanced users, while its flexible options and customization settings ensure that you can tailor it to your specific needs. Whether you are looking to recover lost files, optimize your disk usage, or securely delete sensitive data, DiskGenius has the tools you need to get the job done.
File Recovery and Partition Recovery
Powerful and effective function for file recovery and partition recovery helps you solve all sorts of data loss issues.
DiskGenius Portable is capable of recovering lost data from various storage devices, including hard drive, USB flash drive, SSD, external hard drive, memory card, memory stick, virtual disk and more.
It can construct virtual RAID and recover data from virtual RAID just like from local disks.
Efficient Partition Manager
The best partition manager provides all-sided functions for disk and partition utitilies. With DiskGenius Portable, you can create, format, delete, hide, resize, split, clone and backup partition, rebuild MBR, convert dynamic disk to basic disk, operate virtual disks, etc. Safely resize or split partition without losing data;
Convert partition table type MBR to GUID without damaging data and vice versa;
Support dynamic disks volume management and converting dynamic disk to basic disk;
Check 4K sector alignment for partitions and support 4K sector advanced formatting hard drives.
Disk & Partition Backup
Mighty backup and restore function is built in the program to guarantee data security, and no complicated operating steps are required.
Backup partition to image file or restore partition from image file;
Clone partition to another partition by file or copy by sectors;
Clone the entire hard drive to another disk by file or by sectors;
Clone virtual disk and its partitions.
More Useful Functions
The program offers all-around functions to improve computer performance.
Check and repair bad sectors for all kinds of storage devices, such as, hard drive, external hard drive, USB flash disk .etc.
Delete files permanently so that files can't be recovered by any methods or tools;
Create bootable USB flash disk in case of Windows crash, and support USB-FDD, USB-ZIP and USB-HDD modes;
Edit sectors just like WinHex, which is preferred by computer professionals;
DiskGenius Portable Dos version is embedded with same interface and functions.
What's NEW in  DiskGenius Portable:
New
Add support for reading ISO disc file system. The Sector Editor feature can jump to file system related structures and supports data template.
Add support for reading ReFS file system, and the Sector Editor feature supports to jump to file system related structures.
Add Turkish language pack.
Enhanced
The feature of searching for lost partitions supports ReFS partitions.
The Quick Partition feature adds EXT4 partition format.
Optimize the file copy speed after recovering files and intelligently loading partitions.
Optimize the recovery effect of recovering files from NTFS partitions.
Optimize the recovery effect of recovering files from exFAT partitions.
Improve the accuracy of recovering MXF files by type.
The System Migration feature temporarily stops supporting MBR disks booted in EFI mode.
Fixed
Fixed an issue that long volume label couldn't be entered during using Quick Partition feature.
Fixed an issue that exception occurred when resizing partition of a large-capacity hard drive.
Fixed an issue that the folder permission got changed after cloning the EXT4 partition.
Fixed an issue that the block bitmap might have errors after cloning the EXT3 partition.
Fixed an issue of parsing the file directory of exFAT partition used by some systems.
Fixed an issue that the 64-bit version couldn't run due to the lack of Winhttp.dll under WinPE.
Fixed an issue that the backup of BitLocker drive which was unlocked by system failed.
Fixed an issue that the capacity of lost BitLocker partition was not displayed correctly when the partition was found but not unlocked.
Fixed an issue for the Backup Disk To Image File feature that logical partitions were displayed incorrectly.
Fixed an issue that sometimes partitions couldn't be switched by clicking the partition map area after restoring partition from image file.
Fixed an issue that the "Go to sector offset" feature in Sector Editor did not jump according to the current position.
Fixed an issue that errors occurred in reading Storage Space whose provisioning type is FIXED.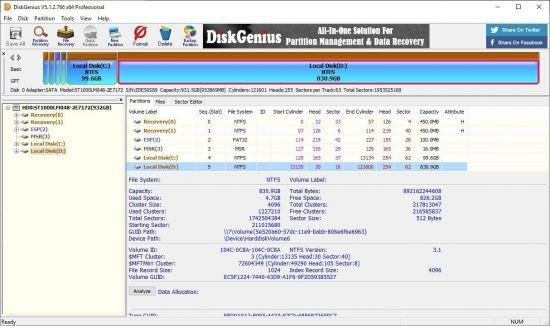 Download DiskGenius Portable