Portable Capture One 22 Enterprise 15.4.0.16 (x64) Multilingual
Capture One Portable is the complete image editing software solution. With powerful tools for organizing, color grading, layer editing, and much more, you have full control of both your images and your workflow.
Main Features:
– Get accurate colors with custom-made color profiles for 500+ cameras.
– Fast importing and exporting of image files.
– Realize your creative vision with the precision and color-editing tools.
– Instantly capture, view, and edit images with reliable tethered solution.
– Customizable interface gives you a smooth editing experience.
Capture One  Portable Features:
Better color, faster performance, and more creative control. Capture One provides rich, accurate colors, and a constantly improving performance. With a customizable interface and powerful tools for organizing, color grading, layer editing, and much more, you will have full control of both your images and your workflow.
Full creative control
Capture One has been developed with image quality and ease of use in mind. Every tool is designed to give you full control of all aspects of the editing process – preserving, recovering and optimizing all information from your RAW files. The full range of tools offer extensive possibilities to always achieve perfect results.
Asset Management
Asset management is important for every photographer, be it management of images from individual day-to-day jobs or large collections with thousands of images. Capture One offers tools and solutions for every type of photographer, making asset management simple, fast, and effective.
Color Handling
Capture One is known for its exceptional handling of color. Thanks to our custom camera profiling, every RAW file shines – straight from the camera. Whether you seek creative color grading tools or want to ensure natural colors in your images, Capture One delivers powerful and precise tools to achieve your vision.
Detail and Lens Profiles
With image quality as the driving factor, Capture One is developed to squeeze every RAW file to the limit, providing the highest level of details possible. Each supported lens applies a custom-made lens profile, providing precise tools for minimizing distortion and light fall-off.
Tethered Capture
Capture One's Industry-leading tethered capture is fast, flexible, and reliable, for photography sessions where speed and accuracy is important. Shoot directly to your computer for an almost instant viewing experience – with or without instant adjustments. Enable Live View for easier composing when shooting still-life photography.
Workflow and Performance
From customizable tools and keyboard shortcuts to graphics acceleration and instant tethered capture; Capture One is built to minimize your workload and maximize your efficiency. Design your own workspace and find your way of working in Capture One.
New Features in Capture One 22:
Explore the world as you see it
Your photographic journey is an exploration – of yourself and the narrative you want to tell. It all starts with getting out of your routines and comfort zone and out your front door – so you can tell your stories and showcase the world as you uniquely see it. With an expanded toolkit in Capture One 22, we are there to support your creative journey – wherever it may take you.
Multi-row stitching in all directions
Build stunning panoramic stitches of landscapes, cityscapes, architectural scenes and more with incredible resolution and total detail from edge to edge. Produce superb wide-angle shots without warping and distorting corners. And don't let the word "panorama" hold back your imagination – with multi-row stitching, you can build an extremely high-resolution image in all directions, giving you a huge DNG file to work with that's fully editable directly in Capture One.
Capture high contrast scenes perfectly
Combining multiple RAW images with different exposures, HDR Merging gives you a single high dynamic range image in just a few clicks – perfect for landscapes set during sunrise or sunset, interior shots showing both an indoor and outdoor setting, or any scene with big differences in exposure. Use the full creative freedom of Capture One's powerful editing tools to finalize your image – boost shadows, create rich contrast, and much more.
More space to create with Wireless Tethering for Canon
The industry's fastest tethering goes wireless. With wireless tethering, take photoshoots to the next level without any cables holding you back – feel the freedom of more dynamic shoots, taking your camera to new angles and having all the space you need to create.
Broaden your horizons with Auto Rotate 
Time is money – spare yourself hours of manual rotation in your workflow with our first AI-driven tool, letting you automatically rotate huge image batches simultaneously.
Faster filtering, loading and image browsing on Windows
Used for organizing large image collections, Catalog performance on Windows in Capture One 22 has been heavily improved, making it significantly faster to browse, filter, and search albums and folders.
What's NEW:
New features 
Panorama Stitch

 

HDR Merge

 

Auto Rotate

 

Wireless Tethering (Canon)
Improvements 
Catalog performance improvements (Windows)

 

Browsing performance improvements

Various UX improvements
Feature walkthrough
Panorama Stitch
Stitch your RAW files into Panorama DNG files with Capture One 22. Create stunning panorama perspectives, achieve super-resolution, or get creative with an extremely shallow depth of field from multi-row stitching – all from within Capture One. The Panorama Stitch Tool outputs a linear DNG that behaves like a RAW file for further editing. 
Shooting optimally for Panorama 
When shooting for Panorama stitches, consider following these principles for optimal results: 
Shoot at 35mm or longer

 

Use a tripod, if possible

 

Lock the focus and exposure between the shots

 

Shoot with 20-40% overlap

 
Light fall-off correction
Consider if your images need light fall-off correction within Lens Correction before stitching. This will ensure an even transition across skies and other similar areas. 
How to stitch
Select the images you want to stitch, right-click one of them and select Stitch to Panorama. A preview dialog will appear, preparing a preview of the Panorama with the selected projection. 
Available projections 
Depending on the number of images, scene, and field of view your images cover, you can choose a projection of your input images that best suits the purpose:  
Spherical
Useful for multi-row stitching with a large field of view both horizontally and vertically. 

 
Cylindrical


Useful for a single row of images that cover a field of view of more than ~100 degrees. Vertical lines remain vertical using this projection.

 
Perspective


Perspective projection aims at simulating the field of view of your input images with the corresponding field of view of a wide-angle lens. Useful for scenarios that cover less than ~100 degrees field of view and images captured with technical cameras using tilt/shift lenses.

 
Panini


Useful for architecture where the vanishing point is at the center of the frame. Vertical lines remain vertical and lines going towards the vanishing point remain intact using this projection.

 
Stitch size
If the resolution or number of input images is high, the resulting stitched Panorama DNG can become quite large. Panorama DNGs that are more than 600 MP in resolution will suffer from poor editing performance in Capture One 22 as they exceed the file size Capture One can cache. A warning will appear in this case. To avoid this performance loss, the stitch size can be determined in four steps: 25%, 50%, 75% or 100%. The expected dimensions in pixels are shown as well as the total resolution in megapixels.
Images above 600 MP can still be edited in Capture One 22, but with decreased performance. The maximum supported resolution is 715 MP, and the Panorama cannot exceed 65,000 pixels in either width or height.
Stitched file
Once the preview of the Panorama is ready, you can click Stitch and the actual stitching will begin. Depending on your hardware, the number of images, resolution, and projection, the process might take anywhere between 10 seconds and 20 minutes. When the stitching is done, the Panorama DNG will appear next to the input images. 
HDR Merge
Get increased dynamic range in your images by merging your bracketed RAW files directly within Capture One. The result is a linear DNG that behaves like a RAW file for further editing. 
Shooting optimally for HDR
When shooting for HDR merge, consider following these principles for optimal results: 
Shoot 3 images bracketed with 2.0 EV between each image

 

Use a tripod to avoid significant differences between the images

 

Make sure that the brightest image has details in the shadows and that the darkest image does not have any burned out highlights

 
How to merge
Select the images you want to merge, right-click, and select Merge to HDR. A dialog box appears with two options: 
Auto Adjust




Enabling this will apply auto adjustments to the merged HDR file. This will provide an immediate pleasing result with details and natural contrast. The tools included in the auto adjustments are Exposure, Contrast, Brightness, High Dynamic Range, and Levels. These adjustments can be further tweaked or removed after the merge.




 

Auto Align




Enabling this will align images that are not perfectly aligned. This makes it possible to shoot without a tripod, but it increases the merging time.

 
HDR merge can also be activated using shortcuts. There are no default shortcuts, so they must be customized. The function Merge to HDR with default will directly merge without the dialog box. 
Merged file
Depending on your hardware, the number of images, and the resolution, the merging process might take anywhere between 10 seconds and 5 minutes. When the merging is done, the HDR DNG will appear next to the input images.
Auto Rotate 
Rotate all your images automatically with the AI-based Auto Rotate in Capture One 22. Auto Rotate works on multiple images, allowing quick batch corrections.  
How to use
Auto Rotate is activated using the Magic Wand icon in the Rotation and Flip tool, or by using the shortcut Alt + R / Opt + R. This shortcut is customizable from the shortcut manager. 
Wireless Tethering (Canon)
Tether selected Canon cameras over the wireless network, or even via a network cable. Wireless tethered functionality is identical to tethering over USB. With Wireless Tethering you need one less cable on set, enabling a new and much more dynamic tethered shooting experience.
Improvements  
Catalog Performance Improvements (Windows)
Loading collections in Catalogs have been improved on Windows. The improvement provides a completely new Catalog experience on Windows, where filtering, loading, and browsing Albums and Folders now feels significantly faster.
Browsing and caching performance improvements
Capture One 22 will utilize more RAM to cache images when available. This results in a better experience when editing large files like Panorama stitches and when browsing between images.  
General UX improvements 
Capture One 22 includes a handful of general improvements to the UX:
Easier access to adding and removing filters in the Filters Tool by using the new plus-icon.

 

The Pick All tick mark in the Importer is now disabled by default, enabling a faster culling experience using the Import Viewer.

 

The Edit All icon has been removed from the default workspace, reducing the risk of users unknowingly disabling it with a confusing workflow to follow.

 

A notification now shows when exporting, merging, or stitching is complete, allowing a quick shortcut to the export folder or file*.
Release highlights
Capture One 22 (15.4.0) is a service pack containing new lens support, bug fixes, and quality of life improvements.
Wireless tethering support for Nikon Z9 and D6*
*WT-6 wireless transmitter or ethernet cable required
New lens support
Panasonic LUMIX G VARIO 12-32mm F3.5-5.6 ASPH. MEGA O.I.S.
Sigma 56mm F1.4 DC DN | C
Sigma 30mm F1.4 DC DN | C
Sigma 18-50mm F2.8 DC DN | C
Fujifilm Fujinon GF45-100mm F4 R LM OIS WR
Canon PowerShot G1 X Mark III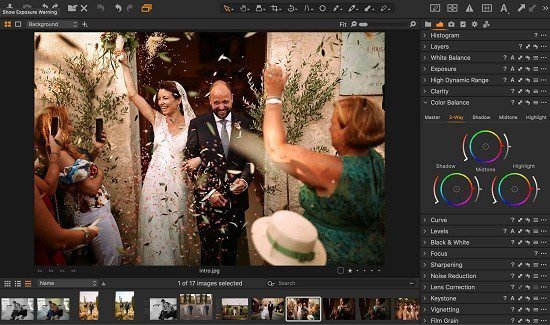 Download Capture One Portable