Portable Luminar Neo 1.14.0 (12151) (x64) Multilingual
Luminar Neo Portable is a powerful photo editing software that offers creative tools and advanced features to help photographers bring their images to life. Developed by Skylum, the same company behind popular photo editing software Luminar AI, Luminar Neo Portable takes image editing to the next level with its innovative technology and user-friendly interface.
At its core, Luminar Neo Portable is designed to offer non-destructive editing capabilities that allow users to experiment with different adjustments without permanently altering their original images. This means that users can make changes to their photos and easily revert them back to their original state at any time.
One of the standout features of Luminar Neo is its AI-powered editing tools, which use machine learning algorithms to analyze images and apply intelligent adjustments based on the content of the photo. For example, the Smart Contrast tool can automatically adjust the brightness and contrast of an image to make it more visually appealing, while the Sky Enhancer tool can detect and enhance details in the sky to create stunning landscapes.
In addition to its AI-powered features, Luminar Neo Portable also offers a range of creative tools that allow users to add unique effects and styles to their photos. The program includes a variety of customizable filters, such as the Orton Effect filter that adds a dreamy, soft-focus look to images, and the Golden Hour filter that simulates the warm tones of sunset lighting.
Beyond filters, Luminar Neo also includes advanced adjustment tools for color grading, curves, and selective masking, allowing users to fine-tune every aspect of their images to achieve the desired look. The program's intuitive controls and real-time previews make it easy to experiment with different settings and see the results in real-time.
Another feature that sets Luminar Neo apart from other photo editing software is its ability to work with layers. Layers allow users to stack multiple adjustments on top of each other, creating complex compositions and adding depth to their images. Luminar Neo's layer system is intuitive and easy to use, with the ability to add, delete, and rearrange layers as needed.
Finally, Luminar Neo also includes a range of essential editing tools for basic adjustments such as exposure, color temperature, and cropping. These tools are accessible through an intuitive interface that allows users to quickly make adjustments and see the impact on their images.
In summary, Luminar Neo Portable is a comprehensive photo editing tool that combines powerful AI-powered features with creative tools and advanced adjustment capabilities. Its non-destructive editing capabilities, intuitive controls, and real-time previews make it a powerful tool for photographers of all skill levels, from amateurs to professionals. Whether you're looking to create stunning landscape shots, enhance portraits, or simply improve the quality of your photos, Luminar Neo has everything you need to take your images to the next level.
Control the light in 3D space with RelightAI
Relight backlit photos or darkened images in a click with the RelightAI feature. Luminar Neo calculates the depth of a photo and creates a 3D map, making it possible to spread light naturally in 3D space across a 2D image. You can also relight the background and foreground separately — meaning you can darken parts of the image as well. This opens up an opportunity for creative relighting in order to bring your artistic vision to life.
Remove messy powerlines with AI
Automatically remove distracting elements in your cityscapes, urban landscapes or travel photos. Get a clear sky with no cluttered phone or power lines.
Unleash your creativity with Layers and AI Masking
Use both MaskAI and Layers for limitless creativity. MaskAI automates the masking process by identifying objects in the image and creating precise masks. You can always manually refine those masks with a brush if you choose to. Layers open up a whole new level of creative expression, with endless possibilities for adding objects, textures, watermarks, and any other graphics to your images.
Replace the sky in one click
Cutting-edge sky replacement technology with water reflections, sky positioning, and human-aware relighting to match the new sky.
Lightning-fast creative editing with an all-new image engine.
Designed as a module system its parts now can be optimized separately, for the best performance.
What is Luminar Neo?
Have you ever wanted to achieve more with your images? Luminar Neo is an innovative image editor powered by AI technologies of the future that simplifies complex editing routines and enables creators to bring their boldest ideas to life. And enjoy it.
– Get speed and flexibility in your editing with our brand-new core engine and layers workflow.
– The new engine we built for Luminar Neo is based on all the best solutions from our combined and evolved experience for maximum performance and creativity and is developed for achieving complex creative results.
– Adjust the light in your photo for creative control over the lighting in a scene. You can control the exposure of an image based on the distance from the lens to independently adjust the background and foreground exposure.
– Automatically remove spots on your images caused by dust and dirt on your lens and sensor.
– Clean up unwanted power lines from the skies in your cityscapes.
– Experiment with infinite creative possibilities by effortlessly combining two or more images in a shot.
…And much more.
The new technologies and innovative user experience in Luminar Neo make creative image editing simple and fun.
What's New in Luminar Neo Portable?
Luminar Neo Portable is a giant leap forward to more innovative, AI-based editing that targets the pains of photographers. Its goal is high-quality, fast, easy, and enjoyable results for anyone who wants to edit their images and channel their creativity in new ways.
The collection of AI-powered tools take a significant jump forward in function and performance with Luminar Neo. The application expands its toolbox with more groundbreaking AI-powered tools. The new tools are joined by additional options to solve even more problems and unleash creativity.
Speed up your editing workflow with our new fast core engine.
It's based on unique technologies developed by Skylum and works on a module system, which means that different parts of the application can now be optimized separately for the best results. Thanks to the independent modules engine, Luminar Neo will be updated more frequently. Luminar Neo has a more flexible editing process, which means less memory is required to edit photos. The new engine has many small background optimizations of memory use, which increases the speed of all processes inside the application, from uploading to applying editing effects, using layers, and exporting.
Completely transform your photos with new relighting options.
Luminar Neo Portable analyzes each image to recognize the depth of a scene and its subject allowing for unique control over exposure and tone.
Easily remove distracting image blemishes caused by a dirty camera sensor or lens.
There are also new tools to clean up unwanted elements in the background of a photo.
Explore creativity with an effortless layers workflow.
Discover a collection of textures, overlays, and visual effects to add creativity to an image and personalize it. This addition unlocks new creative options for compositing images and visuals to create a custom style. You can add an infinite number of Layers, move Layers on top of each other, use blending modes and masking modes, make collages, add double exposure effects, and do more on each layer.
Release Note:
Get ready for a major Luminar Neo update that will light up your photos with an exciting new feature! Discover the improvements and optimizations included in Luminar Neo 1.14.0.
Neon & Glow is now available in Luminar Neo! Discover even more creative possibilities for light manipulation. Seamlessly blend visually-striking neon elements into your composition or make your subject glow. It's perfect for adding that futuristic look to your images, creating captivating digital art, or delivering impressive wildlife photos with a twist. In addition, apply Neon & Glow on your nightscapes and turn them into true visual masterpieces.
You'll also find the new Tilt Shift blur option, a fourth type of effect in our Blur Tool. With it, you can transform life-sized locations or subjects to look like miniature-scale models. Experiment with your cityscapes, landscapes, and aerial photos. Just like with the other types of blur, you can adjust the amount, angle, and position of the effect, and use masking to selectively apply it.
On top of that, you'll notice more accurate stitching with the Panorama Stitching Extension, better object detection in Background Removal AI Extension, and improved performance when using Portrait Bokeh AI, Erase, and syncing adjustments.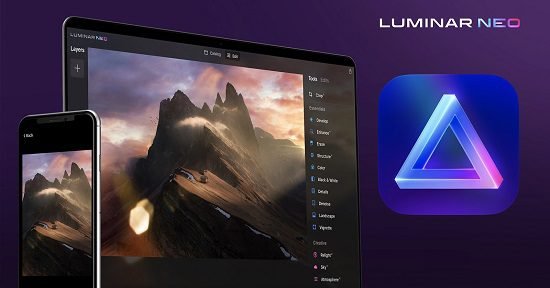 Download Luminar Neo Portable