Portable AMS Software Clipify 9.35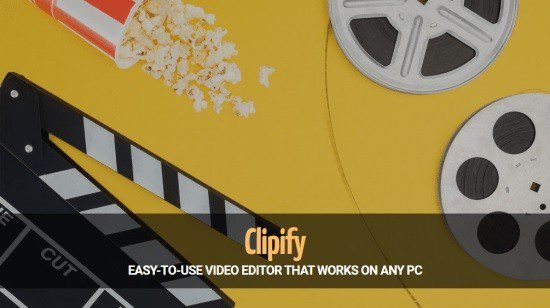 Looking for the golden mean among video editing softwares? Some of them are too hard to master, others are one-tricks with a limited toolkit — take a look at Clipify Portable then! It's a user-friendly program for Windows that allows you to make stunning videos in a short time. As a beginner, you will enjoy an easy drag-and-drop workflow with auto presets. Those who are skilled in video montage will benefit from advanced features like changing backgrounds with the Chroma key tool or creating your own filters. What's more, Clipify Portable doesn't crave for performance, making it a decent video editor for low-end PCs.
Features:
– Add Multimedia Content.
Clipify Portable supports all popular video formats — AVI, MP4, MKV, MOV, etc. You can also drop in your images and audio files, then arrange them on a convenient timeline. There are several tracks, so you can mix all the elements and overlay them to create stunning video montages. A collection of transitions will help you glue everything together. Add clips in 50+ video formats with images and clipart to get a solid-looking movie.
– Explore Montage Tools & Filters.
The app is packed with various features to enhance your videos and pump up the project. Perform color correction, control brightness and contrast. Crop, cut and stitch short clips, apply stabilization to remove nasty shaking in just a click. To showcase a moment in its true glory, change the video speed: make it slower or faster. Use 160+ special effects and filters: retro, cinematic, black & white, mist, etc. — to win your viewers' hearts.
– Share Your Videos With the World.
Export your creations in popular formats like AVI, MP4, MOV, etc. You can make Full HD videos for various devices: TV, PC, Android, iPhone and even PlayStation. Clipify lets you burn your videos to DVD that will have an interactive menu. You can design it all by yourself or use a pre-made template. Upload videos to your YouTube channel directly from Clipify. Alternatively, you can export videos for your website or blog.
In Clipify, all the essential features are at your fingertips. The software will walk you through the interface and support your baby steps with gentle hints. Just grab your videos and let your creativity freely run on the timeline. Don't restrain yourself from experiments — Clipify has a well-optimized engine, so it's one of the best video editing software for slow computers.
Everything You Need to Make an Amazing Video:
60+ ready-made titles
Clipify offers dozens of title clips that are completely ready to go. You will find styles for travel blog videos, DIY workshops, performances, tributes, etc. You can tweak presets to your taste: change the default font, background, captions and add clipart.
Lots of built-in templates
With Clipify, you can use various templates to make a video greeting card for your friends and family. There are themes for various occasions: wedding, birthday, travel, family. Pick a template, type in a heartwarming text, add a suitable tune — and it's done.
200+ royalty-free music
To create the right atmosphere for your video, add sound effects. Clipify provides you with a large collection of royalty-free music. The tunes are divided into different genres, categories and moods. You can add your own music as well: MP3, WAV, OGG, etc.
Direct webcam capture
Record and add videos directly from your webcam. This is very useful if you want to create a picture-in-picture effect and accompany your clips with additional storytelling. You can adjust the camera settings right in the software: brightness, white balance, hue, etc.
Replace Video Background With Chroma Key
Want to make a professional video montage? You can perform it with ease even on your home computer! This video editor for low-end PCs offers a convenient Chroma key filter. No complex adjustments: just upload your clip, select the chroma key color and choose a video with a new background. A click and your cool video is ready. Then you can add some badass music to make your montage even more engaging. If you don't have any background at hand, you can throw in one of the 30+ themed footages available in the program.
Download Clipify Portable