Portable Darktable v3.4.0 (x64)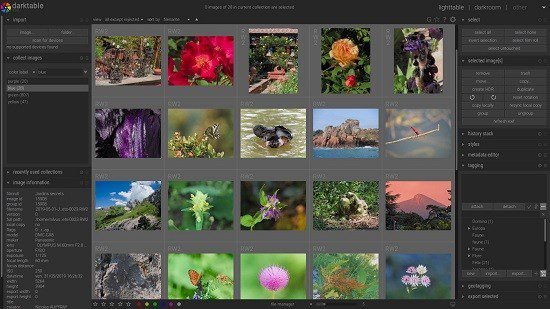 Darktable is an open-source and cross-platform photography workflow application that has been around for quite some while now and is available for  Windows and can be be considered valid Alternative to Adobe Lightroom.
Having developers that are also avid photographers as part of the target audience is good for understanding the real world problems, challenges, and workflows.
darktable is a photography workflow application and raw developer. A virtual lighttable and darkroom for photographers. It manages your digital negatives in a database, lets you view them through a zoomable lighttable and enables you to develop raw images and enhance them.
darktable edits your images non-destructively all the way through its pipeline. Your original image is never modified! Professional color management features ensure fidelity all the way to print and GPU accelerated processing means you can speed up your workflow using your video card.
Currently darktable contains 61 image operation modules. Many modules support powerful blending operators offering blend functionality that works on the incoming image information and the output of the current module or be used with drawn masks.
Main modules:
Basic image operations
Tone image operations
Color image operations
Correction modules
Effects/artistic image postprocessing
With that out of the way, here's what you can expect from darktable. Firstly, besides the plethora of image (and RAW image) processing tools with all the bits and bobs, you will also notice that the app is pretty useful when it comes to helping you manage photos.
A very popular image processor with photo management superpowers, now available for Windows as well
Actually, it aims to sport a smooth balance between a typical raw image converter and processor and a basic (database-specific) image management tool, all for the sake of allowing you to work with your pictures as efficiently as possible. You can perform flexible database queries, perform image searches based on tags, rating and color labels, as well as filter and sort your image collections.
One of the app's highlights stems from the fact that it allows you to import a wide array of image formats such as JPG, CR2, HDR, PFM, just to name a few. Just as important is the app's export system which makes it easy for you to create Picasa and Flick web albums, HTML-based web galleries and export pictures to formats such as JPEG, PNG, TIFF, PPM, PFM, EXR.
Surprisingly well-equipped utility that handles most image operations with ease
However, by and large, darktable is best known for its image processing operation modules. As mentioned before, it's capable of handling most basic image processing tasks. It helps you invert, crop, or rotate pictures, tweak the exposure, reconstruct the color info, set the white balance, correct various saturation or color-related levels, remove noise, apply lens correction, remove spots, fix chromatic aberrations, and sharpen any image, just to give you an example.
darktable does not disappoint when it comes to image processing effects either. It provides you with the options to add watermarks and frames, add vignettes and grain to your pictures, as well as various other interesting effects (Orton, bloom, colorize, graduated density).
You should also know that darktable allows you to preview your image collections in a slideshow mode, which truth be told, is not yet in tip-top shape on Windows. Last but not least, the app allows you to visualize a wide array of details about your photos and even edit their metadata and geo-metadata.
New Features And Changes:
Some parts of the GUI have been reworked in this version to complete the overhaul done in previous 3.2 release to ensure seamless integration (color, spacing). A good example is the combo-boxes.
A focus-peaking button has been added in the lighttable and darkroom views which complements the existing keyboard shortcut. Focus-peaking helps to visualize the depth of field in an image by materializing the sharp edges.
Better visual feedback is provided when changing module order with drag&drop.
The wavelet algorithm has improved performance.
A new tooltip has been added to items in the darkroom history stack module showing a list of the individual parameter changes at each step. This can especially help to track down unintended adjustments in modules with many tabs, such as filmic rgb or the parametric blending settings. This feature was based on the under-the-hood introspection enhancements delivered in 3.2.
Processing modules now have a new tooltip, accessible by hovering over their header, containing a summary of what they do, how they work, in which color space they operate, if they expect linear, non-linear, display-referred, or scene-referred input and what kind of output they produce. This will help users to build consistent pipelines when reordering modules, by exposing the assumptions upon which each module is built, and provides an in-app documentation summary accessible offline.
Processing modules have been updated with alias names and keyword lists which are used in the module group search. As a result, a module search can be performed using the exact names, synonyms (e.g. "dehaze" for "haze removal") or features. For example searching for "saturation" will return all modules that can perform saturation adjustments.
Importing pictures from memory cards no longer uses the gPhoto API. This should now be more stable on Windows.
Many changes have been made to modules to allow for narrower panels.
The bilateral filter (used in local contrast, for example) has been enhanced for better performance.
The reset button in the history module can now be used to delete the history stack.
Ctrl+Clicking on the 'compress history stack' will truncate the history without compressing it.
The export module has new options to specify the maximum output pixel dimensions using a scale factor or print size (cm or inch) and DPI.
The Filmic RGB module has new graph views to help first time users.
These views include a default base curve view in linear and logarithmic scales, consistent with the base curve module, and a zone-system view which shows the dynamic range mapping between scene and display grey scales. All the views have optional legends, which can be toggled on for new users, and off for experienced users seeking more GUI real-estate.
Changing the pixel workflow preference (none, display-referred, scene-referred) no longer requires a restart.
The pixel-pipe cache can be fine-tuned for better performance.
The white balance module can now show colored sliders with two available modes: 'illuminant color' or 'effect emulation'.
More compact combo-box displays have been added to some modules.
In the collect module, the collection properties drop-down is now grouped making it easier to find the property you wish to filter on.
Read support for 16-bit (half) float TIFFs has been added.
The channel mixer has been deprecated (now replaced with the new color calibration module)
The global color picker has been reworked and now comes with an enhanced GUI. The colors can now be displayed in LCh or HSL.
Any user-amended preferences (those which differ from their default values) are now indicated with a small bullet.
A new preference has been added to allow you to hide built-in presets.
All modules with a list (styles, image information etc.) can be resized with a Ctrl+Scroll action.
The history copy has been changed to include only safe modules. Modules like "raw white/black point" and "scale pixels" are no longer copied, for example. To copy such modules, use the "copy parts…" button. Note that the unsafe modules are not selected by default in the resulting dialog.
A new exposure independent guided filter has been introduced in the tone equalizer module. This solves the algorithmic drawback of the regular guided filter (edge-aware surface blurring), that tends to over-smooth low-lights and under-smooth highlights. These filters are used by the tone equalizer to apply contrast compression globally on the image while not reducing the percieved acutance for local details.
Greyscale support has been added for the AVIF format.
The "screen DPI overwrite" and "speed/quality trade-off for drawing images" preferences have been combined into a single new performance mode for slow computers. In this mode the thumbs are computed with a lower DPI and use a faster drawing algorithm.
All values in the saved preferences are checked to detect possible data corruptions. Preferences having a min or max are validated to ensure that they are in the appropriate range. Any preferences detected with possible data corruption are automatically reset to their default values.
Support for AVIF >= 0.8.2 (no support for older versions).
In order to guard against overwriting styles when exporting them, a dialog is shown to allow the user to confirm or abort the action.
Output channel sliders for parametric masking are now hidden by default.
The over-exposure warning display has been improved. As of darktable 3.2.1, it showed pixels for which any RGB channel value was below 0.1% or above 98%, assuming they would clip in the final export, which is wrong. This mode triggered a lot of false-positives that needlessly alarmed users who took them very seriously, but also showed over-saturation and over-exposure issues altogether. This comes with 4 possible modes:
"any RGB channel" is the same as the previous "over exposure" warning.
"luminance only" shows by default pixels darker than -12.67 EV (sRGB black point in 8 bits integers encoding) or brighter than 99%
"saturation only" shows any pixel which is too saturated for its current luminance, meaning it is out of gamut.
"full gamut" shows a combination of the 3 previous modes for an overall control check.
These modes allow the user to take appropriate measures: exposure adjustments to fix luminance clipping or saturation adjustments to fix gamut clipping.
A new preset has been added to the denoise (profiled) module to remove only chrominance noise using wavelets mode.
Many modules have been reworked to get better performance on CPU by reordering and improving the OpenMP code. The modules are Liquify, Shadows and Highlights, Filmic RGB reconstruction, RAW Denoise, Borders, High Pass.
The histogram has been improved for performance espcecially the log view.
Download Darktable Portable