Portable DoNotSpy11 v1.2.0.0 Pro (x64)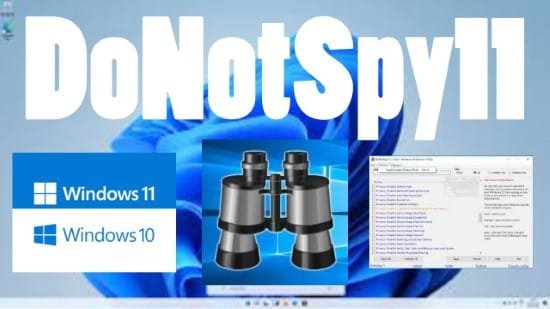 DoNotSpy11 Portable is an updated anti-spyware tool for Windows 10/11. DoNotSpy11 provides settings not available through Windows apps and combines them all in one app so that you can effectively protect your privacy.
You are given the ability to manage your privacy when using Windows 10, Windows 11, Microsoft Edge, and Microsoft Office. Microsoft is using a variety of new "diagnostic" features to collect usage data to provide a better user experience. But collecting this data can be a privacy risk, as we have seen in various news reports that this data is being intercepted and used for criminal purposes. DoNotSpy11 gives you control over what you share.

DoNotSpy11 offers several features for your convenience:
• Automatically check for updates
• Detect language based on your OS's language
• Ability to switch languages on the fly
• Quickly undo all settings
• Use Windows System Restore
In the ever-evolving digital landscape, ensuring the privacy and security of your personal information has become increasingly important. DoNotSpy11 Portable is a cutting-edge software solution designed specifically for Windows 11 users, aiming to protect their privacy and enhance system security. In this comprehensive description, we will delve into the features, benefits, and technical aspects of DoNotSpy11 Portable.
Enhanced Privacy Features:
DoNotSpy11 Portable offers a wide range of privacy features that empower users to take control of their personal data. With a focus on Windows 11, this software provides advanced settings and options to safeguard your information. Its user-friendly interface allows you to easily toggle various privacy settings and customize your preferences.
Telemetry and Data Collection Control:
DoNotSpy11 Portable enables you to manage and control the telemetry and data collection features of Windows 11. By disabling or reducing the telemetry levels, you can limit the amount of data Microsoft collects from your system. This helps to protect your privacy and prevents unnecessary sharing of personal information.
App and System Permissions:
With DoNotSpy11 Portable, you can conveniently manage the permissions granted to various applications and system features. It allows you to review and modify app permissions, ensuring that only trusted applications have access to your data. Additionally, you can control system features like camera, microphone, and location services, enhancing your privacy and preventing potential misuse.
Privacy Settings Optimization:
This software optimizes your privacy settings by providing recommendations based on industry best practices. It assists you in configuring your Windows 11 system to maximize privacy while maintaining functionality. From disabling personalized ads to controlling app access to your contacts and calendar, DoNotSpy11 Portable offers a comprehensive suite of options to protect your privacy.
Enhanced System Security:
In addition to privacy features, DoNotSpy11 Portable also includes powerful tools to enhance the security of your Windows 11 system. By mitigating potential vulnerabilities and strengthening system defenses, it helps safeguard your valuable data from cyber threats.
Windows Security Enhancements:
DoNotSpy11 Portable offers a range of security enhancements specific to Windows 11. It allows you to disable potentially risky features, such as SmartScreen or Cortana, which could be used as an attack vector. Furthermore, it provides recommendations for strengthening Windows Defender settings, ensuring your system is fortified against malware and other malicious activities.
Password Policy Enforcement:
To protect your accounts and sensitive information, this software enables you to enforce strong password policies. It allows you to set minimum password length, complexity requirements, and expiration periods, making it harder for unauthorized individuals to gain access to your system.
Technical Aspects:
Built with advanced technology, DoNotSpy11 Portable is a lightweight and portable software that can be easily installed on your Windows 11 system. Its efficient coding ensures minimal impact on system resources and guarantees seamless performance. The software is regularly updated to adapt to the latest Windows 11 updates, ensuring compatibility and continued protection.
In conclusion, DoNotSpy11 Portable offers a comprehensive suite of privacy and security features tailored to Windows 11 users. By managing telemetry, app permissions, and privacy settings, it empowers users to protect their personal information and maintain control over their data. Additionally, the software enhances system security through Windows-specific optimizations and strengthened password policies. Install DoNotSpy11 Portable today to fortify your Windows 11 system and enjoy enhanced privacy and security.
Features:
Advertising: Disable Advertising in Windows Explorer
Advertising: Disable and Reset Advertising ID
Advertising: Disable App Suggestions in Windows Ink Workspace
Advertising: Disable Bluetooth Advertising
Advertising: Disable Start Menu App Suggestions
Apps: Disable Access to Account Info
Apps: Disable Access to Calendar
Apps: Disable Access to Call History
Apps: Disable Access to Camera
Apps: Disable Access to Contacts
Apps: Disable Access to Diagnostic Data
Apps: Disable Access to Email
Apps: Disable Access to Language List
Apps: Disable Access to Location Info
Apps: Disable Access to Messaging
Apps: Disable Access to Microphone
Apps: Disable Access to Notifications
Apps: Disable Access to Radios
Apps: Disable Access to Tasks
Apps: Disable App Notifications
Apps: Disable Application Telemetry
Apps: Disable Background Applications
Apps: Disable Push To Install (Fall Creators Update) *new*
Apps: Disable Silent Installed Apps
Apps: Disable Sync With Devices
Defender: Disable Windows Defender Cloud Protection
Defender: Disable Windows Defender Sample Submission
Defender: Disable Windows Defender
Defender: Enable Network Protection (Exploit Guard) (Fall Creators Update) *new*
Edge: Disable Adobe Flash Player
Edge: Disable Page Prediction
Edge: Disable Search Suggestions
Edge: Enable Do Not Track
Privacy: Disable Message Service Cloud Sync (Fall Creators Update) *new*
Privacy: Disable Auto Map Download
Privacy: Disable Biometrics
Privacy: Disable Enabling Lock Screen Camera
Privacy: Disable Experimentation
Privacy: Disable Facts, Tips, Ticks and More on your Lock Screen
Privacy: Disable Handwriting Data Sharing
Privacy: Disable Handwriting Error Reporting
Privacy: Disable Inventory Collector
Privacy: Disable KMS Client Online Validation
Privacy: Disable Location *updated*
Privacy: Disable Network Traffic Pre User SignIn *new*
Privacy: Disable OneDrive
Privacy: Disable Password Reveal Button
Privacy: Disable Retrieving Device Metadata
Privacy: Disable Sending Writing Info
Privacy: Disable Sensors
Privacy: Disable Setting Sync
Privacy: Disable SmartScreen-Filter for URLs
Privacy: Disable Steps Recorder
Privacy: Disable Tailored Experience using Diagnostic Data
Privacy: Disable Telemetry
Privacy: Disable Tips about Windows
Privacy: Disable WiFi Sense
Privacy: Disable Windows Customer Experience Improvement Program
Privacy: Disable Windows Feedback Requestes
Privacy: Disable Windows Media DRM Internet Access
Privacy: Disable Windows welcome experience
Privacy: Show Detailed Data Usage
Search: Disable and Reset Cortana
Search: Disable Cloud Search (Fall Creators Update) *new*
Search: Disable Getting to know me *updated*
Search: Disable Web Search
Start: Do Not Show Recently Opened Applications
Start: Do Not Show Recently Opened Files
Updates: Defer Windows Upgrades
Updates: Disable Automatic Driver Update
Updates: Disable Automatic Speech Model Updates (Fall Creators Update) *new*
Updates: Disable Automatic Windows Store Updates
Updates: Disable Automatic Windows Updates
Updates: Disable Malicious Software Removal Tool via Windows Update
Updates: Disable Windows Update for Other Products
Updates: Disable Windows Update Sharing
DoNotSpy11 Release Note:
General: Added Support for Windows 11 23H2 (Moment 4)
Tweak added: Edge: Disable Compose for Writing on the Web
Tweak added: Edge: Disable Discover Access to Page Contents
Tweak added: Edge: Disable Related Matches in Find on Page
Tweak added: Edge: Disable Text Prediction
Tweak added: Edge: Disable Thumbnail Images for Browsing History
Tweak added: Edge: Disable Windows Indexer Access to Local Browsing Data
Tweak added: Privacy: Disable Autocorrection of Misspelled Words
Tweak added: Privacy: Disable Copilot
Tweak added: Privacy: Disable Highlighting of Misspelled Words
Tweak added: Privacy: Disable Taskbar Copilot Button
Tweak added: Start: Do Not Show Account-Related Notifications
Tweak added: Start: Do Not Show Recently Added Apps
Tweak updated: Edge: Disable Search Suggestions (now set as mandatory policy instead of recommended policy)
Tweak updated: Edge: Disable Shopping (now set as mandatory policy instead of recommended policy)
Tweak updated: Edge: Disable Suggestion of Similar Pages (now set as mandatory policy instead of recommended policy)
Tweak updated: Edge: Disable Synchronization of Data (now set as mandatory policy instead of recommended policy)
Tweak updated: Privacy: Disable Facts, Tips, Ticks and More on your Lock Screen
Tweak updated: Privacy: Disable SmartScreen-Filter for URLs
DoNotSpy11 Portable Download