Portable Passware Encryption Analyzer 2021 v1.0 (x64)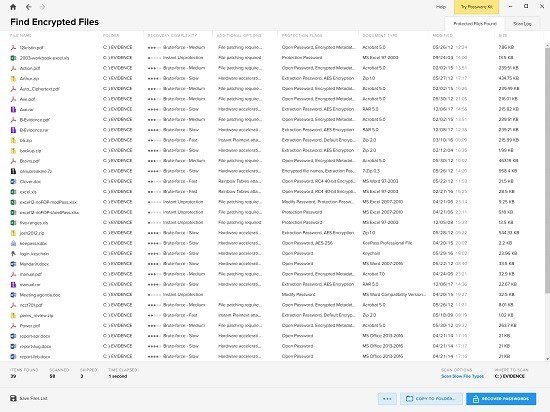 Passware Encryption Analyzer Portable is a free tool that scans a system to detect protected or encrypted documents, archives, and other types of files. This application provides detailed information about any protected items found, including protection methods and encryption types.
Seamlessly find all password-protected files on your computer and find out how to overcome their encryption with this application
In case you are getting prompts to backup your encryption key and you know you do not have any password secured files on your computer, then you might want to search for the troublesome files on your PC. Passware Encryption Analyzer is a lightweight application that enables you to explore specific folders or your entire hard disk to identify and recover encoded files.
User-friendly interface and smooth functionality
The GUI is modern-looking and simple, so navigating through the features and functions should be easy even for users with limited computer skills. The program enables you to explore all drives for password-protected files or you can choose to look for them in specific folders. You can also opt for scanning system files or exclude them from the start.
Once the scan is complete, you can view a dialog box and start managing the encrypted files, meaning that you can save the list and scan log or attempt to recover the files based on the suggestions provided via the app. Alternatively, you can start a new scan if you could not find the desired files in the specified directories.
Irrespective of the type of scan you perform, the program displays details such as the file format and the protection method, a piece of information you can use to decide on the next step to take.
Supports a wide variety of file formats
The highlight of the program is that it recognizes a wide variety of file types, such as those specific to FileMaker, Lotus Notes and Organizer, MS Office, QuickBooks, VBA, PGP. Quattro Pro and various archives, to name a few.
It is worth mentioning that you need to install additional third-party software to activate the recover password function. Without the later program, you can only locate them on the drives or the directories, as opening them implies knowing the password.
A good tool for finding encrypted files
Even though it needs a third-party software solution to recover the passwords, Passware Encryption Analyzer can be a useful tool for identifying problematic encoded files on your local drives.
Download Passware Encryption Analyzer Portable