Portable Forta Subtitle Editor 7.3.7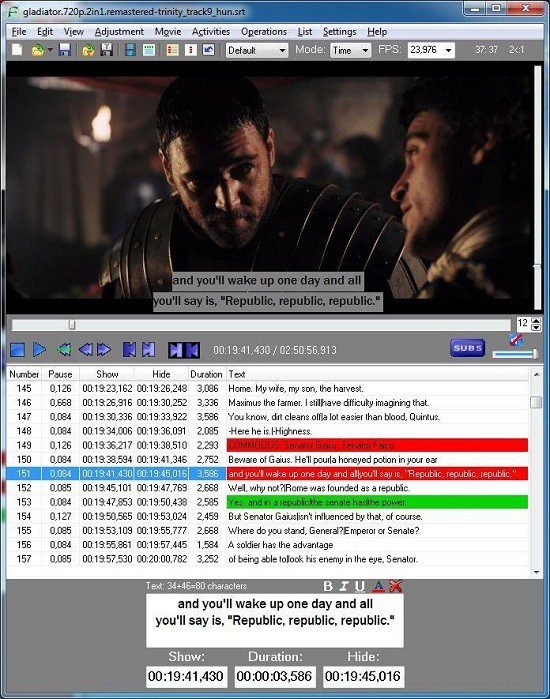 Forta Subtitle Editor Portable is an application that can be of use when your movie has an out-of-sync subtitle, providing you with an intuitive way to adjust line timing, translate text and perform corrections.
Its compatibility range includes some of the most common subtitle file types, namely SRT, SUB, ASS and SSA, while the built-in file converter enables you to obtain formats that can be used with various other subtitle editors.
Make modifications while previewing the video
As you would expect from such an application, Forta enables you to modify timings while previewing the video, in order to make sure that the text is in sync with the corresponding frame.
It helps you make adjustments up to a thousandth of a second for a selected set of lines, insert new lines to the subtitle and set the start and the final time. Moreover, you can load two subtitles and adjust them to match the same video.
Split and join subtitles
It features advanced searching capabilities to help you quickly find lines inside the loaded subtitle and replace certain strings that might be incorrectly translated. You can also use it to split a subtitle into two parts for movies that are stored on two separate CDs or perform the reverse operation: join two separate files into a single subtitle.
Grammar and spelling corrections
Forta can help you manage live overlapping situations by automatically adding extra time to the next line. There are a variety of other operations you can perform, such as removing onomatopoeic words, deleting extra spaces from the text, changing certain characters, breaking long lines, prolonging the display duration of a line, correcting dialog sign mistakes and removing empty lines.
Sync your subtitles in no time
Forta provides an intuitive interface for you to work in and bundles various commands that allow subtitle manipulation. Not only that you can make modifications to the timing, but you can edit the text, correct grammar and spelling mistakes, as well as join or split subtitles.
Features:
Adjust display time
Aggressive linebreak
Create/adjust/sync/translate subtitle lines
Merge short lines / split long lines
Visually sync and/or adjust a subtitle
Convert between 40+ formats
Save personal settings
Full formatting
Automatically saving
Check overlaps
Coloring short reading lines
Coloring every line longer than 37(or more) letters
Audio stream selection
Download subtitles from opensubtitles.org
List of the parameters of the movie
3 more aspect ratio: Original, 1:85:1 and 2.35:1
Playback rate
Import subtitles from Matroska (.mkv) file
New "full screen" form and menu
Show time on movie bar
Keep aspect ratio
new menuitem: unbreak (line)
srt to dfxp (Netflix format)
Add your favorite directory on "Load/Save subtitle" window
Download Forta Subtitle Editor Portable