Portable Wise Care 365 v6.5.4.626 Pro Multilingual
Wise Care 365 Portable is a bundle of important registry, disk, and other system utilities for your PC. Easy to use and effective, Wise Care 365 is the best solution to improve your PC's performance. Get Wise Care 365 and your computer will never run slowly again!
An all-in-one utility
Wise Care 365 includes both Wise Disk Cleaner and Wise Registry Cleaner. However, with other attractive and exciting features, it is far more than just that. Wise Care 365 will keep your PC in tiptop shape and running at peak performance!
Able to find more hidden problems than any other similar programs.
Wise Care 365 can detect more hidden invalid registry issues than other similar programs, which is accredited by CHIP and PCWorld.
Simpler and easier to use
It takes just one click to use Wise Care 365. As if by magic, your old PC will transform into a brand new and blazing fast one after Wise Care 365's automatic cleanup and tune-up.
Now with the fastest scanning speed
The scanning speed of Wise Care 365 is twice as fast as CCleaner's, as well as Advanced System Care Pro .
Highly reviewed by professionals and users
All the features in Wise Care 365 got highly reviewed by PCWorld, PCAdvisor, ComputerBild, CHIP, CNET, ZDNet, and so on.
Highly experienced developers
A group of top programmers, all of whom have at least ten-years experience, spent three years creating Wise Care 365 after collecting an abundance of feedback from users..
What can Wise Care 365 Portable do?
• Clean up, defragment and optimize the Windows Registry
• Defragment and free up space on your hard disk
• Protect your privacy by erasing personal tracking data
• Recover lost files
• Hide important files or folders
• Prevent unauthorized use of personal applications
• Auto shut down your PC
• Free up Memory to boost game and enterprise software performance
• Simple "One Click Tune-up" option will optimize your PC
Protect Your System in Real Time
Take prompt action once some applications attempt to make modification without your permission. This protector will identify and stop any processes that try to secretly change Windows registry.
Prevent programs from changing your Internet Explorer homepage
Prevent any unwanted new application from adding into the windows startup
Prevent changes to the default browser
A Comprehensive PC Cleaner
Wise Care 365 Portable is definitely the preferred option for billions of Windows users who want to keep their Windows PC at peak performance. It removes invalid Windows registry entries and cleans useless files, download history, browsing history, invalid shortcuts, traces, cache, cookies, passwords, Windows components, and files with specific extensions – allowing Windows system to run faster and freeing up more valuable hard disk space in seconds. It is also packed with customizable cleaning options for advanced users.
World's Fastest System Optimization Tool
Wise Care 365 adopts world's top technology. It optimizes PC's performance, defrags disks and the Windows registry, and manages the startup process as well as services.
Over time, your computer's hard disk drive and registry will become cluttered. Wise Care 365 can defrag the drive and registry to make them organized, thus making your computer run faster and more stable. You are going to be amazed by its blazing defrag speed.
Many programs run silently in the background when you start up your computer. Wise Care 365 helps you disable unneeded programs that consume your precious system resources and improves PC startup speed.
Your Ultimate Computer Privacy Protector
Wise Care 365 Portable protects your computer privacy from prying eyes.
Privacy Eraser erases all traces of any computer operation like browsing history and accessed files, so any computer operation you do stays confidential.
Disk Eraser prevents deleted data from being retrieved by third parties.
Disk Shredder can delete files thoroughly so that they can never be recovered.
A Powerful System and Hardware Monitoring Utility
System Monitor displays all the essential information of your computer.
Process Monitor gives users a clear and neat list of all the processes run by user and system, users can shut down any process they don't need to make the PC run more smoothly.
Hardware Overview offers users both brief and detailed information of all the crucial hardware components, letting users know about their computers at a glance.
A Perfect Platform for Mutual Assistance on PC Problems
The 'Wise Assistance' section of Wise Care 365 is a community for mutual assistance and knowledge sharing on PC problems. Users can ask any questions about their computers, while our experts and other users with relevant knowledge, experience or techniques will answer these questions. Wise
Care 365 holds millions of users across the world, so users can get faster and better solutions. It is a connection between users and experts to get faster and better solutions for computer problems.
What's NEW:
Support to install and update Wise Folder Hider from Wise Care 365.
Improved the rule of cleaning Microsoft OneDrive, Xmind, and Discord.
Supported cleaning Zoner Photo Studio, and ACDSee Photo Studio.
Fixed minor bugs in the previous version.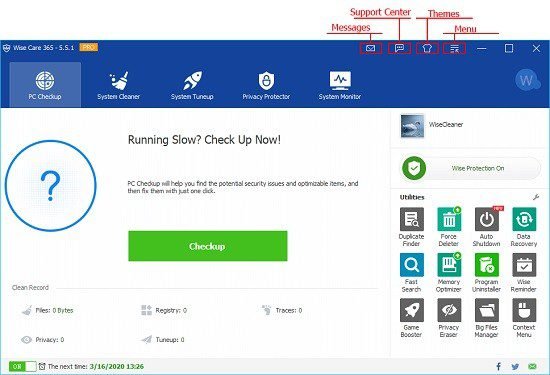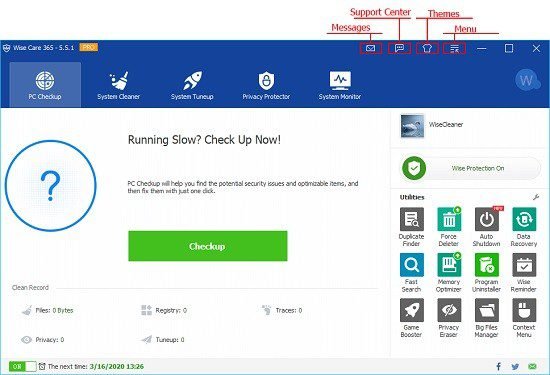 Download Wise Care 365 Portable