Portable GridinSoft Anti-Malware 4.2.55 (x64) Multilingual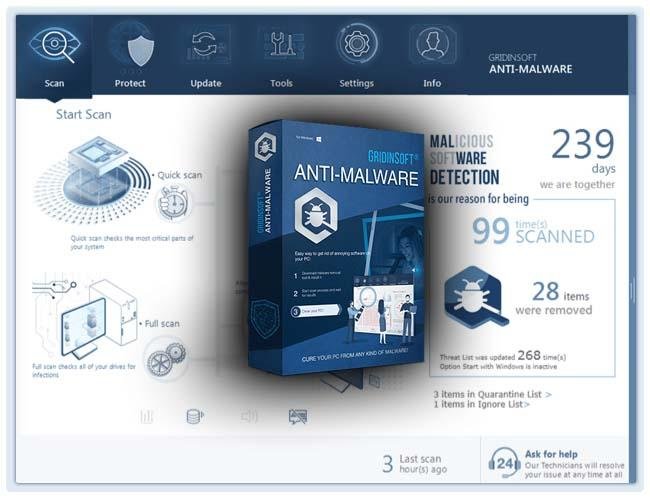 GridinSoft Anti-Malware Portable is an excellent anti-malware solution. It fast, effective and reliable. GridinSoft Anti-Malware has been developed specifically for automatic removal of viruses, bots, spyware, keyloggers, trojans, scareware and rootkits without the need to manually edit system files or registry. This ultimate removal tool with awesome features that leaves no chance for any sneakiest malware. GridinSoft Anti-Malware additionally fixes system modifications that were introduced by malware and which, regretfully, are often ignored by some popular antivirus scanners. The program scans ALL the files loaded at boot time for Adware, Spyware, Remote Access Trojans, Internet Worms and other malware.
GridinSoft Anti-Malware Portable provides the high-speed system scan. No slowdowns in your system in proactive mode. The program has user-friendly and simple interface and defeats malwares within few clicks instead of long-lasting boring manual procedures. Timely updated database protects your PC from trojans and other malware applications. The hourly updates keep GridinSoft Anti-Malware updated each time you need it.
GridinSoft Anti-Malware Portable helps in cases where well-known and complicated antivirus products get stuck. Once malware is detected, it is added to GridinSoft database in 2-12 hours. Up-to-date databases and smart algorithms give your PC maximum possible level of security.
Slow computers are really annoying, as well as the programs. This is not the case with GridinSoft Anti-Malware. It will fix your PC within few minutes, effectively and convincingly. The program immediately reacts after detecting threats and prevents all attempts to damage your data.
GridinSoft Anti-Malware Portable operates in the field of protecting system from malicious software in order to render security for computer systems. It can assist you in removal of annoying advertisement modules, spyware and other malicious instruments developed by hackers. Without a doubt, it is of utmost importance to restore control over your infected computer as soon as possible, without giving anybody a chance to use your personal information for lucrative purposes.
Get thorough details on scanned files
An automatic scan for signature definitions is performed at startup, immediately followed by a computer scan.
Statistics reveals total memory items, registry items and scanned files, along with detected Trojan infections. Log details show the name, virus type and targeted file path for each infected item. This report is automatically saved to a plain text document.
Making sure files are not left infected
Some selections detected during the scan may require an in-depth analysis, so you can submit them for a thorough inspection. As for the remaining items, you can either remove them from the machine or mark them as false positives.
Various advanced options to manage
Power users may tinker with settings to enable deep scan mode (slow but effective), terminate memory threats while scanning, disable heuristics rules, as well as to ignore suspicious packers, loaders, incomplete files, and files whose size surpasses 16Mb.
It is possible to disable logging, set GridinSoft Anti-Malware to autorun at startup, choose the program startup scan mode (standard, quick, full, removable), edit proxy parameters, and disable notification sounds.
Browse the Internet the safe way
Another notable feature is represented by a real-time scanner that prevents e-threats from infiltrating into your system. Extra tools let you reset browser settings, update policies and the Hosts file, scan Windows components (ActiveX, Windows services, IE extensions, startup links), collect system information and check out all GridinSoft Anti-Malware log files, plus the quarantine list.
What's new in GridinSoft Anti-Malware Portable
Refactoring: prepare to new proactive driver.
Fixed protection for binaries with 'external' sign;
Some users was excepting troubles with microsoft's devcon, so its was removed from distributive. We will use our own setupapi implementation for "camera protection";
Increased user interface speed;
The Tools page was optimized for 4K monitors.
Expanded scanning area for quick scan;
Fixed bugs in the Internet Security and during scanning;
Improved stability of scanning removable devices;
New design of the Tools page;
Numerous fixes for minor bugs in the engine.
ON-Run protection: added using YARA rules to scan files.
Download GridinSoft Anti-Malware Portable