Portable All-In-One Password Recovery Pro Enterprise 2021 v6.0.0.1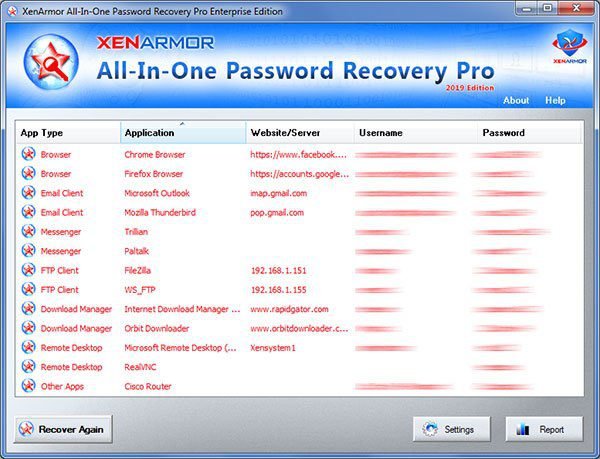 One software to recover ALL your passwords from 170+ popular Windows apps. Did you forget password of your email, social network, website, FTP, messenger, downloader, database or Wi-Fi login? If so All-In-One Password Recovery Pro can help you to instantly recover ALL your passwords.
Our 10+ years of research work into one master piece for you.
– Recover all type of passwords
– Recover passwords from 170+ windows apps
– New Smart Password Recovery engine to find more passwords (NEW!)
– Recover Website passwords from 60+ browsers (NEW!)
– Recover new Chrome v80+ passwords also
– Recover Email passwords from 10+ email clients
– Recover FTP passwords from 30+ FTP clients
– Recover 20+ Database Manager passwords (NEW!)
– Recover Social Network passwords
– Recover Wi-Fi (WEP,WPA, WPA2, WPA3) passwords
– Recover Windows VPN & Dialup passwords (NEW!)
– Recover FTP, messenger, downloader,router passwords
– Recover from portable apps/external disk
– Command-line version to run from scripts
– Automation of password recovery
– Save passwords to HTML,CSV,XML,JSON, SQLite file
– Portable Unlimited Edition to run directly from USB disk
– Supports All Windows PCs (XP to Windows 10)
Recover All Type of Passwords
– Website Login Passwords
– Email Login Passwords
– Social Network Passwords
– Messenger Login Passwords
– Download Manager Passwords
– FTP Login Passwords
– Router Passwords
– Database Manager Passwords
– Remote Desktop Passwords
– Windows VPN & Dilaup Passwords
– Wi-Fi (WEP,WPA,WPA2,WPA3) Passwords (NEW!)
– Windows Credential Manager Passwords (NEW!)
One Click to Recover All Passwords
With just a click of button you can recover all passwords from 100+ apps without worrying where the passwords are saved or how it is encrypted.
Recover Passwords from Portable Apps/External Drives
Advanced Settings allows you to recover passwords from non-default profile locations, portable browsers or profiles copied from another laptop.
All-In-One Password Recovery
Instantly Recover ALL Your Passwords from Top Apps
Recover from 170+ Windows Apps
Recover Your Passwords from 100+ Popular Windows Apps
Recover from Custom Location
Recover from Portable Browsers, Custom Locations or Another Computer
Command-line Options
Helps you to run it from your scripts or program
Report in Popular File Formats
Generate Password Report in HTML/CSV/SQLite/XML/JSON file format
Recover from 32-BIT & 64-BIT Apps
Recover Passwords from 32-bit & 64-bit Email Clients/Browsers/Messengers
Master Password Support
Recover Passwords from Master Password Protected Firefox & Thunderbird
Automation of Recovery
Save Your Time by Automating Password Recovery Process
New Features:
– New Smart Password Recovery engine to find more passwords (NEW!)
– Recover Website passwords from 60+ browsers (NEW!)
– Recover 20+ Database Manager passwords (NEW!)
– Recover Windows VPN & Dialup passwords (NEW!)
Download All-In-One Password Recovery Portable