Lazesoft Recover My Password 4.5.1.1 Pro / Server WinPE (x64)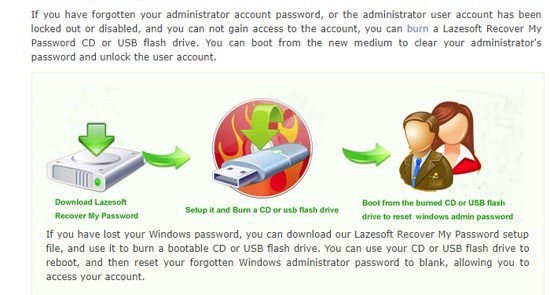 Have forgotten your Administrator password? You cannot remember the administrator's password. How can you get out of this situation without formatting and re-installing the operating system? You get the right place! Download here Lazesoft Recover My Password WinPE and gain access to your Windows account.
Burn Lazesoft Recover My Password CD or USB flash drive, then boot from it. With just a few mouse clicks you can reset your administrator's password to blank, then you can log in your administrator account with a blank password. If you have forgotten Administrator's password, or the Administrator's user account has been locked out or disabled, you cannot gain access to the account. However you can burn a Lazesoft Recover My Password cd or USB flash drive and boot from it to clear Administrator's password and unlock the user account.
As important as they may be, administrator passwords can still be forgotten, leaving you with no way of accessing your Windows accounts. Lazesoft Recover My Password Unlimited is a handy application, designed to help you reset lost administrator passwords on your Windows accounts. It allows you to create a bootable WinPE recovery CD, DVD, USB flash drive or ISO image file that you can then use to boot your computer and clear the existing administrator password.
Create bootable recovery discs or flash drives
After launching the application, it enables you to choose which type of media should be used to store bootable data. You can use CDs, DVDs or USB flash drives, as well as create an ISO image file and save it on your computer.
The program then starts the building process using the designated media. Afterwards, you can boot your computer with the created disc or portable storage drive to remove the current administrator password.
Customize the created boot image
Lazesoft Recover My Password Unlimited allows you to modify various program settings, to ensure the created bootable disc or drive is compatible with your computer's operating system.
It is possible to specify the WinPE version that should be used and you can also add custom WinPE drivers.
Lazesoft Recover My Password Features
– Easy to install and use with a very handy and clear user interface.
– Resets passwords with a bootable CD.
– Resets passwords with a bootable USB drive.
– Resets local Administrator password.
– Resets Domain Administrator password.
– Retrieve product keys from unbootable Windows installations
– WinPE Recovery CD Builder
– Automatically detects several operating systems installed on the computer.
– Unlocks and Enables user accounts.
– Disables the password expiry option.
– Supports Windows XP, Vista, Windows 7, Windows 8.1, Windows 10.
– Supports Windows 2003, 2008, 2008 R2, 2012, 2012 R2, 2016, 2019 (For Server Edition)
– Works on all laptops including Legend, Toshiba, Dell, IBM etc.
– Supports 32-bit and 64-bit Windows.
– Support WinPE USB boot disk.
– Support building bootable DVD
– Change the old password to the one entered
– Convert Microsoft live id account to local account
– Supports Windows 10, version 20H2
– Find lost password of Windows user account
– Options to special WinPE version and type while building boot disk
– Options to special custom drivers while building boot disk
– Supports UEFI boot mode and BIOS boot mode
– Enhanced guides for resetting Windows Live ID user account password
– Recover Windows 10/8.1 OEM product key from BIOS
– Start Menu on boot disk
Supported Windows Versions:
– Windows XP
– Windows 2003
– Windows Vista
– Windows 2008
– Windows 7
– Windows 2008 R2
– Windows 8
– Windows 2012
– Windows 8.1
– Windows 2012 R2
– Windows 10
– Windows 2016
– Windows 2019
Supported Hard Disks:
– IDE
– SCSI
– SATA
– 1394
– USB
– SAS
– mSATA
– M.2
– PCIe
– RAID Drivers
Supported File Systems Type:
– FAT
– FAT32
– NTFS
Supported Disks:
– Basic Disk
– GPT Disk
– Dynamic Disk
Download Lazesoft Recover My Password WinPE
Professional Edition:
Download – 329.3 MB
Mirror – 329.3 MB
Server Edition:
Download – 328.5 MB
Mirror – 328.5 MB