Portable SlimBrowser v14.0.1.0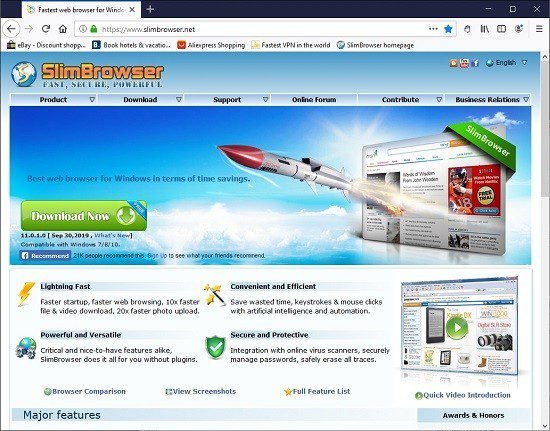 SlimBrowser Portable: fastest web browser for Windows that blocks all ads. It's been well over a decade since SlimBrowser was launched, and while it didn't shake up the browser industry at the time, it improved constantly over the years, becoming one of the many good web browsers out there.
Describing SlimBrowser in just a few words can prove a bit difficult – not because the browser doesn't have enough specific features, but rather because it boasts a lot of useful features. Be that as it may, SlimbBrowser is all about speed, security, versatility, and convenience.
The first thing you should know about this web browser is the fact that it uses the Gecko engine, the same engine used by Mozilla Firefox. Hence, if you've ever used Firefox (post-Quantum versions), you should feel right at home on SlimBrowser because the GUI is practically identical as well.
So, why not pick Firefox instead?
While this question is a legitimate one since, after all, Mozilla Firefox is one of the top-3 browsers out there, here are a few reasons why you might want to consider SlimbBrowser instead.
To start off with, this is a very fast web browser. While we won't go as far as to say it's astonishingly faster than other browsers, the difference in speed between it and most staple browsers is noticeable. This is partly thanks to its multi-thread architecture, and partly thanks to its built-in adblocker.
There are other goodies as well, and even though they might seem a bit "niche," it's good knowing that all of these features are built-in. These include a YouTube Video to MP4 and MP3 downloader, an ultra-fast, multi-threaded download manager (which also allows you to resume "broken" downloads), a Web Page and Text translation tool, and one-click Facebook integration.
In addition, the browser also has a tool that allows you to upload photos fast and even slightly edit them by adding frames and other effects (can even shrink photos to make them web-optimized), a page screenshot tool, as well as a built-in weather forecast tool. Needless to say, the browser benefits from all the convenience usually found in Firefox browsers in terms of customization. You can fully customize the toolbar, and even set up various mouse gestures to help you improve the way you work.
Lightning Fast
Faster web browsing without the ads, 10 times faster file and video download.
Secure and Protective
Stop invasion on your privacy by blocking all the ads. Enhanced tracking protection.
Powerful and Versatile
Critical and nice-to-have features alike, SlimBrowser does it all for you without plugins.
Convenient and Efficient
Fully customizable toolbar and mouse gesture support let you get more done in less time.
SlimBrowser is based on the Gecko engine of Mozilla Firefox, so you can use all the Firefox add-ons/extensions.
Here is the complete list of features supported by SlimBrowser Portable:
• Multi-threaded Download Manager
Boost your download speed by up to 12 times by opening multiple connections to the server to download a single file. Manage and track your download jobs easily in a convenient centralized location. Resume broken downloads.
• One-Click Facebook Integration
Share a whole page, a selected piece of text or an image within a web page among your friends on facebook via a single click. Sharing your online activities with your circle has never been easier.
• Instant Photo Upload & Photo Framing
Boost photo upload speed by up to 20 times by automatically shrinking photos to web-optimized resolution right before the photos are uploaded. You can also add beautiful frames to your photos immediately before upload to make your photos appear a lot more impressive among your friends.
• Download Youtube Video to MP4 and MP3
Download any videos on youtube at blazing fast speed with the built-in download manager. You can choose from all the available video formats such as mp4, webm and flv. You can also convert the downloaded video file into mp3 audio file so that you can listen to it on the go.
• Web Page and Text Translation
Translate a full web page or a selected piece of text within any web page between any two languages. Translation is done without even leaving the original page.
• Block Annoying Ads with Ad Blocker
Block obtrusive ads with the built-in ad blocker. Save wasted bandwidth and memory consumed by ad images and flash files.
• Weather Condition & Weather Forecast
View current weather condition and 5-day weather forecast information directly inside the browser interface without going to any website.
• URL Alias
Type a short predefined alias instead of a long web site address to go to frequently-visited web sites. A must-have feature for keyboard junkies!
• Web Page Screenshot (Whole Web Page or Selected Area)
SlimBrowser allows you to save the screenshot of a whole page (including the portion not visible until you scroll down) so that you can easily keep a record of the web page you are currently visiting. You can also capture screenshot of a selected area of the browser window.
Even though its name might suggest it, the browser is all about improving your productivity thanks to its plethora of useful tools. One of the best things about SlimBrowser Portable is that it manages to encompass all these tools within a familiar GUI and on top of a very good engine, without feeling bloated or overloaded.
Download SlimBrowser Portable