Portable BluffTitler Ultimate 15.3.0.5 (x64) Multilanguage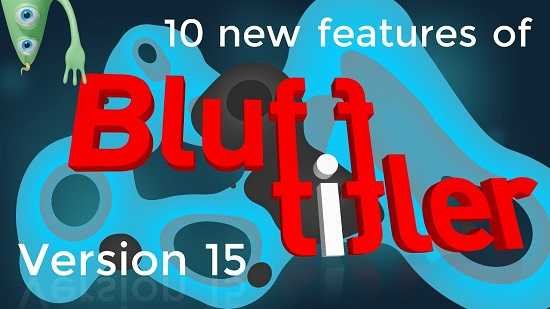 Create dazzling 3D titles for your videos with BluffTitler Portable. Want to impress your friends and clients with cool 3D titles? But don't want to spend a fortune on professional 3D animation and video titling software? BluffTitler is the easiest way to add spectacular 3D text animations to your photos and videos! Other 3D programs always seemed too hard to learn and too expensive to justify. But thanks to BluffTitler, I can finally create all of the cool animations I only dreamed of before!
We live in the times in which multimedia content is pretty powerful, and everything needs to be animated and look good. In this regard, BluffTitler is developed as a software solution that helps you create 3D titles and effects for your videos.
Create and adjust text, projection, and light
The user interface of the program is easy to navigate through. You can start a new show, as well as set the background color, show duration and resolution.
Thus, you can easily input text in a box and configure it (e.g. "Center", "Vertical Align Center", "Solid"). Also, you can adjust its position, rotation, font size, color, transparency, spacing and writer (via x, y, z coordinates).
Furthermore, you can switch the layer to camera mode and set options to, for example "Perspective Projection", "Solid" and "Render All", as well as adjust position, rotation and field of view.
You can also go the "Ambient Light" layer and configure its settings (e.g. "Point Light", "Flare is always visible"), as well as adjust light color and position.
Animate your project and include effects
In addition, you can set the animation action for all these aforementioned features, such as constant speed, accelerate, decelerate, pumping, ping pong and none.
Plus, you can preview the animation, create, copy and paste a key, add a picture, plasma or particle layer, attach particles to the active layer, as well as change the picture and effect.
Moreover, you can use the "Undo" and "Redo" buttons, play in full screen mode, create and organize favorites, save and load presets, toggle between the "easy" and "pro" version, export as picture, movie or template, and more.
Effects that can be created with BluffTitler include:
-golden beveled titles
-blood dripping titles
-JPG textured titles
-MPG textured titles
-slimy titles
-hairy titles
-exploding titles
-reflection mapped titles
-twisted titles
-cartoon shaded titles
-golden glowing titles
-spooky lightened titles
-titles with silver spikes
-jumbling titles
-inverted titles
-bouncing titles
-powerfield emitting titles
-titles with flying hearts
-pumping titles
-plasma backgrounds
-background videos morphing into donuts
-particle effects
-MP3 audio
-morphing JPG pictures
-exploding video backgrounds
-fractal backgrounds
What's new in v15:
64 bit executable: much faster and access to much more memory!
17 new effects: Filters/Kaleidoscope, Text/3Colours, Picture/Plane2Pyramid, Special/Inflate, Special/NormalMapper, Special/Octopus, Special/ClipAdditive, Special/UVModifierAdditive, Special/JigsawPuzzle3D, Special/Interiormap, Picture/ExtrudePicture, System/ViewShadowmap, Filters/JigsawPuzzle, Text/TwistedText, Picture/TwistedPicture, ProceduralTextures/BezierCurve & ProceduralTextures/ControlPanel
Improved water layer + new water templates
When you have installed the K-Lite Codec Pack, BluffTitler now plays MP4, QuickTime MOV, WebM and all other video formats supported by the LAV Video Decoder.
When you have installed FFmpeg, BluffTitler now exports as QuickTime MOV, WebM, WMV and Animated GIF. MP4 export in 4K is no longer a problem.
QuickTime MOV codec selector in Drivers tab of SETTINGS > Options… dialog. Supported codecs: QTRLE & ProRes
New menu item: MEDIA > Change glyph….
New menu item: EDIT > Change all vectors…
New menu item: EDIT > Change all models…
Thumbnails for vector (EPS) and 3D model files (X)
Counters in Change all media power buttons in top right render window
New power button: Community
New quality mode: choose SETTINGS > Super high quality
The samples per pixel(SPP) is now printed in title bar between []. This determines the antialiasing quality and can be adjusted with the SETTINGS > Low, Normal, High and Super high menu items
Oscillator mode in VJ dialog.
The textures generated by the colourmap and cubemap layers as well as the shadow maps are rendered in the top right when choosing SETTINGS > Render info
30 new title templates in the Titles folder
New pageflipper templates in the Picture folder (using the updated Picture/DoubleSided effect)
4 new styles in the sketch layer: Gear, Hexagram, Triangle & Hexagon
3 new styles in the light layer: Projected shadows on wall, Shadow maps & Directional light
3 new properties in the light layer: Direction, Shadow map bias & Shadow softness
3 new styles in the model layer: 3D in background, 3D in 3D space & 3D in foreground
2 new styles in the cubemap layer: Custom & Reflect water
2 new styles in the text layer: Stroked sharp & Inflated
2 new styles in the mirror layer: Rectangle & Vector. Click on the Change vector… button to select a vector file
1 new property in the mirror layer: Depth bias
1 new property in the particle layer: Min distance
Bevel size is automatically limited to prevent intersections and distortion
Characters property of the vector layer is now 2D: the 2nd slider controls the number of lines
Option to use fog colour as background colour in FILE > Set background colour… dialog
Show duration is no longer rounded off to whole seconds. You can now, for example, enter 2.5 in the FILE > Set show duration… dialog
Pixel media: new textures, new shows and a new model
Natural sort in file dialog
Release Note:
Updated translations: Chinese(Simplified), Deutsch, English, Francais, Korean, Kreyol, Magyar, Nederlands, Russian, Spanish, Suomi, Slovenian & Turkish
Improved quality shadow maps (Cascading Shadow Maps).
7 new styles in the picture layer: Hemisphere, Balloon, Rounded cube, Pyramid, Diamond, Chip & Star 3D
10 new effects: Shine, ProceduralTextures/ShinePlus, Text/Highlighter, Special/Dino, System/UVMap, ProceduralTextures/Gradient, ProceduralTextures/Gradient_Additive, ProceduralTextures/ControlPanel_Earth, ProceduralTextures/ControlPanel_Router & Special/Drone
Redesign timeline
Support for HDR DDS files, flat and cubemaps
Mouse wheel control timeline slider
Improved templates & thumbnails
When tabbing to the next property textbox, the textbox not only has the focus, but its text is also fully selected
New preset in FILE > Set show resolution… dialog: QHD (2560 x 1440)
When adjusting a property with the All keys checkbox marked, only the adjusted component (X, Y or Z) is adjusted in the other keys
When the All layers checkbox is marked, only the visible layers are affected
Export as transparent WebM (requires an external video encoder)
3 new styles in the model layer: Vertical align top, Vertical align centre & Vertical align bottom
1 new style in the particle layer: 3D circles
1 new style in the plasma layer: Max displacement
New property in camera layer: Colour
Improved Bix model. UV mapping slightly changed for easier editing
2 new effect properties in Special/Bix: the 2nd slider of the FX Period, Mouth property opens his mouth and the 2nd slider of the FX Leg rotation spreads the leg
New effect property in Special/RotateTowardsCamera, Special/RotateTowardsCameraAdditive & Special/RotateTowardsCameraSubtractive: FX Roll
New effect property in Special/UVMapper & Special/UVMapperAdditive: FX Character index offset
New effect property in ProceduralTextures/Horizon: FX Noise. This fights MP4 banding
New effect properties in Filters/Blobs: FX Style and others
New effect property in Filters/ShutterBlades: FX Background transparency
New effect property in ProceduralTextures/ControlPanel: FX Background transparency
New effect property in Filters/WhiteBorder: FX Clip
New effect property in Special/NormalMapper: FX Space
New effect property in AdvancedMaterials/ColourmapFrontReflectionmapSides and AdvancedMaterials/ColourmapFrontCubemapSides: FX Mirror
New effect property in Filters/SoftBorder: FX Noise
New option in LAYER > Active layer properties… dialog: Sort elements
Max vertices increased from 200.000 to 300.000
New keyboard shortcut: <Ctrl> + , toggles visibility active layer
Possibility to attach a plasma layer to a container layer
Support for EPS files created by Affinity Designer
More descriptive DirectShow errors
compatibility fix: no mesh explosion when using Model repeat prop in picture layer
bugfix: scroller keeps on scrolling in playlist without hiccups
bugfix: editing texts longer than 512 characters in textbox on tool window now works as expected
bugfix: the Picture/SpotlightCone effect now listens to the Transparency property
bugfix: the Scroller layer style 3D IN BACKGROUND now works as expected
bugfix: sampling artifacts cloth effect picture layer have been removed
bugfix: you can now detach a camera layer from a container layer
2 old effects converted: V11/V11_Mirror8 & V11/V11_PricklyPearReflection
Download BluffTitler Portable