Portable CCleaner 6.12.10490 Technician Multilingual (x64) + CCEnhancer
CCleaner Portable is the leading tool to clean up your Windows PC. Protect your privacy online and make your computer faster and safer. CCleaner is easy to use with a small, fast download and a modern looking user interface. CCleaner Portable is a system optimization and privacy tool. Remove junk files from your system to make Windows run faster and free up valuable space on your hard drive.
CCleaner is a popular utility software developed by Piriform, a British software company. It is mainly used to clean up unnecessary files and invalid entries from Windows and browsers to enhance the performance and speed of the computer. The software is available in two versions – a free version and a paid version with advanced features. In this article, we will look at the features of CCleaner in detail.
Firstly, the software helps users to clean up all the temporary and old files from the computer. These files include internet history, cookies, cache, and other junk files that occupy valuable disk space. Cleaning up these files can give a boost to the computer's performance and speed by freeing up disk space. CCleaner Portable also offers advanced cleaning options that allow users to select specific files and folders for cleaning.
Secondly, the software helps to clean up the registry of the system. The registry is a database that stores all the settings and configurations of Windows and installed programs. As we use the computer, the registry becomes cluttered with unnecessary entries that can slow down the system. CCleaner Portable scans the registry for these invalid entries and removes them to optimize the system's performance.
Thirdly, CCleaner offers a range of tools and options to tailor the cleaning process to the user's needs. For example, it allows users to exclude certain files or folders from the cleaning process. It can also be configured to remove only certain types of files or to save specific files before deleting them. These options provide users with greater control over the cleaning process and allow them to customize it according to their requirements.
Fourthly, the software includes a built-in uninstaller tool that allows users to remove software from their computer easily. The tool not only removes the software but also deletes all the leftover files and registry entries associated with it. This ensures that there is no residual data left behind that can harm the computer's performance or security.
Fifthly, CCleaner also includes several other features like disk analyzer, duplicate finder, startup manager, and many more. The disk analyzer tool scans the computer's hard drive for large files and folders that can be deleted to free up disk space. The duplicate finder scans for duplicate files and allows users to delete them to save disk space. The startup manager allows users to disable or enable programs that run at startup to speed up the computer's boot time.
Lastly, CCleaner offers a user-friendly interface that is easy to navigate and use. The software is available in several languages and offers support for different operating systems. The free version provides users with access to all the essential cleaning tools, while the pro version offers advanced features like real-time monitoring, scheduled cleaning, and automatic updates.
In conclusion, CCleaner portable is a reliable and effective utility software that helps users to optimize the performance and speed of their computer. Its powerful cleaning tools, registry cleaner, uninstaller, and other features make it a must-have software for every computer user. Its user-friendly interface and customization options make it easy to use and tailor the cleaning process to the user's needs. Whether you are a casual user or an IT professional, CCleaner is an excellent tool that can save you time and enhance your computer's performance.
CCleaner, developed by Piriform (now owned by Avast), is a widely used utility software for optimizing computer systems. It possesses an array of features designed to enhance system performance, improve privacy, and facilitate convenient maintenance.
The following list enumerates several noteworthy features of CCleaner Portable:
System Cleaner: CCleaner's primary function involves cleaning temporary files, cache data, and other unnecessary remnants left behind by various applications and operating systems. This not only frees up valuable storage space but also enhances overall system efficiency.
Registry Cleaner: The software scans and repairs invalid or corrupted registry entries, which may cause system instability or errors. By maintaining the integrity of the Windows Registry, CCleaner contributes to sustained system performance.
Startup Manager: This feature enables users to optimize system boot time by managing programs that launch automatically upon startup. Disabling or removing unnecessary applications from the startup sequence results in faster boot times and reduced resource consumption.
Browser Cleaner: CCleaner's Browser Cleaner removes browsing history, cookies, cached files, and other data that may compromise user privacy or consume excessive storage space. This feature supports multiple browsers, including Google Chrome, Mozilla Firefox, Microsoft Edge, and others.
Uninstaller: The built-in uninstaller empowers users to manage installed software more efficiently. Users can remove unwanted applications, browser extensions, and plugins with ease, contributing to a clutter-free system environment.
Duplicate File Finder: This utility helps identify and remove duplicate files occupying unnecessary storage space, further streamlining the system and enhancing its performance.
Drive Wiper: The Drive Wiper securely erases free disk space or entire drives, ensuring comprehensive data removal and protection against unauthorized access to sensitive information.
System Restore Manager: CCleaner provides a user-friendly interface for managing system restore points, allowing users to delete obsolete or redundant restore points, thereby conserving storage space and maintaining an organized system.
Real-time Monitoring: The software can be configured to actively monitor the system and automatically clean specific areas, such as temporary files and cache data whenever a predetermined threshold is reached.
Automatic Updates: CCleaner periodically updates itself to incorporate new features, bug fixes, and performance enhancements, ensuring that users benefit from the latest optimizations available.
In summary, CCleaner offers a comprehensive suite of tools designed to augment system performance, safeguard privacy, and facilitate seamless maintenance. By consolidating diverse utilities under a single interface, CCleaner serves as an accessible and efficient solution for optimizing computer systems across various platforms.
CCleaner Portable cleans the following:
• Internet Explorer. Temporary files, history, cookies, super cookies, Autocomplete form history, index.dat files.
• Firefox. Temporary files, history, cookies, super cookies, download history, form history.
• Google Chrome. Temporary files, history, cookies, super cookies, download history, form history.
• Opera. Temporary files, history, cookies, super cookies, download history.
• Apple Safari. Temporary files, history, cookies, super cookies, form history.
• Other Supported Browsers. K-Meleon, Rockmelt, Flock, Google Chrome Canary, Chromium, SeaMonkey, Chrome Plus, SRWare Iron, Pale Moon, Phoenix, Netscape Navigator, Avant and Maxthon.
• Windows. Recycle Bin, Recent Documents, Temporary files, Log files, Clipboard, DNS Cache, Error Reporting, Memory Dumps, Jump Lists.
• Windows Registry Cleaner. Advanced features to remove unused and old entries, including File Extensions, ActiveX Controls, ClassIDs, ProgIDs, Uninstallers, Shared DLLs, Fonts, Help Files, Application Paths, Icons, Invalid Shortcuts and more…
• Third-party applications. Removes temp files and recent file lists (MRUs) from many apps including Windows Media Player, eMule, Google Toolbar, Microsoft Office, Nero, Adobe Acrobat, WinRAR, WinAce, WinZip and many more…
Advanced options allow you to clean:
• The cache priority menu
• Cash Tray posts
• The cache sizes and locations Windows
• The history of aid to the user
• IIS log files
• Additional Folders
Safety:
From the outset, CCleaner developed a safe and secure program. It has several powerful levels of inspection, to be sure that no sensitive information or document would not be removed. We also guarantee that CCleaner Portable does not have spyware or adware.
Privacy Policy:
For users, we also provide the function of permanently erasing files with multiple rewrites, which does not allow to restore them in any way.
Languages: Albanian, Arabic, Armenian, Azeri, Belarusian, Bosnian, Brazilian Portuguese, Bulgarian, Catalan, Chinese, Croatian, Czech, Danish, Dutch, English, Estonian, Farsi, Finnish, French, Galician, Georgian, German, Greek, Hebrew, Hungarian, Italian, Japanese, Kazakh, Korean, Kurdish, Lithuanian, Macedonian, Norwegian, Polish, Romanian, Russian, Serbian, Serbian, Slovak, Slovenian, Spanish, Swedish, Turkish, Ukrainian, Vietnamese
CCEnhancer is a small tool that adds support for over 1,000 new programs to the popular CCleaner program. This tool uses CCleaner's built-in winapp2.ini system to easily add new rules and definitions for your program. The rules come primarily from the Piriform support forums, and some from other places on the Internet.
The actual file containing the definitions is not included with the program, but is downloaded by the program. Click Download latest and the tool will automatically download the latest definitions.
What's NEW in CCleaner Portable:
Taking the hassle out of PC maintenance 
We've made Health Check cookie scanning smarter, so it preserves cookies for your favorite, commonly used websites in the same way as Custom Clean.

 

New 'My account' area

 

has a more modern look and feel with quick access to subscription settings, cleaning schedule, recommended products, and CCleaner support.




 
Fixing bugs and other improvements 
Improvements to users' post-purchase onboarding.

 

Fixed issue when TeamViewer cleaning could restart the service.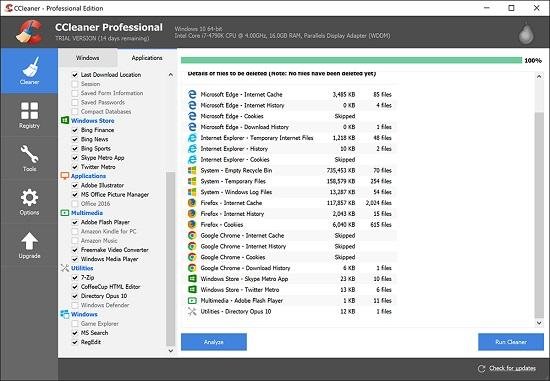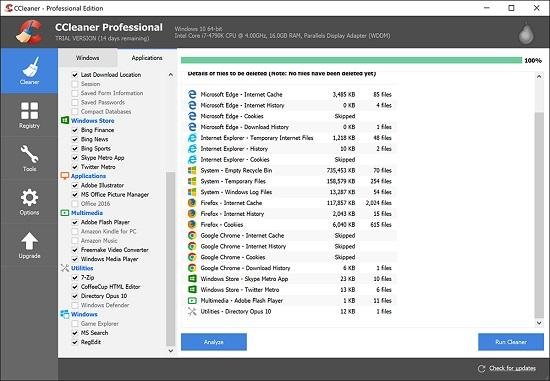 Download CCleaner Portable