Portable CCleaner 5.89.9401 Technician Edition Multilingual
CCleaner Portable is the number-one tool for cleaning your Windows PC. It protects your privacy online and makes your computer faster and more secure. CCleaner is easy to use and a small, fast download and user interface has the modern look. CCleaner Portable is a  system optimization and privacy tool. Removes junk files from your system allowing Windows to run faster and freeing up valuable hard disk space.
It also cleans traces of your online activities such as your Internet history. CCleaner Portable can run from a USB thumbdrive and be installed/run on a computer without a complicated setup process. It is possible to specify files, folders and registry keys to ignore from the cleaning process. But the best part is that it's fast (normally taking less than a second to run) and contains NO Spyware or Adware!
Malicious content can come uninvited from the information superhighway, leftovers after removing programs have an impact on performance, and broken registries can cause serious compatibility issues, and an antivirus solution doesn't offer complete protection.
However, performing periodic scans and cleaning can keep your PC in good shape. One of the applications which can aid in this situation is CCleaner Portable, equipped with all tools needed to scrub every bit of your computer.
Launching the application brings up a cleverly simple interface, intuitive enough to let anyone instantly accommodate. Major functions are stored in tabs found in a side panel, an upper part constantly displays system info, while the rest of the space is dedicated to actual options you get to handle.
The "Cleaner" feature helps you get rid of various files that are no longer of use or take up disk space for no further reason. Two tabs let you select either Windows features or specific applications, each with its own list of areas to be cleaned. Among others you are able to select recent documents, autocomplete history, saved passwords, cookies or even old Windows installations.
You can simply analyze an area to see what needs cleaning so that you don't accidentally remove any important files. The scan process, as well as the scrubbing is done incredibly fast, with post-process details displayed.
Furthermore, you are also able to fix registry issues with the help of a dedicated tool. Similarly to the cleaner, there are several selectable areas, such as missing shared DLLs, ActiveX and Class Issues, obsolete software, start menu ordering or Windows services.
The application's usability does not end here, because more tools are available under the homonimous tab. An integrated uninstaller lets you safely remove applications so that they leave no traces, startup items can also be deleted, as well as browser add-ons or extensions and even context menu processes.
What's more, system restore points can be viewed in a list, with the possibility to have them removed for a little extra space or comfort. You can choose to wipe an entire drive, be it internal or removable, with options to select either free space or whole drive, as well as the security level. The Disk Analyzer is there to help identify large files on fixed or removable drives, while selecting folders of interest.
Keeping an eye on your system's resources might come as a surprise, because CCleaner only takes advantage of as little as it can. Thus it can run on multiple configurations, not to mention the speed and quality at which it gets the job done.
To sum it up, CCleaner Portable is definitely a must for any computer, whether or not it is connected to the Internet. It takes little of your time to get you acquainted with what it has to offer, with light impact on system resources. It can definitely bring back a little power to any computer or even make it as good as new.
CCleaner Portable cleans the following:
• Internet Explorer. Temporary files, history, cookies, super cookies, Autocomplete form history, index.dat files.
• Firefox. Temporary files, history, cookies, super cookies, download history, form history.
• Google Chrome. Temporary files, history, cookies, super cookies, download history, form history.
• Opera. Temporary files, history, cookies, super cookies, download history.
• Apple Safari. Temporary files, history, cookies, super cookies, form history.
• Other Supported Browsers. K-Meleon, Rockmelt, Flock, Google Chrome Canary, Chromium, SeaMonkey, Chrome Plus, SRWare Iron, Pale Moon, Phoenix, Netscape Navigator, Avant and Maxthon.
• Windows. Recycle Bin, Recent Documents, Temporary files, Log files, Clipboard, DNS Cache, Error Reporting, Memory Dumps, Jump Lists.
• Windows Registry Cleaner. Advanced features to remove unused and old entries, including File Extensions, ActiveX Controls, ClassIDs, ProgIDs, Uninstallers, Shared DLLs, Fonts, Help Files, Application Paths, Icons, Invalid Shortcuts and more…
• Third-party applications. Removes temp files and recent file lists (MRUs) from many apps including Windows Media Player, eMule, Google Toolbar, Microsoft Office, Nero, Adobe Acrobat, WinRAR, WinAce, WinZip and many more…
Advanced options allow you to clean:
• The cache priority menu
• Cash Tray posts
• The cache sizes and locations Windows
• The history of aid to the user
• IIS log files
• Additional Folders
Safety:
From the outset, CCleaner developed a safe and secure program. It has several powerful levels of inspection, to be sure that no sensitive information or document would not be removed. We also guarantee that CCleaner Portable does not have spyware or adware.
Privacy Policy:
For users, we also provide the function of permanently erasing files with multiple rewrites, which does not allow to restore them in any way.
Languages: Albanian, Arabic, Armenian, Azeri, Belarusian, Bosnian, Brazilian Portuguese, Bulgarian, Catalan, Chinese, Croatian, Czech, Danish, Dutch, English, Estonian, Farsi, Finnish, French, Galician, Georgian, German, Greek, Hebrew, Hungarian, Italian, Japanese, Kazakh, Korean, Kurdish, Lithuanian, Macedonian, Norwegian, Polish, Romanian, Russian, Serbian, Serbian, Slovak, Slovenian, Spanish, Swedish, Turkish, Ukrainian, Vietnamese
What's NEW in CCleaner Portable:
Better cleaning
We are cleaning Chromium browser cookies again, after a change to where Chromium stores them. This affects all Chromium browsers, e.g. CCleaner Browser, Google Chrome, Microsoft Edge, Brave, Vivaldi, Opera and Yandex.
We've added support for cleaning Firefox where it's installed via the Microsoft Store. Every app installed via the Microsoft Store saves to a new location, so we will be working our way through other popular apps on the Store to ensure that CCleaner is able to clean them.
Improved technology
We have upgraded CCleaner to use C++ 20. This allows us to work more efficiently and deliver app improvements more quickly.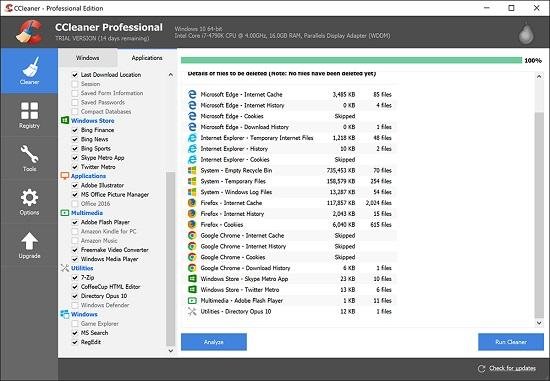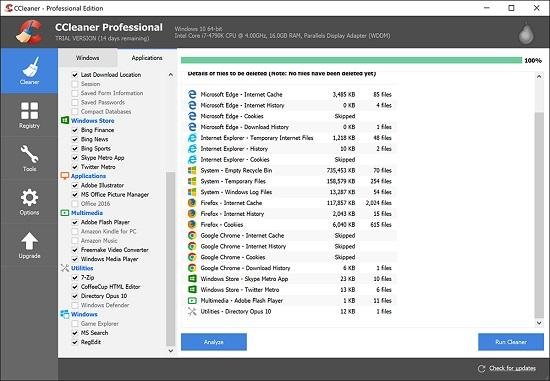 Download CCleaner Portable