Portable SUPERAntiSpyware Professional X v10.0.1250 (x64)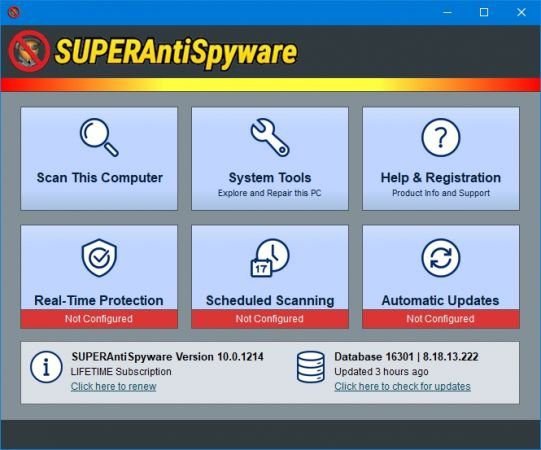 SUPERAntiSpyware Portable is a powerful and effective software that is designed to protect your computer from various types of spyware, malware, adware, Trojans, worms, keyloggers and many other threats that can harm your system. It is a lightweight and user-friendly tool that provides robust security features without slowing down your computer performance.
The software has an easy-to-use interface that enables users to quickly scan their systems for malware and other infections. It offers three scanning modes: quick, complete, and custom scans. The quick scan mode targets the most common areas where malicious programs are usually located, such as running processes, registry keys, and system folders. The complete scan mode is more thorough and scans every file on your system, including hidden files and directories. The custom scanning mode allows you to select specific locations or files for scanning.
One of the standout features of SUPERAntiSpyware Portable is its ability to detect and remove various kinds of spyware. Spyware is often installed without your knowledge and can track your browsing habits, steal your personal data, and cause other types of damage to your system. SUPERAntiSpyware uses advanced technology to detect and remove spyware and prevent it from infecting your system in the future.
In addition to spyware, SUPERAntiSpyware Portable also protects your computer from other types of malware. This includes viruses, adware, Trojans, worms, and other malicious programs. The software uses real-time blocking technology to prevent malware from infecting your system, and it also includes a quarantine feature that isolates infected files to prevent the spread of the infection.
Another impressive feature of SUPERAntiSpyware is its ability to repair and restore damaged system components caused by malware infections. Malicious programs can often modify or delete critical system files, causing instability and crashes. SUPERAntiSpyware can identify and repair these damaged files, restoring your system to its original state.
SUPERAntiSpyware also offers several additional features that enhance its usability and functionality. For example, it includes a scheduler that enables you to set up automatic scanning and updates, ensuring that your system is always protected. The software also provides detailed scan logs that allow you to review the results of each scan and investigate any potential threats.
Overall, SUPERAntiSpyware Portable is an excellent choice for anyone looking for reliable and comprehensive malware protection. Its user-friendly interface, advanced detection and removal capabilities, and additional features make it one of the best anti-spyware tools on the market. It is an affordable solution that will help keep your computer safe from all kinds of malicious programs.
Scanning modes and results
This application has the power to scan and remove the threats and even provide real-time protection. Once you run the utility, you can choose between four different scan types, namely quick, complete, critical point and custom. Each of them detects and removes threats in the most efficient way, yet it is recommended to choose the complete one, as it yields the best results, seeing it scans your entire system.
Regardless of the one you choose, it is possible to pause or stop the process at any point, and the results are displayed in a new window with details such as elapsed time, and number of threads detected within files, memory and registry items.
Schedule jobs
It is possible to schedule scans or program and security definition updates, as well as set up the utility to wake the computer in order to perform this process, reboot or shut down the PC when the operation is complete, do not show the UI while this action is under way, and the list goes on.
Fix particular problems and tweak some options
What is more, SUPERAntiSpyware includes several repair tools, most of them being dedicated to fixing the issues caused by spyware. These include the ability to reset URL prefixes and Windows clock time display, repair a broken network connection, remove or reset Windows desktop wallpaper and many others.
There are many customizations you can perform via the settings panel and they pertain to scanning settings, real-time protection parameters as well as anti-hijack measures.
A last assessment
For anyone looking to strengthen their defenses and add an extra layer of protection against various threats, SUPERAntiSpyware seems a logical and good choice. It has many aces up its sleeve like the ease of use and the ability to find and remove stubborn malware in a fair amount of time.
What It Does For You?
Detects & Removes 1 Billion+ Malicious Threats:
Blocks Malware, Spyware, Adware, Trojans, Worms, Ransomware, Hijackers, Parasites, Rootkits, KeyLoggers, and many more.
Securely Deletes Malicious Files:
Quarantines potential threats and completely removes them, even the stubborn ones. Can restore quarantined items, if not harmful.
Analyzes Your System In-Depth:
System Investigator identifies spoofed and malicious files. Shows installed applications, browser plugins, and lets you track system changes over time.
Cleans Up Browser Cookies & Popups:
Removes unwanted cookies. Stops ads with integrated SUPERAdBlocker Technology
Stops Ransomware In Its Tracks:
Protects your files and prevents hackers from holding them hostage.
Repairs PC Damage:
Fixes parts of your operating system, registry, task manager, broken internet connections, etc. caused by malware.
Complements Your PC:
Lightweight program doesn't take up a lot of memory or processing power. Works with your antivirus.
Easy to Use:
Receive notifications when product and database updates are available. Scans run in the background and can start when your PC is sleeping.
Stay informed:
Review detailed scan logs about detected and removed threats and their locations.
How the PROFESSIONAL X EDITION Keeps You Secure 24/7?
Scans & Blocks Threats in Real-Time:
Stops potentially harmful software from installing. Examines critical points of your system each time you start up or shut down. Get alerts when new programs are added.
Updates Automatically:
Never miss an update. Always have the latest database definitions so you have the most up-to-date protection.
Enables Flexible Scanning Options:
Schedule either quick, complete, or critical scans to fit your schedule.
Sends Email Notifications:
Get emails with scan results so you can monitor PCs remotely.
Advanced Detection & Removal
AI-Powered Engine & Definitions Database
The X Edition is upgraded with a robust detection engine fueled by 4th generation machine-learning AI. With over 500 million endpoints, the definitions database is constantly updated with the latest malware threats.
Multi-Dimensional Scanning
A next-generation scanning system that goes beyond the typical rules-based methods. It detects existing threats and analyzes general characteristics and code patterns to identify future threats.
Process Interrogation Technology
Our unique Process Interrogation Technology (PIT) detects hard-to-find threats like rootkits and kernel drivers, usually missed by standard anti-spyware applications.
Download SUPERAntiSpyware Professional Portable