Portable Active@ Data Studio 22.0.0 + WinPE (x64)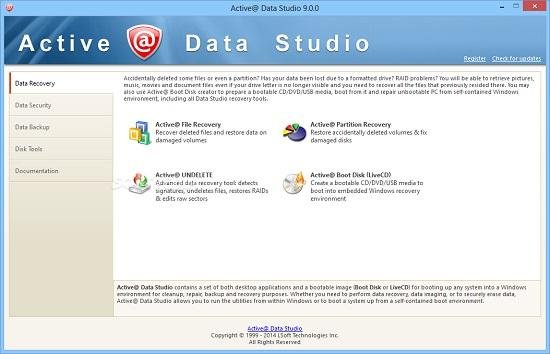 Data Studio is suite comprised of all application developed by LSoft Technologies Inc. With it, you can recover, delete, backup your data, recover local Windows user account passwords, fix boot sectors, recover RAID, etc. from your desktop or from a Boot Disk. Applications such as Boot Disk, Kill Disk, Undelete, File Recovery, Partition Recovery, Password Changer, and many others are all included and ready for use upon installation.
12 Disk Tools in One Package! Need to backup and restore your disks, recover deleted documents and photos, erase disks securely, monitor HDD health, or even repair PC when Windows can't start normally? Active@ Data Studio is a set of desktop applications and a bootable CD/DVD or USB Disk for booting up any system into a Windows Recovery Environment.
Active@ Boot Disk
Complete and functioning computer operating system on CD/DVD/USB disk. Gives full access to even non-bootable PC and provides a platform for data recovery tools.
Active@ KillDisk
Destroy all data on Hard Disks, Solid State Disks (SSD) and USB disks and Memory Cards, excluding any possibility of deleted files and folders data recovery. Supports U.S. DoD 5220.22-M and more than 20 international data sanitizing standards.
Active@ Disk Image
Disk image software that makes an exact copy of any PC disk (HDD, SSD, USB, CD, DVD, Blu-ray etc.) and stores it into a folder. The disk images may be used for backups, PC upgrades or disk duplication purposes.
Active@ File Recovery
Efficient and easy to use tool for restoring deleted or lost files, damaged or re-formatted volumes, even if your PC doesn't boot. Includes advanced disk editor and Virtual RAID re-constructor to recover damaged RAID disk arrays.
Active@ Partition Recovery
Easily detects and recovers recently deleted partitions. Advanced low-level scan may detect partitions which were deleted a long time ago, even if you have created new ones and even formatted them.
Active@ UNDELETE
Recover deleted files and restore deleted partitions from a variety of file systems such as FAT, NTFS, NTFS + EFS, MacOS HFS+, Linux ext2, ext3, ext4, Unix UFS. Advanced scan algorithms help to restore files even from severely damaged disks.
Active@ Password Changer
Reset local user password and account attributes on Windows system in case of Administrator's password is forgotten, lost or user account has been blocked, disabled or locked out.
Active@ Partition Manager
Create, delete, format and name partitions on your computer without shutting down the system.
Active@ Disk Monitor
Check and monitor the health of your disks to prevent data loss using Self-Monitoring Analysis and Reporting Technology (S.M.A.R.T.). Detect bad sectors on a disk surface by running Advanced Disk Scan.
Active@ Disk Editor
Advanced tool for viewing and editing of raw data (sectors) on physical hard disks. Inspect file structures and edit data directly in volumes, partitions and files.
Active@ CD/DVD Data Burner
Dialog-style software to burn Data CD/DVD/Blu-ray discs. Command line parameters are supported to automate the data burning process.
Active@ ISO Manager
Create ISO 9660 / Joliet ISO images from either existing CD/DVD-ROMs or from a set of existing files and folders.
Customized deployment and intuitive interface
If the name isn't all that clear, the setup process is sure to shed some light on what it actually is. Bundling up an impressive array of utilities, this is only a collection of cleaning and managing tools, which you can select in the installer, because you're not forced to deploy all components.
When it runs, the main window pops up in a clean interface. A side panel provides easy and quick navigation to all counterparts you chose to deploy during the installer, while the rest of the screen is fitted with the specific target areas to handle, as well as rich descriptions so you know what you're doing.
Various file and disk management tools
Taking things in order, the first navigation tab is related to Data Recovery. Four utilities like file recovery, partition recovery, undelete, and boot disk try to give you various possibilities of recovering accidentally lost files, or attempt to read corrupted drives and disks to bring back files you need, but can no longer access.
Moving on to Data Security, you can reset and change the password of Windows just in case you suspect someone else can access your personal stuff. Another security-related tool gives you the possibility to completely wipe all data from volumes and disks, to make sure nobody can recover them.
File deletion and recovery is a tricky and sensible thing, so you can use the Data Backup tools to be on the safe side. Especially created for virtual disks and drives, these let you build and handle ISO and DIM files, which you can also store on USB Flash drives so nobody can access them, unless putting their hands on the device.
Last but not least, several Disk Tools can be used to manage space, but careful not to lose anything. With the help of this section, you are able to keep an eye on the health status of your hard disk drive, edit its sectors with a basic tool, or manage partitions and space for more efficiency.
To perform data recovery?
–Active@ File Recovery — restores deleted files & folders, even from deleted, damaged or formatted volumes
–Active@ Partition Recovery — recovers damaged and accidentally deleted partitions
–Active@ UNDELETE — advanced data recovery toolset
-Active@ Partition Manager – creates, deletes, edits & formats partitions on your computer.
–Active@ Password Changer — resets Windows user account passwords
-Active@ Disk Editor — low level advanced disk editor (Hex Viewer)
Disk Backup & Imaging
-Active@ Disk Image — complete solution for data backup and restoring
-Active@ Data Burner — burns data to CD/DVD/BD media, command line supported
-Active@ ISO Manager — tool for mastering ISO image data files for CD/DVD/Blu-ray media;
PC Repair
-Active@ Boot Disk Creator — utility for creating a bootable Windows on CD/DVD or USB flash media;
-Active@ Boot Disk — is a complete and functioning computer operating system on CD/DVD/USB disk;
-Active@ Disk Monitor — monitors hard disk drive health and status
-Active@ BCD Editor — Views & Edits BCD (Bootable Configuration Data) Store, restoring PC bootable partition
What's NEW:
Latest Active@ KillDisk
Latest Active@ UNDELETE
Latest Active@ Disk Image 11
Latest Active@ Password Changer
Active@ Disk Editor
Active@ Partition Manager 6.3
Improved Boot Disk Creator with App Settings
Improved Linux Console Boot Disk with more drivers
Windows Boot Disk switched to the latest WinPE v.10 based on Windows 11 v21H2 code base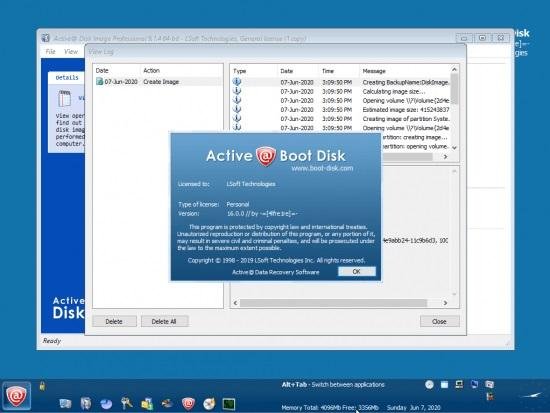 Download Active@ Data Studio
Portable:
Download – 166.7 MB
WinPE:
Download