Portable ApowerREC 1.6.6.19 Multilingual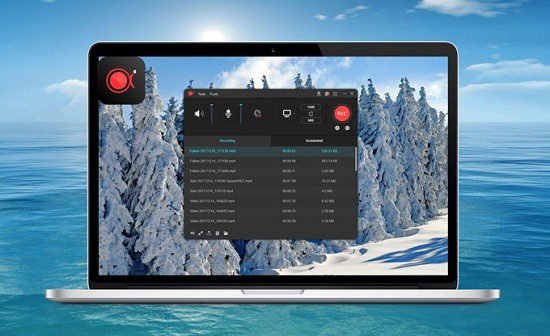 ApowerREC Portable is an easy-to-use screen recording software that allows users to capture high-quality videos, audio, and screenshots of their computer screens. This versatile software is ideal for use by anyone who needs to create tutorials, presentations, or video demonstrations.
One of the standout features of ApowerREC Portable is its ability to record video from multiple sources simultaneously. Users can capture their computer screen, a webcam feed, and even record their system audio and microphone input all at once. This makes it easy to create professional-looking videos with just one tool.
Another feature that sets ApowerREC Portable apart from other screen recording software is its real-time editing capabilities. Users can add text, shapes, and images to their videos while they're recording, which can save time and effort in post-production. Additionally, the software includes a range of annotation tools that allow users to highlight important areas of their screen, draw attention to specific details, and add captions and subtitles.
In terms of video quality, ApowerREC doesn't disappoint. The software supports resolutions up to 4K, and users can choose between different frame rates depending on their needs. There's also an option to adjust the bitrate and quality settings, which gives users more control over the final output.
But ApowerREC isn't just a screen recording tool – it's also an excellent video editor. The software includes a range of editing tools that allow users to trim footage, crop videos, add effects and transitions, and more. This means that users can create polished, professional-looking videos without the need for additional software.
One of the most useful features of ApowerREC is its ability to schedule recordings. Users can set the software to start and stop recording at specific times, which can be especially helpful if they need to capture a live stream or webinar. Additionally, the software includes a task scheduler that allows users to automate repetitive tasks, such as recording daily meetings or lectures.
Security is also a top priority for ApowerREC. The software includes a built-in encryption tool that allows users to password-protect their recordings, ensuring that sensitive information stays private. Additionally, the software automatically saves recordings in encrypted format, reducing the risk of data breaches.
Overall, ApowerREC Portable is an impressive piece of software that offers a wide range of features and capabilities. With its real-time editing tools, multi-source recording capabilities, and powerful video editing tools, it's an excellent choice for anyone who needs to create high-quality screen recordings. Whether you're a teacher, trainer, marketer, or content creator, ApowerREC has something to offer.
Here is What's Included in ApowerREC Portable
Edit Videos
Make real-time editing during the recording or deploy advanced editing and add effects after the recording.
Record Webcam
Record webcam only or record webcam along with your screen simultaneously.
Task Recording
Create scheduled tasks to record PC screen/webcam automatically or follow a running application to record.
Convert Video
Convert the recorded videos into different formats like MP4, AVI, WMV, MOV, etc.
Take Screenshots
Take a screenshot with one click and it will be saved automatically.
Record Audio
Adjust the volume and customize the audio sources from sound card or microphone.
Apart from the functions above, ApowerREC also comes with other easy but highlighted features, including features such as the flexible overlay toolbar, visual recording settings, high output quality, and so on.
Seamless Screen Recording Experience in All Devices
Aside from being a powerful Windows/Mac screen recorder. ApowerREC also provides screen recording for your mobile devices, it captures screen activities from your iOS or Android devices. For iOS users, simply mirror your phone screen to PC and record iOS screen as a video with high quality; for Android users, you can record Android screen with or without a PC.
Use ApowerREC Portable for Cost-effective Work and Productivity Increase
Business use
Make a demonstration video for your app or capture web conference for backup and later review. Voice commentary and webcam are also supported to be included in the recording.
Teaching & Training
Record online class lecture for e-learning and add some annotations to it for better illustration. This video recording software can make your presentation become more vivid.
Studying
You can create stunning studying material and showcases. This can be achieved by recording live streaming lectures, online webinars and other similar events.
Gaming
Record your finest gaming moments smoothly with HD quality, take screenshots of certain segments and share these awesome gameplay experience with others.
General Use
Other general use offered by this PC screen recorder includes saving the wonder video chat moment, recording a short video clip for troubleshooting and customer support, etc.
Share with the World
Share the wonderful moment you are living through via capturing as images or videos with your friends, family or even subscribers from all over the world regardless of where you live.
Host your screencasts in ShowMore website for backup and it gives you complete control over managing and sharing videos.Create a new FTP connection as you wish and access to the FTP server in order to upload and download files in an effective way.One-click upload your recorded videos to YouTube directly for instant sharing with subscribers. No further ado is needed.Easily upload screenshots to free cloud space provided by screenshot.net and share them with your friends via the link.
Download ApowerREC Portable