Portable Ashampoo Snap 12.0.6 Multilingual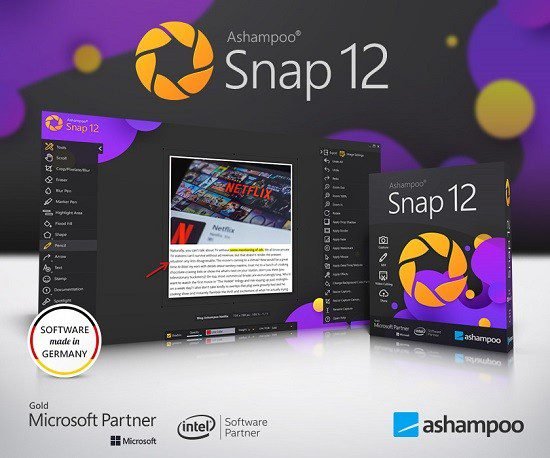 With Ashampoo Snap Portable, capturing screenshots or videos almost happens by itself. Anything you see on your screen is faithfully captured along with numerous smart settings. The built-in editor takes care of post-processing as well as storing and saving of captures. This makes Snap not just a mere screenshot app but a visual thinker's dream. Screen captures can be enhanced and polished with automatic numbering, arrows, comments, stickers and so much more! From simple images to video captures and documentations: Snap does it all!
For up to 3 devices
Completely revised recording area
Multi-purpose capture tool for rectangular areas, entire and scrollable websites
Animated, well-arranged user interface
Modern newly-designed editor
Important options directly in the recording area
New well-laid-out settings dialog
Use it on up to 3 PCs in your household
If you use Ashampoo Snap 12 at home, you can run it on up to 3 PCs! If you use it comercially though, it's one license per installation.
Fast and easy video cutting
Not every video recording is an instant success. Ads, extra steps or pauses are a frequent bother. The same applies to screen captures. Keep the important bits and get rid of the rest with Ashampoo Snap 12! Remove ads, glitches or superfluous scenes or split your video into individual episodes. It doesn't matter whether you're casually pointing and capturing, creating an extensive webinar or producing a high-quality presentation: With Ashampoo Snap 12, every video capture comes out a success!
Capture and share desktop contents with ease
Would you like to share your screenshots and videos with friends and family or upload them to social networks? With Ashampoo Snap 12, all options are open to you-at home and work! Ashampoo Snap 12 can share your files across all popular online and cloud services, including Twitter, Facebook, Dropbox, OneDrive, Google Drive etc. For an even simpler way, upload your files to Ashampoo Webspace-it's completely free. Naturally, you can always take a more traditional or professional route and email your files as well.
Create videos for any purpose
Creating instructional videos or documentaries is a breeze with Ashampoo Snap 12. Recordings are live-annotable with texts, drawings and voice narration. Clear things up with visualized mouse clicks and key strokes and add watermarks to protect your intellectual property. Take it to the next level and add live feeds from your webcam in a single click. Here's your ticket to create engaging tutorials, prepare instructive webinars and to point the way to the things that matter most to you-literally!
Save time and screen-capture information instantly
Meaningful images can save you a lot of time and explaining and help with elucidating complex issues better. There's a reason for "Show, don't tell": Our brain can process, and recall, information embedded into images far quicker! And there's more: With Ashampoo Snap 12, you can enrich your images with comments, drawings and explanations to get to the point quickly! Point out details, highlight errors or mark out important areas in a snap. Save yourself tedious text-based explanations and say exactly what you mean with a single screenshot! Try it out today and see just how much text you can save!
Perfect for different screen resolutions and multi-display environments
Ashampoo Snap Portable fully supports multi-display setups, even with different resolution and DPI combinations, e.g. mixed Full HD and 4K environments. Each display is captured at its individual resolution for maximum crispness and results are instantly editable. And once you're in the editor, it's smooth sailing for beginners and professionals alike!
Create GIFs from any video
What would the internet be without those charming GIF animations? But GIFs can also be used in tutorials or demonstrations to great effect. Ashampoo Snap 12 can turn any video segment into GIFs. Just set the start and end positions, fire up the built-in converter and you're done!
Download Ashampoo Snap Portable