Portable Artweaver Plus 7.0.15 (x64)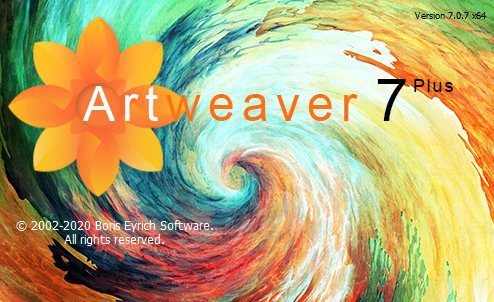 Artweaver Plus Portable is an advanced digital painting software that allows artists to create stunning and realistic works of art on their computer. Whether you're a professional artist or just starting out with digital painting, Artweaver Plus has all the tools and features you need to bring your ideas to life.
One of the standout features of Artweaver Plus Portable is its extensive brush library. With over 150 different brushes to choose from, artists can easily find the perfect brush for every project. From natural media brushes like pencils, oils, and watercolors to special effect brushes like smudge, blur, and gradient, Artweaver Plus has it all.
What's even better is that each brush can be fully customized to suit your specific needs. You can adjust the brush size, shape, opacity, and flow, as well as tweak other settings like scatter, jitter, and rotation. This means that you can create a virtually endless variety of brush strokes and effects, making it possible to achieve any style or texture you can imagine.
Another key feature of Artweaver Plus Portable is its support for layers. With layers, you can create complex compositions by stacking multiple elements on top of each other. For example, you could create a background layer, a foreground layer, and a layer for each individual element in your composition. This makes it easy to adjust and fine-tune each element, without affecting the rest of your artwork.
In addition to layers, Artweaver Plus also includes a range of advanced editing tools. These include gradient fills, transformation tools, and selection tools. With these tools, you can make precise adjustments to specific areas of your artwork, add depth and dimension with gradients, and transform your artwork in any way you choose.
Of course, no digital painting program would be complete without support for popular file formats. Artweaver Plus supports a wide range of file formats, including JPEG, PNG, PSD, BMP, and more. This makes it easy to share your artwork with others or transfer it to other programs for further editing.
But perhaps the most impressive thing about Artweaver Plus is how intuitive and easy-to-use it is. The interface is clean and straightforward, with all the tools and features you need easily accessible from the main toolbar. And if you ever get stuck or need help, there's an extensive online help system that covers everything from basic techniques to advanced tips and tricks.
In summary, Artweaver Plus Portable is a versatile and powerful digital painting software that provides artists with all the tools they need to create beautiful, high-quality digital art. Whether you're a beginner or an experienced professional, this program has something to offer everyone. With its extensive brush library, support for layers, and advanced editing tools, Artweaver Plus makes it easy to unleash your creativity and take your digital art to the next level.
Realistic brushes
Artweaver has a powerful and highly configurable brush system to simulate many different brushes.
Friendly interface
Artweaver has an intuitive and easy to use user interface but which is fully configurable.
Work in a team
Artweaver allows you to work together with other artists over the Internet.
Powerful core
Artweaver is powered by a powerful core which supports many tools, layers and filters.
Full-featured painting tool
Artweaver is a full-featured painting tool with a huge set of predefined realistic brushes to paint creatively or just experiment. Artweaver is suitable for beginners and advanced users.
Realistic brushes
– Artweaver has a powerful and highly configurable brush system to simulate many different brushes. Each brush configuration can be saved as a new variant or even into a new category.
– Many predefined brushes and paper, imagestamp, captured, … presets.
– Different brush types like Circular, Airbrush, Hairy brush, Pixel, …
– Detailed brush configuration possibilities via an extensive editor.
– Turn existing images into artwork with brushes by just cloning colors.
– Mirror painting to create easily symmetrical paintings.
– High precision 16bit brush engine for exact results.
User interface
– Artweaver has an intuitive and easy to use user interface. But you can still adjust it to your needs and save it as different arrangements to optimize your work-flow.
– Free rotable and dragable canvas within the application window.
– Free resizing, arrangement and docking of palettes.
– Custom palettes to hold frequently used shortcuts, brushes and presets.
– Customizable keyboard shortcuts.
– Different color themes for the user interface.
– Manageable presets.
Events
Artweaver records the whole painting process as events and allows to save and later to replay them. Demonstrate other users your painting style or just show the progress from an empty image to a finished artwork.
Powerful core
– Artweaver is powered by a powerful core which utilizes existing hardware to a maximum and supports many additional tools / features which are useful for painting and image editing.
– Support for documents with 8 and 16 Bits/Channel.
– Extensible by Plug-Ins to enlarge functionality.
– Support for layers and transparency.
– Support for pen tablets including pressure, pen erasers and Tool-ID.
What's NEW in v7:
Improved brush handling and adjustments
The whole brush handling has been changed to be more intuitive and easier to use. Therefore, the brush palette is removed, and all its settings are now also accessible on the brush tool property bar. Additionally, the brush editor has been enhanced and provides all possible settings of a brush in one place including a scratch pad to try out all those settings. Finally, the brush selector shows now a preview of the brush stroke and a history of recently used brushes.
Simplified preset handling
All presets and its selectors are now combined into one new media palette instead of being spread all around the application. Importing of preset is now also easier as there is only one import dialog which can import all supported preset files.
Interactive gradient tool
The enhanced gradient tool lets you interactively adjust the gradient properties and position while you are using the tool. And it also shows for all your changes a real-time preview.
Digital watercolor simulation
There is a new Watercolor brush type which simulates a digital watercolor brush. In combination with paper texture there are good watercolor simulation results possible. Together with this new brush type there is also a new Watercolor brush preset category with various variants.
Windows Ink Pen support
Besides the common used Wintab interface to retrieve pressure information from tablets and pens, Artweaver now also supports the Windows Ink Pen interface for pen pressure information which has been introduced with Windows 10 and is today used by many mobile devices (e.g. tablets and laptops).
Improved update
For any available update there is now an update dialog shown on Artweaver startup which informs about the update and asks to install them. Afterwards the mandatory User Account Control is shown, and updates are downloaded and installed.
Misc improvements / adjustments
Paper color is removed and is replaced by background or transparent color in tools and filters
Text palette is removed, and additional text settings are now available as popup on text tool property bar
Move tool shows transform controls for active layer to directly transforming it
Text tool can be now also applied by double clicking outside the text area
Layer duplication is enhanced with settings
The size of filter dialogs is increased
The history palette shows the last document saved state
The current brush preview can be also used as custom icon
Changes to impasto settings are now undoable
Automatic saved recovery information is now in Awd format instead of events which makes the recovering faster and more reliable
Tablet mode is removed
Release Note:
Fixed an error when editing default gradients
Fixed swapped element edits in capture imagestamp dialog
Fixed not working auto select with 16bit documents
Fixed wrong painted dots in lined paper filter
Fixed resetting all controls to defaults in smart blur filter
Fixed various error reports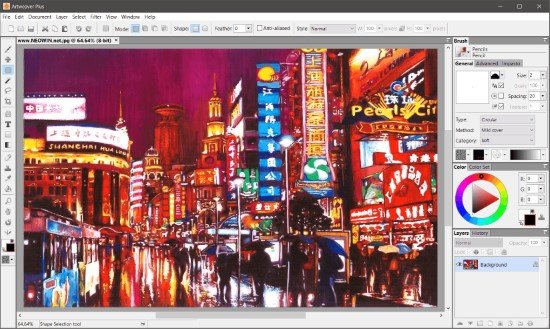 Download Artweaver Portable