Portable AVCLabs Video Enhancer AI 2.7.0 (x64) Multilingual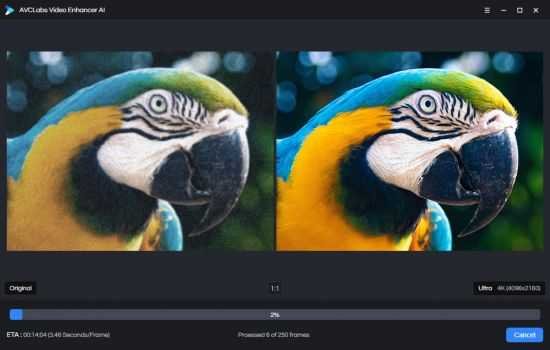 Just as with the advancements in image processing software, the products that address video editing have also experienced exponential development. The caveat though can be the paradox of the complexity that comes with such approaches. AVCLabs Video Enhancer AI tries to save users from the potential issues which might arise with complex solutions and offers a centralized platform that can transform videos from dull to lively in just a few clicks, by relying on a dedicated AI engine.
If you wonder "How to enhance video quality" this portable software might be what you were looking for.
Minimalist playback tools ensure a simple video preview, as well as timeline selection
The application comes equipped with a series of simple playback controls, which allow users to quickly preview the loaded video files. However, the extent of the functionality of the said features is quite limited to the scope of a rudimentary video player.
Nevertheless, the app does offer the possibility to select a particular portion of the video file for processing, and this can be done either by using the sliders or, by manually inputting the timeline values in the corresponding fields.
Support for multiple resolutions and scaling engines, coupled with a real-time output preview
Although the app might be emphasizing basic features through its video playback capabilities, it does manage to offer versatility through its actual processing tools. These, just as the others, also carry an inherent simplicity.
However, they still manage to offer functionality through their multiple options, which address scaling and the actual enhancement engine. Furthermore, in terms of scaling, users can also manually input the video dimensions, which is quite useful, especially when wanting to achieve a truly custom preset.
Simple solution for correcting issues in videos and improving their overall quality
Give AVCLabs Video Enhancer AI a try, if you're on the lookout for a simple video enhancer that can turn your foggy, blurry content into sharp, clear-looking videos.
Video Enhancer AI. AI automatic video enhancer to give your old footage a second life!
Enhance the video quality to make them more aesthetically pleasing
Deblur your footage frame by frame by using machine learning
Intelligently upscale videos from 480p to 1080p, 1080p to 4K, and 8K
Upscale low-res videos onto a larger screen without destroying the quality
Trim your footage frame by frame to save the processing time
Improve Your Video Quality
Based on artificial intelligence, this automatic video enhancer supports improving the quality of your footage with most of the details recovered, no matter what details are lost due to camera shake, poor lighting, shadows, or other factors out of your control. With AI algorithms, AVCLabs can improve the quality of video frame by frame.
Upscale Low-Res Videos
AVCLab Video Enhancer AI can upscale the resolution of videos by applying the power of AI technology. This AI-based video enhancer uses the deep-learning-based super-resolution technology to upscale videos from 480p to 1080p, 720p to UHD, and from 1080p to 4K.
Powerful AI Engine
AI engine is the core of improving video quality. AVCLabs Video Enhancer AI is equipped with powerful algorithms and an AI engine to process your videos by automatical denoising, color correction, deinterlacing, brightness adjustments, without requiring professional editing skills.
Whats New
Add reset and manual parameter input functions in the video setting module.
Add the function of batch processing.
Optimize the resume and pause function.
Add global parameter settings.
Add the function of model management.
Optimize the model settings.
Download AVCLabs Video Enhancer AI Portable