Portable Avira System Speedup Pro 6.23.0.13 Multilingual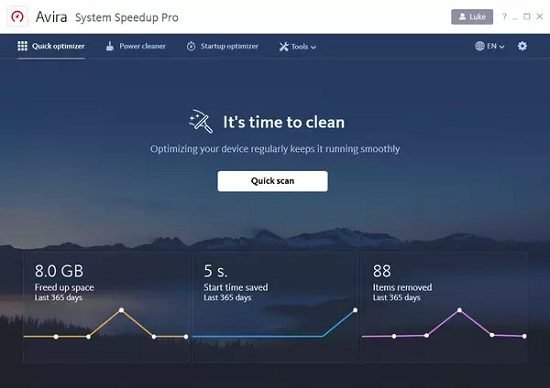 Rediscover what it's like to have a fast, smooth running PC and a one-click privacy cleaner. Swiss army knife among tuning tools. Get ready for faster startup and smoother browsing. From now on, it will be faster, much less likely to crash, and your personal data will be protected from hackers and eavesdroppers.
Keep your PC clean and slim
First, free up gigabytes of space on your hard drive by deleting outdated and duplicate files. Second, it prevents idle software from taking up unnecessary memory.
Prevent system freezes and crashes
Saves expensive trips to the PC workshop. With one click, System Speedup will fix errors, fix incorrect settings and clean up your system registry. System Speedup helps you recover your files in case you lose them or accidentally delete them.
It takes a long time to start. Few seconds.
With our handpicked tune-up tools, you can get back to your best form.
Improve performance and battery.
Get ready for faster browsing and gaming. One click is all you need to free up memory, optimize your system, optimize processes, and fix disk permissions. Do you always run out of battery while traveling? more than this. Similar to intelligent power saving modes on smartphones, system speedup helps your PC's battery last longer.
Improve your gaming experience
System Speedup Pro now includes a built-in game booster.
Free up game resources
Disable unnecessary processes running in the background and redirect all resources to the game. What is the final result? A smoother game for a more enjoyable experience.
Create a virtual gaming hard drive
Reduce load times by optimizing your game folder and creating a dedicated game area in RAM. Once complete, your PC will be restored to its original state before regeneration.
Leave no digital footprint
Your online activity tells the story of who you are. System Speedup erases those tracks, wipes sensitive information from over 2500 PC apps, and removes evidence of every website you visit, every video you watch, and every file you download. This prevents hackers or nosy roommates from getting your sensitive data back.
Download Avira System Speedup Portable