Portable Bandicam 6.2.4.2083 (x64) Multilingual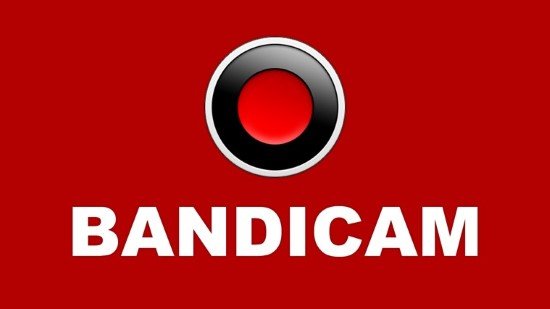 Bandicam Portable is a screen recording software that allows users to capture high-quality video and audio from their desktops, games, and other applications. This software is designed for individuals who want to create video tutorials, game walkthroughs, or record live streams with ease.
One of the key features of Bandicam Portable is its ability to record high-quality videos with minimal impact on system resources. This means that users can record their desktops or games without experiencing any lag or interruption. This feature is particularly useful for gamers who want to record their gameplay without affecting the performance of their computer.
Another notable feature of Bandicam is its user-friendly interface. The software is designed to be intuitive and easy to use, even for beginners. Users can easily access all the features and settings they need to record and edit their videos with just a few clicks.
Bandicam also offers a range of customization options that allow users to control the quality and size of their videos. Users can choose from a variety of video codecs and adjust the resolution, frame rate, and bitrate to suit their needs. This flexibility makes it easy to create videos that are optimized for different devices and platforms.
In addition to video recording, Bandicam also offers audio recording and editing capabilities. Users can record their system audio, microphone, or both, and adjust the volume levels to create a balanced mix. The software also includes an audio mixer that allows users to mix and edit multiple audio tracks.
Bandicam also includes a range of editing tools that allow users to trim, crop, and add effects to their videos. Users can add text, images, and annotations to their videos to create engaging and informative content. The software also includes a range of filters and effects that can be applied to videos to enhance their visual appeal.
One of the unique features of Bandicam is its ability to record webcam footage alongside screen recording. This feature makes it easy for users to create video tutorials or live streams that include their own commentary or reactions. Users can also use this feature to record online meetings or interviews with ease.
Bandicam also includes a variety of output options that make it easy to share and distribute your videos. Users can export their videos in a range of formats, including MP4, AVI, and WMV, and upload them directly to YouTube or other video hosting platforms. The software also includes a built-in video converter that can convert videos to different formats for playback on different devices.
Overall, Bandicam Portable is an excellent screen recording software that offers a range of features and capabilities for recording and editing videos. Its user-friendly interface, customization options, and editing tools make it a great choice for anyone who wants to create high-quality videos for tutorials, gaming, or other purposes. Whether you're a beginner or an experienced video creator, Bandicam is a software that can help you achieve your goals with ease.
Bandicam Portable makes it possible to record a certain area on a PC screen, or a program that uses the DirectX/OpenGL graphic technologies. Bandicam will help you carry out a video record with high compression ratio, while keeping the video quality closer to the original work, and provides performance far superior to other programs that provide similar functions.
By this time, Bandicam doesn't really need much of an introduction. This one-stop shop for screen recording and capturing is probably one of the more popular choices when it comes to the above-mentioned actions. It has been constantly improved in order to give birth to a reliable and useful product. So far, this strategy seems to have worked well, as there aren't really a lot of apps that can match Bandicam's versatility.
The interface is straightforward
If you feared this app was one of those complicated programs that confuse you when it comes to accessing features, you were dead wrong. With Bandicam, all functions are visible from the start. Those options that are not shown on screen, right from the beginning, can be accessed just as easily thanks to an intuitive arrangement of menus. Looks aren't bad either. The app works with a Windows 10-like minimalist theme, so blending in with modern operating systems won't be an issue either. Depending on the task you'd like to pursue, the application offers various options.
Capturing your screen the right way
Bandicam offers settings based on your scenario. You can record parts of your screen, a full-screen or just around your cursor. Are you recording games? There is a specific setting for that. Make sure you've got the right tab selected. Video and Image spell out their functions simply by looking at their name. Video adjustments include frame settings, video quality, and file format. As far as images are concerned, you'll be pleased to see that adjustments can be made from a single menu. The audio format can also be adjusted for videos. All known formats are supported by the program, so there won't be any issues with other project integration.
Keep track of your recording's size in the upper-right corner. Also, begin recording with the help of the big, red button. Pausing the recording process, as well as stopping it, can also be triggered from the same area. Combine your screen recording with a live, webcam-driven contribution. You'll soon come to realize that Bandicam is more like a recording studio than a screen recorder.
VIDEO-RECORDING of games and streaming videos
– Recording of WOW, Minecraft, Webcam, and computer screen
– H.264, Xvid, MPEG-1 and MJPEG video codec support
– PCM and MPEG-1 Layer II audio codec support
– AVI video format (.avi) support
– MPEG-1 video codec VBR mode support
Improved the recording performance by using a hardware-accelerated H.264 encoder.
– Bandicam provides hardware accelerated h.264 encoder
– Nvidia CUDA/NVENC H.264 encoder
– Intel Quick Sync video H.264 encoder
– AMD APP H.264 encoder
IMAGE-CAPTURING of games and streaming videos
– BMP, PNG and JPEG image format support
– Continuous image capturing
FRAME RATE control (FPS management)
– FPS overlay (Show FPS) / FPS limit
Key features of Bandicam Portable
– Bandicam can record DirectX/OpenGL programs like Fraps (Fraps Alternative, Better than Fraps)
– The recorded file size is much smaller than other software (Bandicam compresses the video when recording)
– You can upload the recorded file to YouTube without converting (720p/1080p full HD video can be made)
– You can record over 24 hours without stopping (Auto Complete Recording function can be used)
– You can record video at resolutions of up to 2560×1600 in high quality
– You will experience much less lag than with other capture programs (It uses much lower CPU/GPU/HDD
What's new in Bandicam Portable
Bugs fixed

The microphone volume control didn't work properly in Bandicam 6.2.3 under certain conditions.
The recording performance dropped when the UAC window popped up in Screen Recording Mode.
The Bandicam settings weren't saved when the system restarted or shut down.
Other minor bugs have been fixed.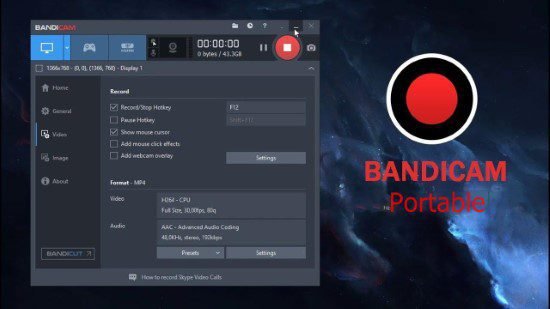 Download Bandicam Portable