Portable Bandicam 6.0.6.2034 (x64) Multilingual
Bandicam Portable makes it possible to record a certain area on a PC screen, or a program that uses the DirectX/OpenGL graphic technologies. Bandicam will help you carry out a video record with high compression ratio, while keeping the video quality closer to the original work, and provides performance far superior to other programs that provide similar functions.
By this time, Bandicam doesn't really need much of an introduction. This one-stop shop for screen recording and capturing is probably one of the more popular choices when it comes to the above-mentioned actions. It has been constantly improved in order to give birth to a reliable and useful product. So far, this strategy seems to have worked well, as there aren't really a lot of apps that can match Bandicam's versatility.
The interface is straightforward
If you feared this app was one of those complicated programs that confuse you when it comes to accessing features, you were dead wrong. With Bandicam, all functions are visible from the start. Those options that are not shown on screen, right from the beginning, can be accessed just as easily thanks to an intuitive arrangement of menus. Looks aren't bad either. The app works with a Windows 10-like minimalist theme, so blending in with modern operating systems won't be an issue either. Depending on the task you'd like to pursue, the application offers various options.
Capturing your screen the right way
Bandicam offers settings based on your scenario. You can record parts of your screen, a full-screen or just around your cursor. Are you recording games? There is a specific setting for that. Make sure you've got the right tab selected. Video and Image spell out their functions simply by looking at their name. Video adjustments include frame settings, video quality, and file format. As far as images are concerned, you'll be pleased to see that adjustments can be made from a single menu. The audio format can also be adjusted for videos. All known formats are supported by the program, so there won't be any issues with other project integration.
Keep track of your recording's size in the upper-right corner. Also, begin recording with the help of the big, red button. Pausing the recording process, as well as stopping it, can also be triggered from the same area. Combine your screen recording with a live, webcam-driven contribution. You'll soon come to realize that Bandicam is more like a recording studio than a screen recorder.
VIDEO-RECORDING of games and streaming videos
– Recording of WOW, Minecraft, Webcam, and computer screen
– H.264, Xvid, MPEG-1 and MJPEG video codec support
– PCM and MPEG-1 Layer II audio codec support
– AVI video format (.avi) support
– MPEG-1 video codec VBR mode support
Improved the recording performance by using a hardware-accelerated H.264 encoder.
– Bandicam provides hardware accelerated h.264 encoder
– Nvidia CUDA/NVENC H.264 encoder
– Intel Quick Sync video H.264 encoder
– AMD APP H.264 encoder
IMAGE-CAPTURING of games and streaming videos
– BMP, PNG and JPEG image format support
– Continuous image capturing
FRAME RATE control (FPS management)
– FPS overlay (Show FPS) / FPS limit
Key features of Bandicam Portable
– Bandicam can record DirectX/OpenGL programs like Fraps (Fraps Alternative, Better than Fraps)
– The recorded file size is much smaller than other software (Bandicam compresses the video when recording)
– You can upload the recorded file to YouTube without converting (720p/1080p full HD video can be made)
– You can record over 24 hours without stopping (Auto Complete Recording function can be used)
– You can record video at resolutions of up to 2560×1600 in high quality
– You will experience much less lag than with other capture programs (It uses much lower CPU/GPU/HDD
What's new in Bandicam Portable
You can now upload and share the recorded video to Google Drive directly.
Your email address will be shown if you've checked the "Keep me logged in" option in the YouTube and Google Drive upload window.
Improved the 10-minute time limit notification for free version users.
Improved the license expiration and renewal information notification.
Bugs fixed:
The DPI Scaling settings in the main menu were not displayed properly.
Bugs fixed

BandiFix didn't repair broken MP4 files properly from version 6.0.1.
Other minor bugs have been fixed.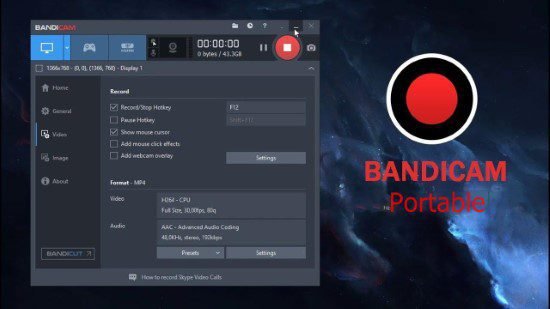 Download Bandicam Portable