Portable Bino 1.6.8 (x64)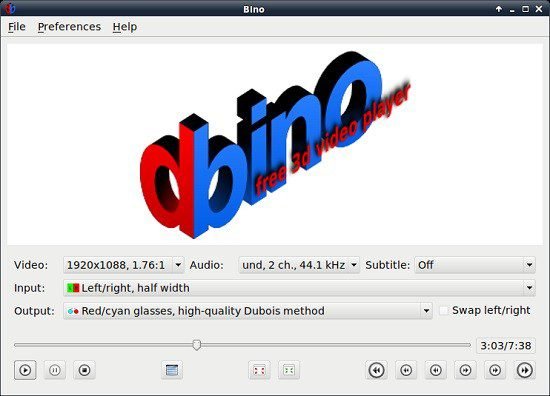 Bino Portable is a video player with the following main features: Support for stereoscopic 3D video, with a wide variety of input and output formats. Support for multi-display video, e.g. for powerwalls, Virtual Reality installations and other multi-projector setups. Other advanced features include scriptability, automatic support for high precision color input and output, and support for using two camera devices simultaneously
Viewing videos and movies is one of the most common activities nowadays and most users have already chosen their preferred player from the many utilities of this kind available on the market. Nonetheless, when it comes to 3D content, there aren't that many alternatives just yet so if you are looking for one such tool, you might want to check out Bino.
Enjoy both offline and online clips
This application comes with a friendly interface, with many functions for advanced users as well as for those with less experience. Loading files can be done either by dragging and dropping items onto the main window, or using the dedicated functions form the 'File' menu.
A neat thing about this program is the fact that it will open not only regular video files, but online clips, through the 'Open URL(s)' and also connected devices, like webcams, for example. More so, you will be able to select several items to open at once, which is really useful in case you have the 3D content stored in separate right and left files, plus some additional subtitles.
Comfortable set of playback controls
Besides the basic controls for managing the multimedia content, there are some useful extras for moving forward or backward in the stream. Thus, you can seek, in either direction, 10 seconds, a minute or 10 minutes with a single mouse click on the corresponding button.
There are many types of input and output options you can choose from, depending on the type of video and on which portion of it you would like to see displayed. The in-depth adjustments that Bino offers pertain to display color and crosstalk calibration, stream quality, subtitles and audio tracks as well.
Stereoscopic 3D Video Formats
Bino plays stereoscopic 3D videos. Such videos have separate views for the left and right eye and thus allow depth perception through stereopsis.
The left and right view of a stereoscopic video can be stored using different layouts. Sometimes the two views are stored as two separate video streams, but most often both views are packed into a single video stream and need to be unpacked by the video player.
Supported input layouts (modern formats can be autodetected):
Monoscopic (2D) video
Left and right view in separate video streams and/or files
Left and right view side by side (optionally with half width)
Left and right view on top of each other (optionally with half height)
Left and right view in alternating rows
To display a stereoscopic video, the left and right view have to be prepared in a special way so that the left eye sees the left view and the right eye sees the right view. Different display techniques use different approaches to achieve this separation of the two views.
Supported output techniques:
Anaglyph glasses (red/cyan, green/magenta, amber/blue). This works with every display.
Bino uses the high-quality Dubois method to produce anaglyph images. This gives far better results than the usual full-color and half-color methods.
Left and right view side by side (used by some 3D displays)
Left and right view on top of each other (used by some 3D displays)
Left and right view in alternating rows or columns (used by some 3D displays)
OpenGL quad-buffered stereo (only available with some graphics cards)
Multi Display Support
Bino supports basic and advanced multi display video output options.
For basic multi display output, all displays must be connected to the same computer and run in fullscreen mode. This is useful for video walls or 3D projection systems that use separate projectors for the left and right view.
For advanced multi display output, Bino can use the Equalizer framework for parallel and distributed OpenGL rendering.
Equalizer can manage very flexible setups across multiple hosts, graphics cards, and/or displays. This is useful for larger display installations, for example large Powerwalls or Virtual Reality laboratories.
Download Bino Portable