Portable Photo Calendar Creator Pro 16.0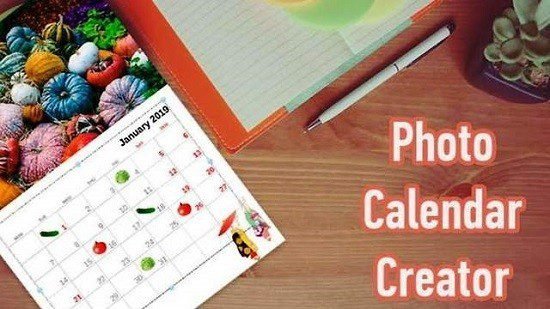 Photo Calendar Creator Portable is a feature-packed application for designing and printing original photo calendars of all types. A variety of ready-made templates, rich image galleries and numerous editing tools are at your disposal for creating hundreds of unique calendar designs. This calendar making program allows creating calendars for any year and month, past or future.
The interface has a modern-looking design that is very easy to use. The program displays shortcut buttons at the top of the main window, so as to gain quick access to all the most used actions available. Moreover, the main screen is split into two sections: one in which you can view your project, and the other containing certain elements and editing tools.
The utility supports a large number of languages, such as English, Russian, Polish, Italian, French and Portuguese, for the interface as well as the elements present in projects.
The software tool has a large number of templates for each and every type of calendar, available in landscape or portrait, so that you do not have to create everything from scratch.
Aside from this, all the elements of the calendar can be changed. The image in the background can be swiped with another one provided by the developers or from the user's hard drive. There are a lot of file formats supported, such as JPG, GIF, TIF, ICO, BMP, PXM, TGA, CUR and PNG. Furthermore, you can change the year and the month it starts with.
The program enables users to add public holidays from several countries such as USA, Spain, Portugal and France, or you can create your own.
Create personalized photo calendars!
– 250+ wall, booklet, desk, pocket calendar templates
– Highlight your own holidays & add photos into cells
– Create your calendars in any language or two at once
Wall calendars
Beautify your home interior with a stylish wall poster calendar for a month or a spiral-bound calendar for 12 months. Spice up your custom calendar with a gorgeous photo background or a themed collage.
Desk calendars
Add some individuality to your workspace and organize your day with a personalized desk calendar. Customize your table calendar with photos, captions, clipart and more in a couple of minutes.
Custom planners
Be it a workout, meal or birthday planner, this photo calendar maker offers plenty of templates to choose from. Keep track of your daily tasks and don't forget about important events ever again.
Booklet calendars
Want to create your own calendar as a gift for a family member or a friend? Consider a 12-page booklet calendar as it combines the best features of spiral-bound and desk calendars.
Where to Start with this Photo Calendar Maker?
The step-by-step wizard will walk you through the main steps of making a custom calendar, from picking templates, starting year and month to choosing the paper size and print resolution. You can make monthly planners for your whole family or design stylish promo calendars in the same program. Add photos either in the background or assemble them in one-of-a-kind collages. Enjoy different options for calendar grid placement to leave enough space for photos or useful notes. One more great tool in the photo calendar maker is the language editor – it enables you to make calendars in any language and even bilingual calendars.
Don't Miss a Thing with Personal Planning
For your convenience, the program offers a database of national holidays for several countries that will be marked in the month grid as workdays or days-off. Want to make a truly custom photo calendar? Create your own group of events, add holiday names and even pictures into the cells of your calendar. It's possible to add two or three holiday names to a single cell so you won't need to choose. Photo Calendar Maker is a perfect tool for reminding you of birthdays, anniversaries and other life events. It makes automatic calculations and display the number of years that have passed from a certain date to now.
Pick a suitable calendar template
Once you've launched the program, choose from a huge variety of templates: wall poster, pocket, spiral-bound, booklet, folding desk calendars, weekly, monthly or quarterly planners, and even lunar calendars. This calendar maker software provides plenty of month layouts especially designed for different types of calendars. At the next step, set the starting year and month. Finally, adjust page settings to get a printable calendar in the end.
Give your calendar a personal touch
When it comes to calendar design, this personalized calendar maker offers plentiful opportunities to experiment with images and text. It is possible to add one or several photos and even make a collage right inside the program, set photo as calendar background, and insert small photos or clipart into the month grid cells. There are all essential photo editing tools and a variety of decoration options: picture frames, masks, borders, etc.
Print your own calendars in HQ
When your calendar is ready, export it into various formats or print it right at home. You can save the layout as JPEG, PNG, PDF, or TIFF (CMYK). The later option is your perfect choice if you want to take your design to a professional print shop. Alternatively, pick any paper size for your finished calendar, from wallet card to wall-sized A4, A3 and A2, and print it in 300 to 600 dpi quality. In addition, the program will help you set the right page size for printing folding calendars.
Download Photo Calendar Creator Portable