Portable SysTweak Disk Analyzer Pro 1.0.1400.1220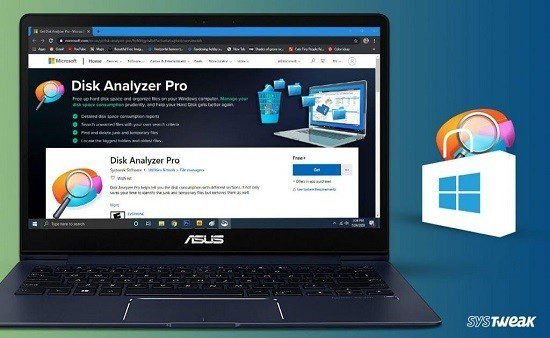 Disk Analyzer Portable provides a simple and effective way of taking control of all your files. It allows users to delete all files that are doing nothing more than sitting idle and hogging storage space.
It's a good idea to keep an eye on your disk drive's health status and perform an analysis from time to time. Disk Analyzer Portable is a program which is capable of performing an in-depth analysis on your hard disk, so you can delete unnecessary files and free up space.
Visually appealing and easy to use
The program has a clean and intuitive interface in which you can use a tree view to select a volume or folder for disk space analysis. Once results are shown, you can view a report on the folders that take up the most disk space, as they are displayed in a descending order.
Choose a view type that suits you
Furthermore, you can change the viewing mode according to the file type, attributes, size, date, time and ownership, as well as a summary on the custom types. So, you can delete, copy and move files, or use a file compression tool in order to significantly reduce their size on the disk.
Manage files and installed applications
In addition, you can change the size unit (automatic, bytes, KB, MB, GB), empty the Recycle Bin, add or remove programs, as well as view big size, compressed, oldest, junk, zero size, temporary, Internet temporary, image, audio, video or duplicate files.
Easily customizable interface
Furthermore, you can choose a different visual theme and configure general options (e.g. create an exclusion list, apply various filters, show or hide particular columns). The program uses a high amount of system resources, includes a complete user manual and online tutorials, and didn't freeze, crash or pop up errors during our tests.
Features:
Detailed disk space consumption reports
Manage disk space consumption grouped by file type, file size, attributes, file date, and file ownership. Drill down and examine which files are using up your valuable disk space. It's likely that your current hard drive is large enough for your needs if you manage your data storage prudently.
Search unwanted files with your own search criteria
Disk Analyzer Pro allows you to specify your own search terms while looking for unwanted files and folders consuming your disk space.
Find and delete junk and temporary files
Month after month, we all accumulate useless files. Every time we visit the Internet, we're creating junk files and temporary Internet files on our hard drives. You probably have hundreds – or thousands – of zero-size files on your hard disk today. Disk Analyzer Pro finds them and makes it simple to delete them.
Locate the bigest folders and oldest files
Create a list of the largest space-grabbing folders and the oldest unused files on your hard disk drives. You may be able to delete these worthless files immediately, and free up some valuable disk space.
Find duplicate images, videos, and compressed files
Network computers are often filled with videos, images, audio files, and compressed files duplicated all over the hard disk. Disk Analyzer Pro can locate these files and help you to remove the ones that you no longer need.
Export disk space reports to external file formats
Save your disk management reports as HTML, comma-delimited (CSV) files, or XML files. Import them into other software for further analysis, or perform time-based analysis to see how quickly your hard drive is filling up.
Download SysTweak Disk Analyzer Portable