Portable DiskMax 6.20 (x64)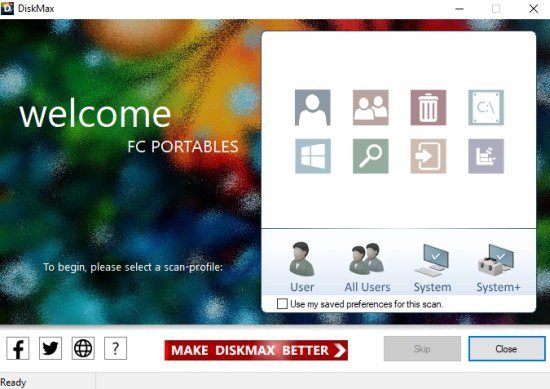 Use DiskMax Portable to periodically perform powerful disk cleanups and performance optimizations to keep your PC healthy.After using DiskMax, you will notice that your system will be peppier, applications should launch faster, files will open quicker, and games will run better. Simply run DiskMax from time to time to keep your system in shape.
Even if you are an advanced user, DiskMax Portable will be useful to you since it automates all the tasks required to keep your system clean and fast, leaving you to enjoy a whole new computing experience.
It is recommended that from time to time you clean your computer in order to keep it running smooth. DiskMax Portable is a very simple-to-use program that allows you to clean your hard drive, by getting rid of junk files. This way, you can optimize your system's performance.
Multiple scanning profiles available
Once you initiate the program with the simplistic interface, you can select a scanning profile between "Quick", "Standard", "Detailed" and "Complete".
In "Quick" mode, DiskMax can empty the Recycle Bin, as well as remove all related temporary data, browsing information, history and cookies in Google Chrome, Internet Explorer and other web browsers you have installed.
If a particular web browser is already open, then it will automatically be skipped by DiskMax.
A common method to clean your PC
The "Standard" mode also looks into user accounts, leftover files from old Windows updates, and others (e.g. PC Health data sets, orphaned Windows installer files, repair and crash information, windows logs, multimedia and instant messaging caches, crash dumps, diagnostic logs, icon cache, Windows error reporting data).
Get optimization done for more power
Furthermore, the "Detailed" and "Complete" modes also take care of web browser form data and database optimization, user assist, Windows event logs, a deep PC scan, hard disk defragmentation, prefetch optimizations, and more.
Once scanning and cleaning is completed, you can view the total number of deleted file, freed space, queued files for deletion, space to be recovered, all files and elapsed time.
The program takes up a very low amount of system CPU and memory, includes a complete user documentation (if you set DiskMax to download it) and can take a while to complete scanning and cleaning tasks.
DiskMax Features:
Automates the emptying of your recycle bin (if specified), cleaning up of installation remnants, and debugging information
Cleans up every user's History, Temp, Temporary Internet Files, Cookies (if specified), Recently opened documents list, explorer thumbnail cache, and windows error reporting logs
Clears out Windows cache, unused legacy cursors, debugging info, internet logs, help center caches, repair information, DLL caches, Logs, temporary files, and windows update roll-back files
Removes registry entries for multiple Most Recently Used lists
Clears out Windows event logs (no other application out there does this)
Gives you the option to deep scan your hard-disk to remove all files of type log, old, prv, chk, swp, bak, gid, wbk, tmp, and dmp. This utility is only intended for advanced users
Rearranges files so that they can be accessed faster
Download DiskMax Portable