Portable Duplicate & Same Files Searcher 7.0.1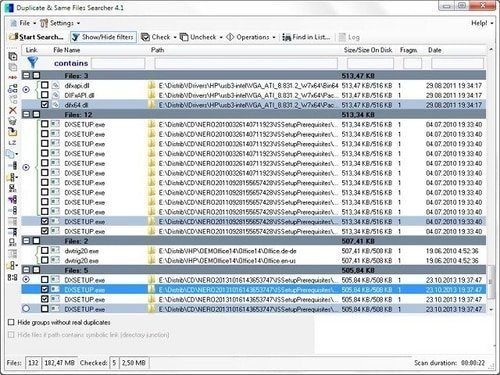 Duplicate & Same Files Searcher (Duplicate Searcher Portable) is an application for searching duplicate files (clones) and NTFS hard links to the same file. It searches duplicate file contents regardless of file name (true byte-to-byte comparison is used). This application allows not only to delete duplicate files or to move them to another location, but to replace duplicates with NTFS hard links as well (unique!).
Features:
Fast search engine (byte-to-byte comparison and hard link detection algorithm are used).
• Detailed visualisation of duplicate files, NTFS hard links, junction points and symbolic links (unique!).
• Shows fragmentation of files (unique!).
• Shows compressed NTFS files in color.
• Manual and filtered selection files to delete, move or replace with NTFS hard links.
• Allows to move and delete files.
• Allows to replace files with NTFS hard links (unique!).
• Allows to compress files on NTFS volumes.
• Allows selecting disks and folders to scan.
• Supports long paths (path longer than 260 characters).
• Allows to save/load results.
• Supports alternate NTFS-streams.
• Support for checking NTFS-permissions compatibility for the files being replaced by hard links.
• Supports ignoring differences in MP3-files metadata (ID3-tags) and comparing the music MP3-content only (experimental).
What's NEW:
Fixed unhandled GDI+ exceptions caused by damaged file icons at some users.

I made visible the list of selected paths for search duplicates under the folder tree in the Start Search dialog for better overview. Also added separated "Select All" and "Unselect All" tool buttons for the folder tree.
Download Duplicate Searcher Portable