Portable EasyBCD 2.4.0.237
EasyBCD Portable is a powerful bootloader-modification tool that has a wide-range of applications and usages. It can perform a variety of tasks ranging in complexity and application from the most basic to advanced and highly-customizable features.
Please use EasyBCD Portable with care, it's a powerful tool that you can either make your life a lot easier or make it rather miserable by letting you shoot yourself in the foot.
The application also features BCD (Boot Configuration Data) Backup/Repair utilities that provide users with the possibility to reset the BCD configuration or recreate and repair boot files.
Straightforward layout
The software features a well-organized interface, as each function gets its own section. You can get an overview of the current settings on your computer, the installed OSes and their order. Changing their names and their position in the list is as easy as pressing two buttons.
Configuration settings
When it comes to tweaking the current boot entries, you can change the Safe Mode type or you can limit Windows to use only a certain number of CPUs. Furthermore, you can choose to run the OS in Kernel-Debug Mode or in SOS/Verbose-Boot Mode.
EasyBCD Community Edition allows you to adjust the time that needs to pass until the default OS is booted (after a given number of seconds) or you can disable this timeout completely and set it to wait for user input.
Adding new boot entries and other handy features
New boot entries can be added (of Windows, Linux, or Mac) from any external devices, while you also have the option of creating a bootable media from a certain partition. Experts can rely on this utility to reset the BCD of your PC, re-create or repair boot files, and change the boot drive.
The Useful Utilities section displays several options, but most of them load Windows' standard tools, such as Control Panel, System Restore or System Information, thus bundling multiple management options in a single, clean instance.
An overall powerful bootloader/modification tool
To summarize, EasyBCD Community Edition lets users take full control over the computer's boot menu and customize a bunch of boot options. It can be successfully used to repair Windows installations and to back up the bootloader.
EasyBCD can't fix a PC that won't boot.
Use our Windows recovery disks to:
Fix boot errors
Resolve startup BSODs
Restore registry and settings
Clean up virus infections
What's NEW:
Fixed: bcdboot paramters in RepairBootDrive call
Fixed:/NLT crashes on malformed XML translation files
Fixed: partitions with 64-bit extensions are not supported
Fixed: Detect <= Windows 7 and disable metro bootloader to prevent hidden boot menu
Fixed: Statusbar height shrinks when blank under Windows 10
New: Add autocompletion to all path textboxes
New: Add Ability to turn on/off hypervisor state for entries
New: Verify destination of "change boot partition" is at least 75 MiB
Include Bulgarian in BCD/BOOTMGR locale list
Include XML validity checks as part of build process
Custom SWF high-DPI support in EasyBCD
High-DPI support in EasyBCD setup
Do not repeatedly apply existing settings when modifying entry attribute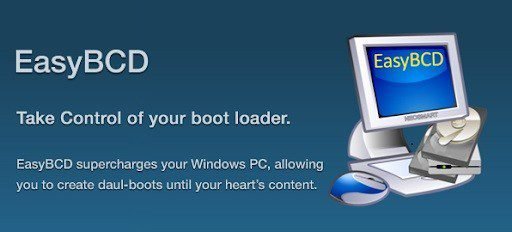 Download EasyBCD Portable